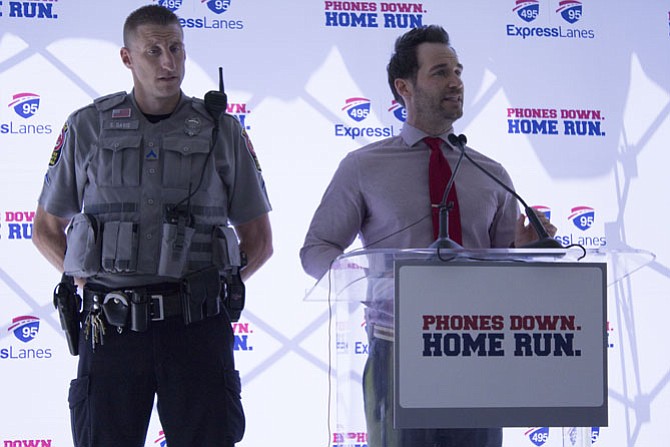 Ryan Zimmerman, starting first baseman for the Washington Nationals Major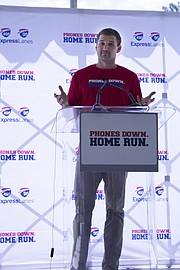 League Baseball team, visited the McLean Highlanders baseball diamond on Wednesday, May 10, to pitch some warnings to his teenaged fans about the dangers of distracted driving.
Standing next to field in the sunshine helped him remember his time playing baseball in the spring at Kellam High School in Virginia Beach and the days he would drive to and from school for baseball practice.
"It was so exciting to drive," he said. "To be in the car and to have that independence, I guess you could say."
Unlike when he was a youth, teenagers today have more distractions to grapple with, he said.
Students who play baseball and softball and their coaches crowded into a tent on the grass to hear him speak and launch the "Phones Down. Home Run." effort. Teams from T.C. Williams High School in Alexandria and Stafford High School in Fredericksburg were also invited, along with Virginia Delegates Mark Keam, D-35; Mark Sickles, D-43; and Marcus Simon, D-53.
"The street that I live on in Great Falls, a lot of my neighbors have kids that are either in middle school, in high school starting to drive or in college, and I can't tell you how much when we're hanging out with our neighbors … how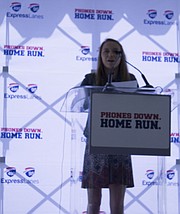 much they talk about how scared they are of their kids going through that," he said.
He was honest with the crowd.
"I think we've all done it [looked at a cellphone while driving]," he said. "Nobody here has never done it."
Since his involvement with the campaign, he has realized how unsafe that can be.
THE AVERAGE major league home run travels 400 feet in just under five seconds, according to Transurban, which is sponsoring the campaign. That is the same distance a driver would travel blind if they were looking at a cellphone while driving 55 miles-per-hour.
This is a large window for grave errors to happen.
"During the game, fortunately though, if you mess up, you usually get another chance," he said.
But the stakes are greater on the road.
"If you're behind the wheel and you make a bad decision, whether it's a text or Instagram … whatever the social media is, it'll be there when you get there … you don't need to see it right now."
Having two young daughters was a primary reason he agreed to be the face of the initiative.
"I can't imagine having to go through anything that some of these parents would have to go through, especially with something that could be easily avoided, so just being able to help out a little bit is kind of why I wanted to be a part," he said.
McLean High School recently had a "What Helps Me Day," where students were asked to discuss methods to relieve stress, according to Nick Corsi, the systems of support advisor for the school. He advises a new Sources of Strength program at the school, which is a national student-led program designed to change unhealthy norms and culture in schools. He was alarmed at a popular response he received when he surveyed students about what helps them cope with anxiety.
"An overwhelming amount of our students wrote down, 'Going for a drive,'" Corsi said during the event. "So I ask you, should a full-blown teenager student — dealing with stress, dealing with anxiety — should they be behind the wheel? It's just another form of distracted driving."
McLean students in grade 12 reported more texting (51.1 percent) or drinking alcohol (13 percent) while driving during the past 30 days compared to Fairfax County Public School students in grade 12 overall (48.8 percent; 9.4 percent), according to the latest Fairfax County Youth Survey, an annual survey that anonymously collects data about students' knowledge, attitudes and behaviors on health, health risks, substance use, eating disorders, obesity and sexual behavior.
"At 6-foot-four and I'm 200 pounds, they text and bump into me when they are just walking," said School Resource Officer Scott Davis, a police officer for the Fairfax County Police Department who works at the high school.
Representatives from Partners for Safe Teen Driving, Inova Trauma Services and the Virginia Department of Transportation also spoke at the event.
MCLEAN HIGH School Sophomore Carenna Slotkoff, a peer leader for the school's Sources of Strength Program, took to the microphone to tell the audience about an incident that she experienced a couple weeks ago.
"My phone ended up taking a dive into the bathtub," she said "It's funny that it was so ridiculous that my phone was such a priority that it caused me to drop it into a bathtub, but what's not funny is when your phone becomes a distraction that can cost you a life."
She told everyone that looking at her phone behind the wheel is a temptation.
"I recently just got my permit and I've only practiced driving for a few hours but I already know it requires all of my attention and that my phone will have to be silent, out of sight and out of mind," she said.
Jennifer Aument, group general manager of Transurban, said, "Every day, tragically, 11 teenagers die because they are using a cellphone while driving."

She set her talking points aside and went off script for a moment to tell the crowd about her experience in the control room that her company and the Virginia Department of Transportation uses to monitor the 495 and 95 Express Lanes in Northern Virginia.
"What we see … will scare the heck out of you," she said. "We see teenagers and all drivers of all ages who are distracted on our roadways."
She then described footage she saw of a distracted teenage driver who sped into a barrier wall, killing her and her friend.
"I really hope that you will heed this advice and that all of us will join together in taking the pledge to put our phones down on our region's highways," she said.
Washington Redskins starting quarterback Kirk Cousins kicked off the "Phones Down. Touchdown." safe driving campaign in McLean on Nov. 29, 2016.
Drivers can sign the safe-driving pledge by visiting PhonesDownHomeRun.com or PhoneDownTouchDown.com.