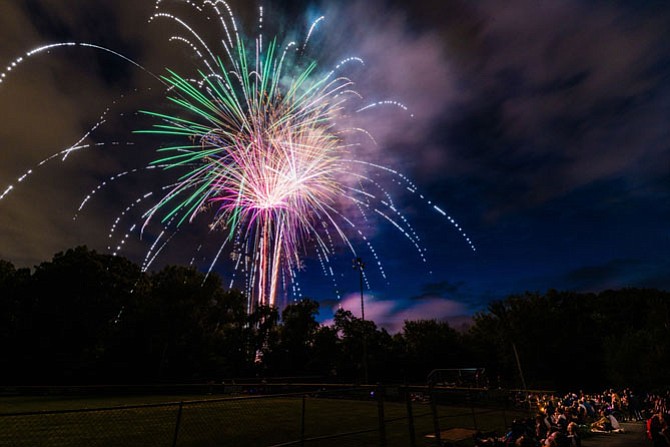 Vienna — Summertime and the livin' is easy … it's also hot, humid, and full of fun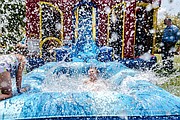 events, regardless of the weather.
The Vienna-Oakton Connection looks at the traditional and the not-so-traditional, from Chillin' on Church family night and holiday celebrations to fireworks and waterplay.
The Town of Vienna, through its Parks and Recreation department, offers a diversity of summer camps to residents and surrounding communities. Camps range from traditional play-and-activities to outdoor play at Glyndon Park, from sports camps to computer camps, cooking to theatre arts, and more popular activities for children from 6 years old and beyond. See www.viennava.gov/ArchiveCenter/ViewFile/Item/3574 for details.
Wolf Trap, the nation's only national park for the performing arts, is in residence in a Vienna zipcode — 22182. Set on rolling hills, the performance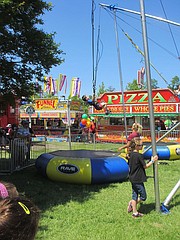 venue brings concerts outdoors to festive life. Visit www.wolftrap.org for a schedule of performances throughout the summer.
Pull out the fun-guide insert and hang it on your refrigerator; outdoor events is what summer is all about.
Concerts on the Green, through early September
Concerts on the Vienna Town Green begin at 6:30 p.m. unless otherwise-noted, and run Friday and Sunday nights throughout the summer. Special events include Chillin' on Church with food, live music, and activities for children.
The U.S. Navy Commodores Jazz Band kicks off the summer on June 2; Kiddie-rock stars Rocknoceros plays June 14.
Bring your own seating; picnics welcome but no alcohol.
See concert schedule at www.viennava.gov/DocumentCenter/View/3480.
In the event of rain, call the weather line at 703-255-7842 or the Department of Parks and Recreation at 703-255-6360 two hours before the event for cancellation information.
ViVa! Vienna! May 27-29
One of the community's most-anticipated events comes every year during the three-day Memorial Day weekend … Known as ViVa! Vienna! and hosted by the Vienna Rotary in cooperation with the Town of Vienna, the festival offers all-day and all-evening entertainment on multiple stages. ViVa! Vienna! takes over the historic Church Street corridor with 300 marketplace vendors, 20 amusement rides, free activities for children, and more than a dozen kiosks selling nostalgic "carny-food." Ride access may be purchased as individual tickets or unlimited with a wristband.
Proceeds benefit Northern Virginia nonprofits and Vienna services.
Go to vivavienna.org/ for details, updates, schedule and map of events.
Vienna Lions Club 75th Anniversary Celebration,
The Vienna Lions Club is celebrating its 75th anniversary in the town Saturday, June 3, 2-4 p.m., free, at Vienna Town Green and the community is invited to celebrate along with them. The party features the Nighthawks Swing Band, food and beverages, and sight and hearing checks sponsored by the Lions Club.
Stories and Sprinklers, Wednesdays, June 28-Aug. 2; 1:30 p.m.
Children sit on the lawn behind the Historic Little Library, located behind the Freeman Store on Church Street and listen to a storyteller recite a popular kids' book. Afterward, children dart over to the Town Green to run through the sprinklers set up there.
Independence Day Celebration, July 4, Yeonas Park, 1319 Ross Drive, SW
The Town of Vienna celebrates Independence Day with live music, food-eating contests, hotdogs and nachos, and the celebration's most-anticipated event, fireworks.
Music begins at 7:15 p.m. with the classic rock sounds of Fat Chance. Food and drinks are for sale at the Vienna Little League concession stand.
Fireworks begin at dark, approximately 9:30 p.m.
Children 5-10 years old are invited to enter the 2nd annual pie-eating contest that begins at 7 p.m. Call Brian Hanifin for more details at 703-255-6352.
If gorging on chili dogs is more your style, enter the 2nd annual Chili Dog-Eating Contest sponsored by the Vienna Inn, famed for its chili dogs.There is a $20 registration fee and participants must be 18 years old or older to enter. Register online, at the Parks and Recreation office, or at the Vienna Inn on Maple Avenue.
Splish-Splash Kids' Water Party,
Vienna Parks and Rec turns the Town Green into a water park for the afternoon on Saturday, July 29, 1-3 p.m. on the Town Green. Activities include a water slide, slip-n-slide, moon bounce, water games, sprinklers, and sno-cones, as well as a raffle.