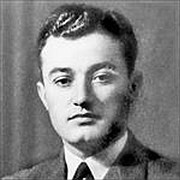 The Washington Oxi Day Foundation posthumously honored long-time Mount Vernon resident Col. Eleftherios D. Smirniotopoulos (Royal Hellenic Air Force-Ret.) on Oct. 26 with the foundation's 2017 Greatest Generation Award.
Smirinotopoulos was honored for his courage, bravery, and valor as a decorated fighter pilot defending Greece at the start of and throughout World War II. Smirniotopoulos moved with his wife, Panayiota Athanasiadou Smirniotopoulos, M.D., to the Belle Rive subdivision of Mount Vernon 40 years ago. He died of natural causes on Christmas Day 2016, 10 days after his 100th birthday.
Smirniotopoulos, known to friends, neighbors, and colleagues simply as "Leftis," was born on Dec. 15, 1916, in the village of Mystra, near the town of Sparta, in the Peloponnesus region of Greece. Recruited by the Royal Hellenic Air Force while a law student, Smirniotopoulos graduated at the top of his class from the Air Force Academy flight school, and he rose in rank as an RHAF officer and fighter pilot. During the Axis Force's initial invasion of Greece, Smirniotopoulos defended Thessaloniki, as part of the RHAF's air defense of the country's second-largest city. While stationed at the air base in Thessaloniki as a young air force officer, he met Panayiota Athanasiadou, his future wife, who resided in the city with her family.
After German forces invaded and occupied Greece, and disbanded its air force, Smirniotopoulos was recruited by British Intelligence Service (MI-5) and escaped to join fellow RHAF pilots in North Africa. He flew Spitfires and Hawker Hurricanes with a squadron flying with Britain's Royal Air Force (RAF), participating in the decisive battle of El Alamein against the forces of Germany's chief military strategist, General Erwin Rommel (aka "the Desert Fox"), as well as in the siege of Tobruk.
Following the defeat of the Axis Forces, Smirniotopoulos returned to Greece as an active-duty Air Force officer. In 1947 his bus, carrying a number of RHAF pilots and other officers, was targeted in Thessaloniki by the Communist insurgency. Four passengers were killed in the bombing and Smirniotopoulos was severely injured by shrapnel from the blast, losing one eye and ending his decorated career as a fighter pilot. His wounds from the terrorist attack led to a medical transfer to the United States for surgery at a specialty ophthalmic hospital in New York. His fiancé, Dr. Athanasiadou, with whom Smirniotopoulos was reunited in Thessaloniki in 1947, subsequently emigrated to the U.S. in 1950 to join him and continue her medical training. They married in 1950 in the U.S., and remained together until Smirniotopoulos' passing on Dec. 25, 2016. Dr. Athanasiadou continues to live in Belle Rive. Smirniotopoulos is survived by his four children — three sons who also live in the Washington, D.C., area, and a daughter in Connecticut — nine grandchildren, and one great grandchild.