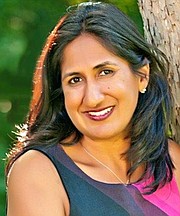 As learners in Literacy Council of Northern Virginia's (LCNV) City of Alexandria Destination Workforce class reflect on their first English literacy course experiences, one common theme is heard: literacy is a survival skill.
Each of the women in this class is a newly arrived refugee from Afghanistan, hoping to support their family and become ready to enter the workforce. Most of these students don't write or read their native language, and none were literate in English.
After several weeks of intensive classes, these women have begun to navigate things that native English speakers take for granted: public transit routes, school forms for their children or instructions from a supervisor. While the benefit of these is immediately apparent, there are other benefits that are less obvious. Most of these students will return to a home with children, where they will reinforce their child's education through their own newfound English. Their ability to understand English can help them get a job (or a better job), which can lift their family above the poverty line. They can begin to engage more with their English-speaking neighbors, strengthening the community. While an English class may only last for a few months, the benefits last a lifetime.
November marks Family Literacy Month, a celebration of the work of English literacy programs in strengthening learning and literacy between children and parents. Literacy is a vital part of a functioning society, and family literacy can support children and bolster their academic achievements. According to the National Bureau of Economic Research, "children whose parents have low literacy levels have a 72 percent chance of being at the lowest reading levels themselves."
LCNV recognizes and attempts to curb this problem in order to reduce the likelihood of student underachievement, poverty and unemployment. Forty-three percent of adults with the lowest literacy levels live in poverty, and over 50 percent of LCNV's learners live below the poverty line. A multigenerational approach to learning English ensures that every member of a family thrives.
According to the U.S. Census Bureau, 27.5 percent of Alexandria residents are foreign-born, compared to 13.2 percent nationwide; 5.47 percent of Alexandria City residents speak English less than well as compared to 2.6 percent in all of Virginia. Quality literacy programs are necessary to ensure that Alexandria's citizens, children and adults alike, are given the same opportunities to excel. In Alexandria, LCNV focuses on providing programs for all walks of life. These include Destination Workforce career-specific training programs, family literacy programs for adults and children, beginning-level English classes for adults and programs for native adult English speakers. A multi-pronged approach involving partners from the Alexandria government, Alexandria City Public Schools and private entities has been effective in expanding the number of students served in Alexandria, and LCNV's dedicated volunteers have provided thousands of hours of support to students.
It's no secret that Alexandria (and Northern Virginia as a whole) is changing rapidly. Development is booming and employment opportunities are growing. In order to ensure that every community member can keep pace with these regional changes, educational opportunities of all kinds must remain accessible. All of us at LCNV are excited to continue working with our partners in Alexandria to ensure that adults and families have access to quality literacy education. This Family Literacy Month, let's celebrate the hard work of our community members learning English, and the families becoming literate together.
"Volunteering here at the LCNV has been a total pleasure. Working both as a classroom aide and as a conversation teacher has exposed me to a wide variety of people and their cultures," said Chris, LCNV volunteer. If you would like to support families learning English, visit www.lcnv.org for volunteer opportunities and more information.
Roopal Mehta Saran is executive director of the Literacy Council of Northern Virginia.