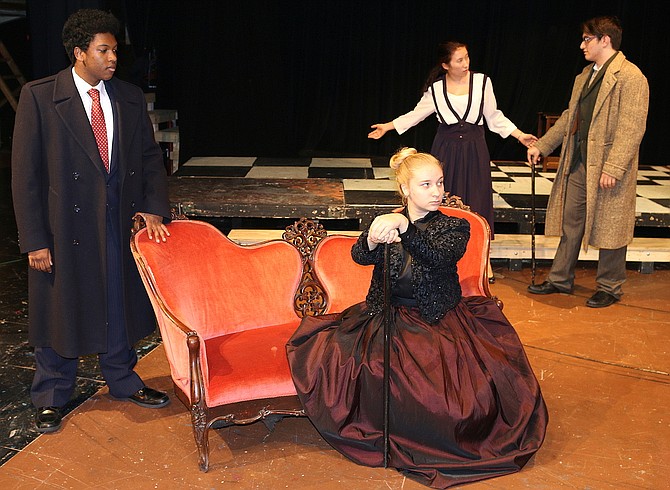 To Go
The curtain rises Thursday, Nov. 16, at 7 p.m.; Friday-Saturday, Nov. 17-18, at 7:30 p.m.; and Sunday, Nov. 19, at 2 p.m. Tickets are $10, adults; and $5, students and senior citizens, at the door.
Featuring a cast and crew of 55, Paul VI High presents its Cappies show, "Anastasia," Nov. 16-19, in the school theater. And Director Kathy d'Alelio says it's going to be something special.
"It's an incredible story – a tragedy about an inept czar, an innocent and the attempt to bring back the czarina Anastasia," she said. "And I hope people will enjoy it as much as we're enjoying doing it."
This year is the 100th anniversary of the Russian Revolution, and this fictional play is based on a true story. Nicholas II was Czar of Russia, and Anastasia was the fourth of his five children. She disappeared, and there were rumors that some family members had been murdered, but some escaped.
The story takes place in 1926, eight years after Anastasia's disappearance. And if she was found alive, she'd inherit her father's millions. Prince Bounine, who was a general under Nicholas, has found a woman, Anna, that he and some other men plan to pass off as the missing Anastasia. They know she's not, but they want to split the great Romanov fortune among themselves.
"Bounine needs the approval of Anna's grandmother, the empress," said d'Alelio. "But Anna's former friend and lover, Michael Serensky, knows the truth and could ruin things for her."
D'Alelio said rehearsals are going well. "The challenge has been the Russian pronunciations, so we've had some assistance," she said. "The scenes take place in Bounine's home and there are Russian influences in the set."
SENIOR GLORIA WHITFIELD portrays Anna. "She's had a tough life and is depressed," said Whitfield. "She isn't exactly sure who she is because she has some memory loss and has been through a lot of traumatic experiences. She's a little sassy and doesn't take any nonsense. And although she knows she's being used, she still wants to be her own person."
It's a tough role, said Whitfield, because "Anna has so many different layers to her. So playing her is like peeling back the layers of an onion, and memorizing lines in Russian is very hard. But it's a good challenge and she's a really interesting character. And I can sort of connect with her because, as a senior, I'm trying to figure out who I'll be as a young adult and not a teenager."
Whitfield said this show will be a "very professional performance." And, she added, the audience will be thoroughly engrossed in "the mystery of whether or not this girl is the real, Russian princess."
Playing the 75-year-old empress is Mackenzie Bacarella. "She's a very reserved woman who's gone through a lot of tragedy in her life, so she's built up walls that other people can't get through," explained Bacarella. "She's lonely and bitter and has some scars that she can't show the other characters."
Bacarella said it's difficult to portray someone who's lost everyone she loved. "And it's hard to determine her motive or feelings because she doesn't express them in words," she said. "So I have to show them in my body language and facial expressions. The empress is also stiff and regal, so I have to sit very straight."
But it's a fun role, said Bacarella, because "Even though you don't see it, she's the most emotional character I've ever played. She's got all these strong feelings inside her. And when she's with different characters, she shows different sides of herself."
She said this show "explores the different aspects of what it means to be human. It challenges ideas of love of family and makes you question what people are really thinking – our internal agendas."
Senior Daniel Jacobs portrays Prince Arcade Bounine. "He's trying to pass off a woman as Anastasia so he can get his hands on some of the millions the czar deposited abroad before he died," said Jacobs. "He's a snake, is very smart and knows how to manipulate people. He does whatever it takes to get what he wants. He uses people and twists the truth, although he's not completely despicable. He does have loyalty to his partners in trying to mold Anna into Anastasia."
JACOBS LOVES his part because, for him, "It's a whole, new experience playing a villain and someone with a different mentality. And because I'm onstage for a good percentage of the play, I interact with most of the characters directly and explore Bounine's different relationships with the people he knows and show his different faces."
Jacobs said the audience will love this show because, though it's a drama, it also has some comedic lines. "People will also like the story, itself," he said. "They've heard of the Disney movie, but this is the original and is more powerful and has a lot more feeling. And watching everything play out – an identity crisis, manipulation and the story of the Romanovs – will just be an amazing experience for the audience."
Playing Michael Serensky is senior Daniel Mercuri. "He's a friend of Anna's; he knew her as Anya Bronin," said Mercuri. "They met as patients in a hospital, developed a bond and became romantically involved. He's a doctor and is calm and exudes confidence. He's sure he remembers her as Anya and she remembers him. And he has police documents that could prove she's not Anastasia."
"It's a fun role because, in our one-acts, Gloria and I played a married couple, so we already have some onstage chemistry," said Mercuri. "And Serensky's easy to relate to because he still cares about Anya and wants her to come back to him. [Their past relationship] is something just out of reach that's slipped away, and he wants to make it a reality again."
As for the audience, Mercuri said people will enjoy this play because "It's a great story and is very suspenseful. Throughout the first two acts, they won't know who Anastasia really is. The costumes are period 1920s – trench coats and hoop skirts – and the set will be amazing. A lot of the characters are open to interpretation, and the way the actors portray them adds a lot to the show. The suspense builds up until the final act."