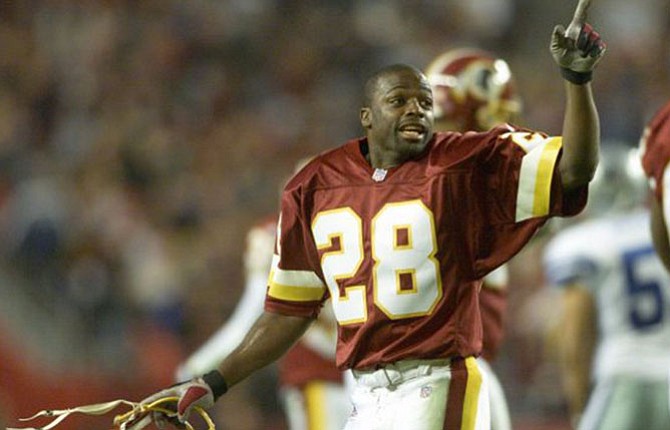 "No matter where I am, I will bring 'Darrell Green' to every place I go and that's hopefully a man of integrity, morals and family values." — NFL Hall of Fame cornerback Darrell Green
Long before Darrell Green became the associate director of Athletics at George Mason University, he was a familiar sight behind the school's field house. For 20 years, he and his Washington Redskins teammates, including GMU Athletic Director Brad Edwards, would use the grass incline for supplemental workouts.
"I feel like I've been here my entire adult life," said Green, now in his second year as Edwards' special assistant. "I was training at GMU every day for 20 years."
Green joined the Redskins as a first round draft pick in 1983. He went on to play 20 seasons in the NFL, earning two Super Bowl rings and an induction into the Hall of Fame in 2008 – his first year of eligibility.
On Wednesday, Nov. 15, Green will be the featured speaker at the Alexandria Sportsman's Club meeting where he will help present the Athlete of the Month awards to student-athletes.
"My role with the GMU athletic department focuses on development," Green said. "It's not sexy, it's hard work. But I try to introduce people to what we do, which is mainly supporting our young athletes."
Green is founder of the Darrell Green Youth Life Foundation and says that working with young people is his true calling.
"I feel this is my real call from God — to work with youth from a moral, academic and social development position," Green said. "All those things a young person needs to be successful — it's not magic. Unfortunately it's a work that never ends."
Green cites the divorce of his parents as the biggest influence on his life both on and off the field.
"My parents divorced when I was 10 years old and I knew that day exactly what I wanted to be," Green recalled. "I decided right then that I was going to be the best husband and daddy the world had ever seen. Because I wanted to be a good husband, I was going to work hard at whatever I ended up doing so that I could provide for that wife and family I wanted to have."
Green, 57, has been married to his wife Jewell for 33 years. Together they have three children: Jarrell, Jared and Joi.
"Kids today are being pushed to 'be like Mike,' the guy who shoots the basketball, rather than 'do like Dad,' who is responsible and has integrity," Green said. "We need to change that dialog. Young people need to figure out what they want to be as a human, as a man, as a leader — if they can get that piece down they will be successful."
For all his gridiron success, Green does not dwell on his days with the Redskins.
"I had a good career and my individual success contributed to the team's success," Green said. "I'm not even 5'9" but I worked hard to be fast. People celebrate that part of it but I was doing what I needed to do to get the job done and take care of my family. No matter where I am, I will bring 'Darrell Green' to every place I go and that's hopefully a man of integrity, morals and family values who understands the golden rule."
The Alexandria Sportsman's Club meeting will be held at 6:30 p.m. at The Old Dominion Boat Club, 1 King St. Reservations are required. No autograph requests but photographs are permitted. For details and more information, visit www.alexandriavasports.org.