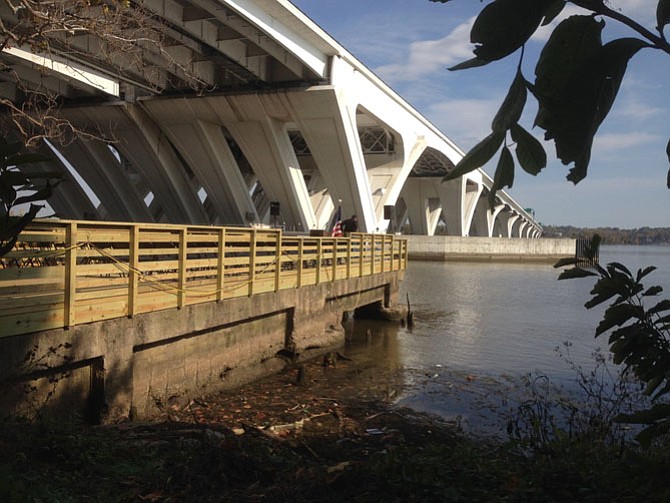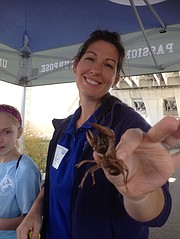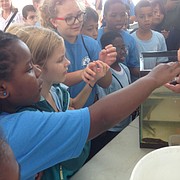 At Jones Point on Friday, Nov. 3, officials cut the ribbon on a rebuilt 1950s-era fishing pier, while students from Lyles-Crouch Elementary School put a worm on the hook and cast their lines in, celebrating a hands-on approach to learning about the environment.
Alexandria resident Christine McCormick accompanied Ivy, her 9-year-old, on the field trip where Ivy caught a fish and gained some confidence in herself. "This is genius," McCormick said of the field trip idea. "They're engaged, now they're going to know there's six different kinds of catfish," she said.
Renee Bourassa, of the Interstate Commission of the Potomac River Basin, explained crayfish and ecosystems that were in the aquariums in her tent. "What you find at the bottom of the creek tells a lot about the stream quality," she said to the group. This hands-on teaching is "a way to get kids outside and interested in environmental quality," Bourassa said.
It was all part of the National Park Foundation's "Every Kid in a Park," program with hands-on educational, fishing and conservation activities, according to information released by the Union Sportsmen's Alliance, who were behind the pier restoration as well.
The National Park Service began the design work for the new pier in February, fitting the woodwork on the old foundation, and enlisted the Union Sportsmen's Alliance to help with the actual constructioni, which didn't start until September. The union workers that volunteered for the construction, which took place on the weekends, "were from the trade here in the D.C. area," said Scott Vance, CEO of the Union Sportsmen's Alliance.
The volunteers donated 864 hours and the American Water Charitable Foundation awarded them a grant of $22,500 for the project. Other contributors included Smoot Lumber in Mount Vernon, Culpeper Wood Preservers, Simpson Strong-Tie, Recreational Boating & Fishing Foundation, Guest Services, Inc. and Ullico.
Lyles-Crouch principal Pat Zissios was on site for the event, overseeing 75 fourth graders from her school, as were park officials that included Alex Romero, the superintendent for the George Washington Memorial Parkway. Other plans for Jones Point include a temporary futsal court, bike safety instruction program with the Washington Area Bicyclist Association, and an overhaul of the current bike trail patrol volunteer program. "I've got to treat the Mount Vernon Trail as a park in itself," said Romero.