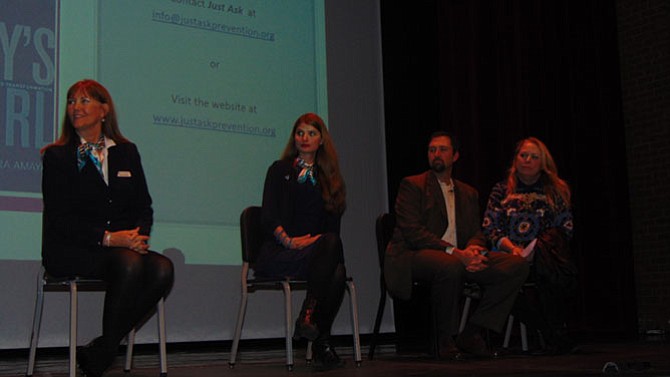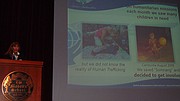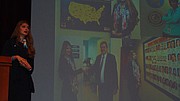 Although somewhat hidden and obscure, human sex trafficking is a major problem in Fairfax County. Over the course of four years, there have been some 536 known victims – both male and female – of human trafficking in Northern Virginia alone, making it the second-fastest growing crime behind drugs.
At a meeting of about 50 people co-sponsored by the Great Falls Rotary and the Airline Ambassadors International at The Madeira School on Thursday, Nov. 9, human trafficking awareness leaders came forward to discuss the problem, which rakes in $150 billion a year worldwide.
The evening featured survivor Alicia Kozakeiwicz, 29, from Pittsburgh, Pa., who was kidnapped to Herndon at age 13 and forced into being a sex slave.
"Young people are especially vulnerable. We like to believe that it only happens to people who come from broken homes. It can happen to anybody. It's all about vulnerability. Who can they exploit," said Kozakeiwicz.
HER SAGA began while she was in a chat room in 2002 when somebody messaged her and they started talking; and they chatted online for eight months afterwards. "What I didn't know was he immediately began to groom me; what a groomer will do is make you feel beautiful, important, special and unique," she said. She agreed to meet the person, who then abducted her and drove her to Herndon.
"On the first night, he removed all of my clothing; I was raped, beaten, tortured in the basement dungeon," she said, adding that he live-streamed her on the internet. After a couple of days, "He left for work, and I was terrified and I sat quietly and prayed and cried."
She was rescued by the FBI when someone saw the live feed. At the age of 14, she began telling her story and speaking about internet safety. "I went into schools and started sharing my story. I have been doing it for 15 years and it has been an amazing journey," she said.
She also works with Airline Ambassadors International to train airport personnel to recognize and report the signs of human trafficking so that if something is going on during their flight or on the ground, they can report it, which could lead to the apprehension of the offender as quickly as possible.
"There are bad people out there. We have to shine a light in this darkness. This isn't something we can push under the rug. This is real life. These are the kids who are in your neighborhood. That monster was from here. You have to be careful. You have to teach your kids how to stay safe online." For more on Alicia's story, go to www.aliciakozak.com.
U.S. Rep. Barbara Comstock (R-10) said that the problem is happening at hotels right here, and it's important to make this education effort omnipresent.
"Part of the psychology is how they prey upon young women and groom them at an average age of 12-13 years old," she said. "They date them, they groom them, they make them think they are a girlfriend. Before they know it, they become involved in it. Gangs like the MS-13 were getting involved more in human trafficking; it was a higher money-maker than trafficking drugs," she said.
She added, "This is something that can happen to anyone just because how devious the criminals are preying upon the children. Criminals find new ways to get around and do things in different ways."
Nancy Rivard, president of the Airline Ambassadors International, said with 21.3 million victims globally, that human trafficking is the second largest industry, behind drug trafficking, which is first. The group (www.airlineamb.org) uses airline contacts to provide for vulnerable children worldwide. Members volunteer as medical escorts, deliver humanitarian aid to orphanages, and educate and advocate for child protection and human trafficking awareness globally.
She said she realized sex trafficking was happening on the airlines, that traffickers use all forms of transportation to keep their victims powerless, and that education was needed.
"We knew from personal experience that traffickers use commercial air travel. The airline industry can play a key role... We made sure our training was consistent and our work has led to actual legislation in the U.S."
ANOTHER SPEAKER, Barbara Amaya, originally from Fairfax, said she ran away from home at age 12 and ended up under the control of human traffickers for a decade in New York City. "I was so traumatized... It's all about traffickers turning a human being into a commodity," she said.
The author of two books, including "Nobody's Girl," Amaya now speaks all over the country on human sex trafficking.
She gave her talk with Bill Woolf, president of "Just Ask" trafficking prevention program which started in 2013. "We know trafficking is going on here. I have seen it first-hand in our community. Let's prevent it. It starts with education and awareness," said Woolf.
The average life expectancy for someone who gets involved in this lifestyle is seven years, said Woolf. "We have this problem where people get stuck in these situations; they don't recognize what's going on. There's a lot of self blame that goes on."
He added, "Traffickers are looking for young people on social media. Once they find a target, they are looking for any vulnerability that they can exploit. They begin the manipulation process. Sometimes they are taken to another state," he said.
Another speaker, Madeira senior Skye Jannery-Barney, 17, of Great Falls was named Miss Teen Virginia 2016. Her pageant platform was on the eradication of human trafficking. "I go to an all-girls school so the issue's really big in our area of Northern Virginia, and I've been working really hard over the past two years now to help combat it and work with young girls as well," she said.
John Foust, Dranesville District supervisor, added: "What we heard tonight is something I think every parent should hear; and every child and teenager should hear. Human trafficking happens to anyone and everyone and so we should all make sure we protect ourselves and our families from it."