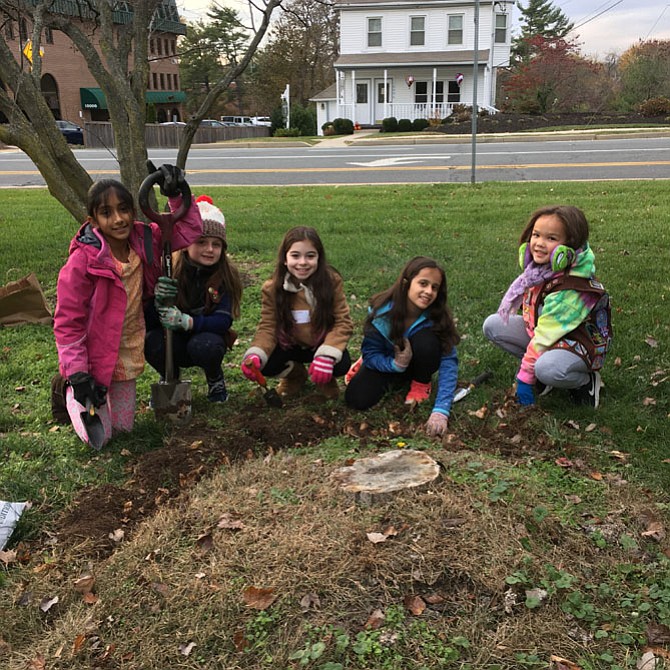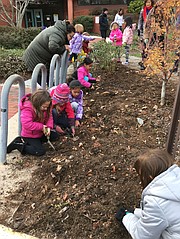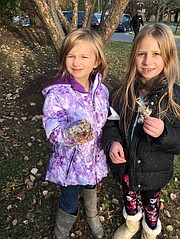 Several years ago, members of Potomac Village Garden Club realized many young people did not know how to plant flowers, seeds or bulbs. In response they started a Nature Detective Program to invite Girl Scouts to help in the gardens around Potomac Library as a way of teaching them basic gardening skills.
"We want to share the love of gardening with the next generation and to show them how plants help the environment," said Linda Rieger, chairwoman of the Nature Detective program for the garden club.
Rieger said they invite Scouts to spend a few hours digging in the dirt every fall close to the birthday of Juliet Low, founder of the Girl Scouts. Low was born Oct. 31, 1860 in Savannah, Ga. She founded the Girl Scouts in the United States in 1912.
Two Girl Scout Troops from Potomac Elementary School gathered at the library Sunday afternoon, Nov. 12, for a lesson on soil that included worms and their importance, plus practical help planting daffodils and picking up walnuts from around the library's black walnut tree.
Anjali Kapur, a member of third grade troop 2859, was at the Nature Detective program for the second time.
"Last year we were picking up walnuts and also pulled up weeds and planted flowers," she said.
She expected to do the same on Sunday while working on her badge for community service.
"It also helps the world and our community," she said.
Aadya Verma, a first grader with Troop 33026, was planning bulbs for the first time.
"I planted two [bulbs] to make it more pretty," she said.
She is hoping to come back in the spring to see her daffodils in bloom.
Tian Tung and Nanita Sandal are troop leaders for the first-grade group.
'This is our first time," Tung said. "We are learning about dirt, how to plant bulbs and how to use resources wisely. And about making the world a better place."
All the girls got the opportunity to see milkweed plants, a must have food for monarch butterflies, and got to take one of the silky seed pods home to plant in their own yards.
The Nature Detective program is in its eighth year, said Carol Jarvis, president of the Garden Club.
"We were maintaining the library garden, but we were 'ghost gardeners,'" Jarvis said. "No one knew we were watering, weeding, planting. We thought to involve the girls so they can take pride in their community garden."
Jarvis also said the club provides over $1,800 worth of plantings, mulch, etc. for the grounds around the library and Friends of the Library Potomac donates about $2,000.
One of the group's largest fundraisers each year is the annual Holiday Sale of arrangements made by club members.
This year the sale will be held from 11 a.m. to 6 p.m. Dec, 13 at Potomac Library, 10101 Glenolden Drive.
"The price range is $20-$40 and all the profits go into this garden," Jarvis said.