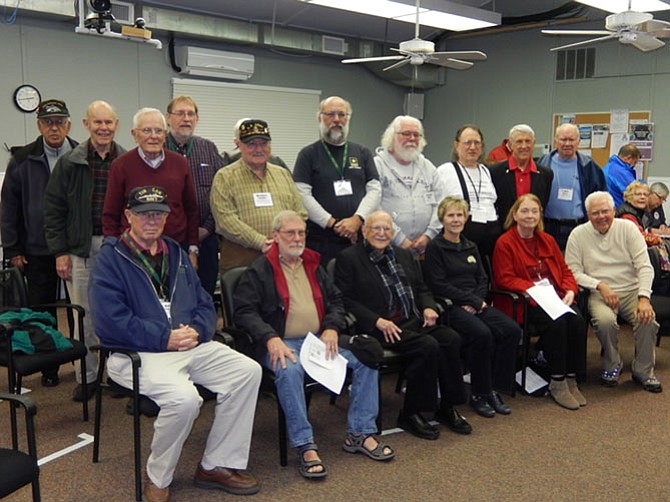 For the third year in a row, the Osher Lifelong Learning Institute (OLLI) in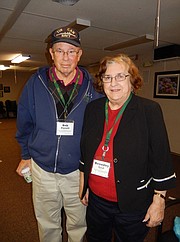 Fairfax honored America's veterans with a special and moving program befitting all those in the military who have served their country.
Held Friday, Nov. 10, it began with the presentation of the colors and the singing of the national anthem. Then, after OLLI board member Martha Powers read an original poem composed for the occasion; then songs representing each branch of the service were played, with veterans standing for their particular anthem.
Two of those attending were WWII veterans. Chester Myslicki, 97, served with the Army in the Pacific, and Adrian Pelzner was on a Navy supply ship in the Pacific. Both men said they cheered when they heard the war was over.
The OLLI members also donated money to Wreaths Across America to purchase wreaths to be placed on graves in the cemetery at the Quantico Marine Corps Base, over the holidays. Then on Dec. 16, OLLI volunteers will lay these wreaths there.
But the focus of this year's Veterans Day program was women in the military,
"A lot of us were Vietnam veterans who weren't appreciated when we came home. Now, people thank us for our service."
— Retired Career Navy Officer Bob Persell
so attendees watched the PBS documentary, "Fly Girls," about the women who test-piloted aircraft, ferried planes and logged 60 million miles in the air – all at their own expense, and without recognition, or even funeral benefits for the 38 who died. In fact, they didn't receive veteran status or benefits until 40 years after their service.
Between 1942-44, more than 1,000 women left homes and jobs to fly for the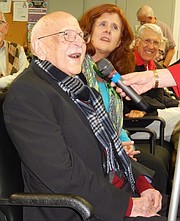 U.S. military during WWII. Known as WASP (Women Airforce Service Pilots), they faced danger and discrimination. Nonetheless, they ferried airplanes between military bases throughout the country, freeing men for combat overseas. They also tested aircraft to go faster and higher to better support the war effort.
One woman even piloted the first jet fighter and showed the male pilots how to fly the B-29. They flew every type of aircraft, and their safety and performance records were comparable to those of male pilots. Overall, the WASP program was deemed a huge success.
THE ORGANIZATION'S FOUNDER, Jackie Cochran, later received the Distinguished Flying Medal. In 1948, she was commissioned a lieutenant colonel in the Air Force; and in 1953, she became the first woman to break the sound barrier. In 2010, under President Obama, the WASP members were officially recognized and received gold medals.
Prior to OLLI's Veterans Day program, retired career Navy officer Bob Persell and his wife Beverley – who taught French at OLLI for more than a decade – spoke with The Connection about their life in the military. Bob served 24 years; he was commissioned an ensign in 1961 and married Beverley in 1962.
They were stationed in Norfolk, where Beverly taught high-school French. But in October 1962, said Bob, "I was on one of the first destroyers assigned to the quarantine line, or blockade, in Cuba, during the Cuban Missile Crisis."
"He didn't come home that night, and I called the captain's wife to ask what happened," said Beverley. "She said, 'Turn on the TV, and President Kennedy will tell you where he is.'"
"I wasn't scared; we were doing what we normally did on the ship," said Bob. "But if I'd known that the Russian submarines had nuclear torpedoes, I would have been petrified."
"I was worried about him; we'd just been married a couple months," said Beverly. "But at the end, he surprised me and came home." Bob was then transferred to Destroyer School in Newport, R.I. During his Naval career, he served on three destroyers and one nuclear-powered cruiser.
And because he loved his job so much, he said, "I didn't think I worked a day in my life." In 1964, he was selected for the Nuclear Power School to supervise the operation and maintenance of a nuclear propulsion plant.
"He had to be scanned before he went home, each night, to make sure he wasn't radioactive," said Beverley. The first of their two sons, Robert III, was born then. He later attended The Citadel and became a Marine, but died of cancer two years ago. Their second son, Jeffrey, is a vice president with American Systems.
Recalling some of his favorite assignments in the Navy, Bob said, "I had so much fun being on the staff of the Naval Post-Graduate School, from 1978-80, in Monterey, Calif." Meanwhile, Beverly taught French at Monterey High.
He also enjoyed being the nuclear-weapons officer on the USS Longbeach from 1968-70. And, he added, "I particularly liked being the executive officer on the destroyer Epperson from 1971-73. I had a wonderful commanding officer. He told me, 'You run the ship; if I don't like what you're doing, I'll tell you.' You can't beat that."
DURING BOB'S LAST tour of duty, he was both the executive officer and commanding officer of the Organization Effectiveness Center in Washington, D.C. There, he did management consulting to the Navy and Marine Corps major commands. "I enjoyed working with strategically impactful organizations," he said. "I told the people in charge how to improve their organizations."
He retired as a commander in 1985, after serving his country for more than two decades. At his farewell ceremony, said Bob, "The admiral gave a speech about the sacrifices military families make and the lower salaries we receive by not working in the civilian sector. And I told him, 'You could have had me for half the price.'"
But he didn't stay idle for long. Retiring on a Friday, Bob began working, the next Monday, for NASA in Washington, D.C., and stayed for 11 years. He finished as the head of NASA agency-wide training programs.
He also served three years on OLLI's board of directors. "I think OLLI is a wonderful opportunity for retirees, military or not," he explained. "They've had occupation-focused, undergrad and graduate careers. But here, they can now take courses they couldn't then. For example, engineers can take courses in English literature."
Noting that OLLI is all about lifelong learning, Bob said, "The best way to learn is by teaching something, and we have such appreciative audiences here. At the end of a class, the teachers get a round of applause." In fact, Beverley taught French at OLLI for 10 years, herself.
As for OLLI's annual, Veterans Day celebration, she called it "wonderful and inspiring."
"It just makes me feel good – and appreciated," added Bob. "A lot of us were Vietnam veterans who weren't appreciated when we came home. Now, people thank us for our service."