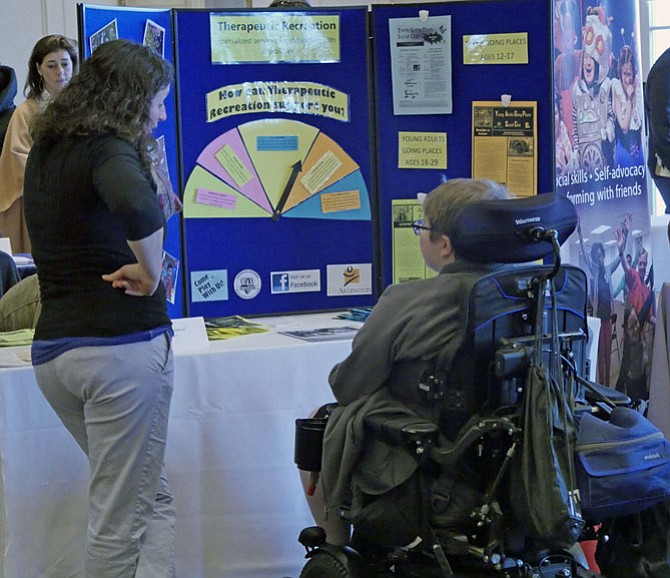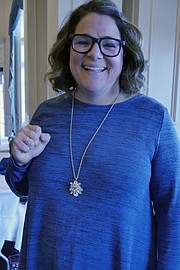 More than 200 students browse through the tables set up in the Eagle Room at the Army-Navy Country Club on Nov. 15 for the third Arlington Public Schools Transition Fair.

According to Christina Eagle, transition and assistance coordinator at the Arlington Career Center, "The purpose is to connect families and students with community resources provided to have positive outcomes post graduation. It carries out the Arlington Public Schools (APS) goal 'to educate the whole child.'" She adds that they know people with disabilities get employment at significantly lower levels and "we want to empower our students."
One of the tables offers information about Program for Employment Preparedness (PEP). According to Micah Stein-Verbit, coordinator of PEP, this program is a job internship for high school students with mild to moderate disabilities. "They intern three days a week from 1-4 years. They have their first supervisor, co-workers, expectations." He explains PEP helps interns prepare and guides them along the way. "They feel more confident about themselves." PEP had 54 interns this year.
A booth by the door focuses on ENDependence Center of Northern Virginia, Inc. (ECNV) whose goal is "to END dependence by empowering people with disabilities to live independently." Stein-Verbit says one of the programs is Transportation and Mobility where trainers provide individual instruction on using public transportation like buses and Metro. Participants can also receive "guidance in managing finances, food preparation, career counseling, utilizing community resources and other areas related to caring for oneself." The local Center for ECNV serves Arlington, Fairfax and Loudoun counties and the cities of Alexandria, Fairfax and Falls Church.
Tables for the Arlington County Department of Disabilities Services and the Social Security Administration also offer printed information. Stein-Verbit says the Social Security table had a lot of questions last year.
Hire Autism, Northern Virginia Community College (NOVA), Unlimited Work Opportunities, and Art Stream, which is a non-profit working on skills in the arts, are also represented.
This is the third year for the Transition Fair that is sponsored by the Arlington Public Schools and Special Education PTA (SEPTA).

More like this story