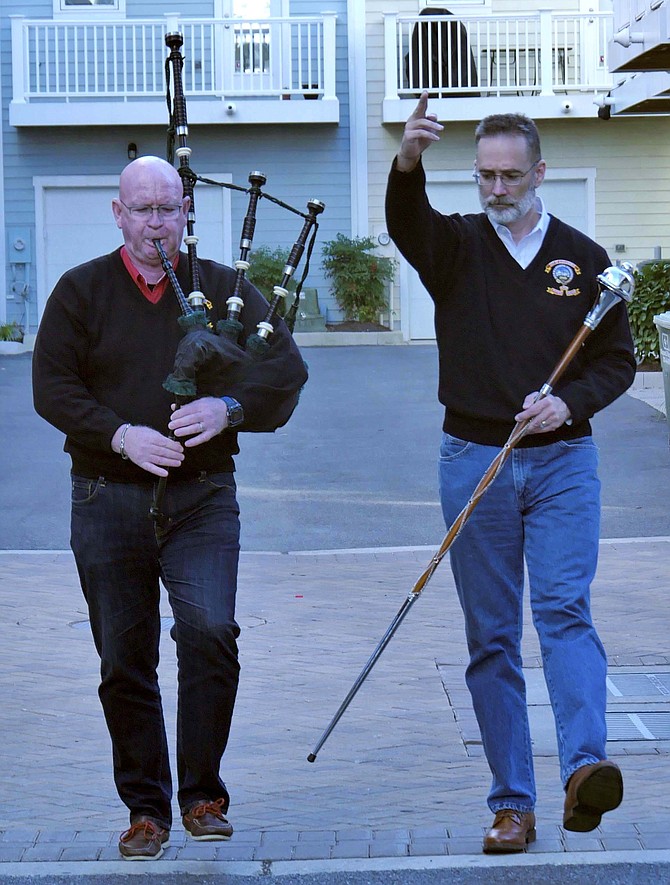 Konstantin Gojnycz has been obsessed with bagpipes since childhood. "It has always fascinated me. The sound just resonates; it hits you so deep." He adds that he and his wife traveled all over the world for about 15 years with their careers but when he moved to Alexandria, he started taking lessons and has played for almost 8 years. Today Gojnycz is practicing like he does every day. He says it is a hobby but it is also a lifestyle.
"The bagpipes are just so soulful," he said. "But there are two kinds of people, those who love them and those who hate them. And they can't explain why. There doesn't seem to be any in-between. But my wife falls in the other category. That's why I'm in the basement and she is on the top floor."
He picks up his bagpipes, which he explains, have three drones, producing two high notes and one low note. As he blows into the blowpipe, the bag expands with air and the room in his basement fills with one continuous sound. "A bagpipe is not quite in tune with other instruments. For instance a C is a C sharp and an A is a b flat. It is a very old instrument on a pentatonic scale rather than a perfect scale and it only has one scale, low a to high a."
Today he is practicing with Kevin Donnelly, the current drum major of the City of Alexandria Pipes and Drums. Gojnycz will exchange places with Donnelly at this year's annual Scottish Christmas Parade when Gojnycz becomes the new drum major and Donnelly returns to the bagpipes. Donnelly, who has been playing pipes since 1993, said, "I have been drum major for five years but I like the pipes better. I want to get back in the line."
He explains the drum major is the one who runs the band going down the street. "He needs a command presence because he gives orders." Donnelly adds everything is precise and practiced over and over. There are different levels of expertise in the band and they accommodate all abilities.
The drum major carries a 58-inch mace twirled high in the air to signal intentions to the band members in advance. For instance, the mace signals directions to the 5' 4" bagpiper in the middle of the band who can't see over the 6'4" Marine marching in front of her. And when they are in full dress uniform, like they will be on Saturday, they wear two-foot high shaggy black hats, which makes it even harder to see. Four measures before it will be time to end the tune, the mace moves high in the air and each piper and drummer mentally counts down a measure so they can all end on the same note. "It isn't easy."
The drum major chooses the tunes for presentation purposes with display based on British-Scottish units. Donnelly explains they use the British-American drill. Gojnycz said, "I have to unlearn some things because I was a Marine and some things in the march are different." For instance, the length of the stride is 15" for pipers and 30" for infantrymen. "I have to always look behind to make sure I don't step away from the band."
This year's Scottish Christmas Parade will begin with "Killie Crankie," which is the name of a pivotal battle in one of the rebellions, "one of those great Highland charges with broad swords." The song was based on a poem. "If you have seen what I have seen, you wouldn't be so cantieo (dismissive)."
They have been looking at the weather for a month in advance of the annual Scottish Christmas Parade sponsored by the Campagna Center. "It's supposed to be about 50 degrees on Saturday which should be about perfect with our full dress uniforms." Donnelly says they will arrive about an hour early at Lyles Crouch Elementary School where the march will begin. "We look at the weather and tune our pipes accordingly. If it's really cold we pray for the best. The high notes go off key and we don't sound so good."
Donnelly says they will play in the rain but it affects what they wear. And they are very protective of their instruments since bagpipes can cost from $1,100-10,000.
This year's band has 22 members with 16 bagpipes and eight drummers. They play Scottish military music and dress that way. "We have a number of well-known pipers such as the current Pipe Major, John Sprague, who is a champion on the East Coast."
The band stands at attention. Rmmmmm rmmmm, "strike in the bag." On the next down beat all pipes play an e note. "It's hard to do it together." On the next downbeat, they take the first step and begin to play at the same time. This year Gojnycz will lead the band down the street and Donnelly will lead the combined band at the end. Then next year back to his spot in the line.