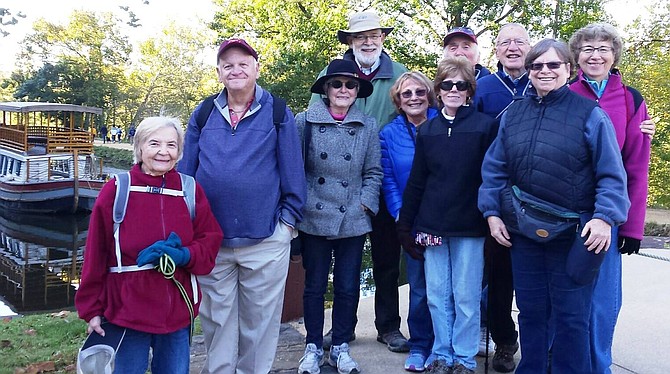 "Supportive social connections enhance our thinking abilities, memories, and sense of purpose, and reduce loneliness and depression." — Jerome Short, Ph.D., George Mason University.
As Sheila and Don Moldover neared retirement, they began to think of ways that they could use their skills and talents to fill their time in a meaningful way.
"Like any other transition, you need to plan for retirement," said Sheila Moldover.
The Moldovers decided to become involved with the national Village movement, a membership organization for senior citizens that links neighbors together to help one another remain in their homes as they age.
"Don [joined] the Washington Area Villages Exchange developing and evaluating software, using his skills and background as a software developer," said Sheila Moldover. "And me as communications chair at Potomac Community Village (PVC), using my background as an editor and writer. Don also volunteers for PCV, helping members with their computer problems."
Researchers in geriatrics have long believed that social connections, such as those that the Moldovers are maintaining, can enhance one's mental and physical health. Factors such the death of family and friends and retirement from jobs can reduce social connections significantly. However, researchers underscore the importance of maintaining such bonds. In fact, a researcher from Drexel University School of Public Health studied nearly 14,000 adults recently and found a link between positive social connections and seniors' ability to maintain physical mobility longer than those without those connections.
"Supportive social connections enhance our thinking abilities, memories, and sense of purpose, and reduce loneliness and depression," said psychologist Jerome Short, Ph.D., associate professor of psychology, George Mason University. "Others help motivate us to stay physically active, take care of ourselves, and increase the quality and length of our lives."
Like the Moldovers' experience, donating one's time to charitable organizations and causes can offer seniors, particularly those who have retired, a renewed sense of purpose. "A really meaningful way to build connections for seniors … is to volunteer," said Amy Best, professor and chair, Department of Sociology and Anthropology at George Mason University. "This is a terrific support for the community and is full of personal and social reward."
One source for volunteer opportunities that Best recommends is the Corporation for National Community Service, the federal office that coordinates and supports community service. "[They] run an effective seniors program with a range of volunteer programs that support the community."
Relationships with spouses, children, grandchildren and other family members are important sources of social connectivity, advises Short, who suggests building, maintaining and repairing those bonds. "Some effective ways to build relationships are to celebrate family members' and friends' birthdays, anniversaries, and other social events. Helping others in the community brings new social connections, appreciation from others, and adds meaning to our lives."
Dreaming about retiring to a warm climate, vacation home or another locale might be common pre-retirement sentiment. Best warns against leaving behind a familiar environment and existing social connections. "There is a trend for seniors to age in place rather than retire to a new community," said Best. "The benefit of doing so is they are able to draw upon established social connections. If you decide to move to a new community, it's important to move early in retirement. It's really difficult to lay down roots at 75. 65 is a lot easier."
The Moldovers agree. "We know that many members of Potomac Community Village join because they want to support a good cause, but they renew because of the new social connections and new friends they've made," said Sheila Moldover. "That's one of the wonderful benefits of being part of a Village with a goal of enabling members to age in community, in the homes they love."