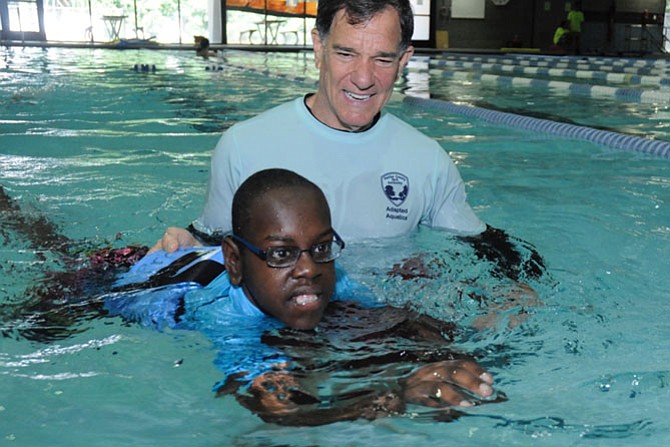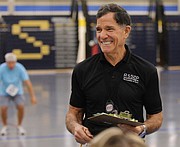 RSVP Northern Virginia volunteer Ken Kozloff moves through the pool at Providence Recreation Center encouraging the child with special needs he is teaching to swim, to "stroke, breathe, and kick."
Kozloff high-fives his students at the end of each lap and asks, "Are you having a good time?" All the while he is keeping an eye on two other volunteers he is mentoring during a Fairfax County Park Authority Adapted Aquatics class.
Kozloff will continue to do this for about 90 minutes on a Sunday morning without much of a break. Sometimes he lifts students half his weight into the air so they can experience the joy of splashing into the pool. One would never guess that the former INOVA Alexandria Hospital CEO turned 70 years old in August. "I don't feel 70, I feel like 25," he said.
Kozloff donates more than 40 hours of his time each month as an RSVP Northern Virginia volunteer, helping autistic children learn how to swim, mentoring economically disadvantaged citizens to manage their finances, and directing other volunteers at large events for RSVP, including the Northern Virginia Senior Olympics in September.
RSVP (Retired and Senior Volunteer Program) is the region's largest volunteer network for people 55 and older and provides individualized support to seniors seeking service opportunities in and around Fairfax County, Arlington County and the City of Alexandria.
When he is not volunteering for other organizations, he is a volunteer engagement leader for RSVP, acting as a nonprofit evangelist of sorts, spreading the word on why RSVP is such a great program. "What's unique about RSVP is the approach it takes to new volunteers, helping them to find what they're looking to do, not where we are looking to place them," he said.
RSVP asks each prospective volunteer, "How can we help you find that volunteer opportunity that is going to mean something to you?" Kozloff said. He has been with RSVP for over a year and a half.
Five years ago, he began volunteering with the Fairfax County Park Authority's Adaptive Aquatics program, teaching children on the autism spectrum to swim. He later added another afternoon of classes at Spring Hill Recreation Center in McLean, teaching special needs adults to swim, including those with neurological issues or physical impairments. The park authority honored Kozloff in 2015 as the Adaptive Aquatics Outstanding Volunteer of the Year.
He then started working with Our Daily Bread (now called BritePaths) where he has volunteered for four years as a financial mentor. He is also a volunteer classroom instructor with Junior Achievement in Fairfax. He teaches business principles to elementary, middle, and high school students. He also teaches students with special needs in this program.
In an eight-day span in September, the RSVP volunteer managed volunteers at several community projects including the NVSO's indoor track meet in Arlington and its swimming championships in Sterling and a gardening project at River Farm in Alexandria.
"I love to help others," Kozloff said. "I enjoy volunteering with RSVP, not only for what I do as a volunteer, but also for the social aspect of working with other people." During the senior Olympics he managed anywhere from 10 to 30 volunteers at the different events.
WHAT SEPARATES RSVP from other volunteer organizations is its leadership and the approach it takes, treating each volunteer as an individual, according to Kozloff. As an engagement leader, Kozloff tells prospective volunteers: "We are going to show you things and talk to you about specific opportunities that you can relate to."
RSVP offers an array of opportunities for volunteers including providing rides, support and meals to older neighbors, assisting local veterans in need and helping prepare communities for disasters. RSVP also recruits volunteers for various community events.
RSVP volunteers enjoy flexible schedules, free accident and liability insurance while serving, optional mileage and meal reimbursement and are invited to volunteer group projects and social gatherings.
"The big thing that I get out of volunteering is the satisfaction of helping others," he said. "I love to help others, find out what their goals are and help them achieve them, whether it is teaching an autistic child to swim from one side of the pool to the other, or teaching a stroke patient who would like to learn to swim again."
He also enjoys working with other volunteers and letting them know how important it is to make other people feel good. He tells them that they will feel twice as good because they are helping people.
"Ken is one of our most active volunteers and a great example of what it means to stay active after retirement," said Nadia Hoonan, program manager for RSVP Northern Virginia. "He truly exemplifies the diversity of opportunities that our program offers, from leading a variety of service projects for our volunteers to cleaning up garden grounds at American Horticultural Society. No task is too small for Ken. We want more volunteers like Ken to be willing to be on the front lines of volunteering in Northern Virginia and share their lifetime experience to make a great impact in our community," Hoonan said.
RSVP has several upcoming opportunities during which those interested can learn more about the program including orientations at the Fairfax Regional Library, Oct. 10 and at the Beatley Central Library in Alexandria, Oct. 25. RSVP will hold a special meet and greet event for current and prospective volunteers at Huntley Meadows Park, Oct. 13.
Those interested in learning more about RSVP or in signing up for any of these events should contact RSVP Northern Virginia Volunteer Specialist Carly Hubicki at 703-403-5360, email Hubicki at chubicki@volunteerfairfax.org or visit the RSVP website at rsvpnova.org.