Celebrate the joy of books in their many genre at Northern Virginia's flagship
book festival, the "Fall for the Book." Returning for its 19th year, the Festival aims to connect readers of both print and digital books, with about 150 authors, poets, historians, graphic novelists expected at this year's event.
With a format of interactive workshops, readings, award celebrations and special hands-on activities, "Fall for the Book" wants to encourage cultural growth and knowledge through active reading. This year's book festival is expected to attract 20,000 attendees. Events are free.
"There will be abundant opportunities for book signings," said Festival Manager Suzy Rigdon-Williams. This year's event will even include food trucks. The festival will partner with the City of Fairfax's "Fall Festival" as well.
National headliner authors include Colson Whitehead, author of "The Underground Railroad," winner of a 2016 National Book Award. Lev Grossman
Where and When
"Fall for the Book" at George Mason University, 4400 University Drive, Fairfax, and locations around Northern Virginia. Events are Oct. 11-14, 2017. Events are free; tickets not required. For details and full schedule call 703-993-3986 or visit www.fallfortheboo.... There is also a digital "Fall for the Book" app available at www.fallfortheboo....
("Magicians" trilogy), poet Ellen Bryant Voig ("Headwaters"), writer David Shields ("Other People"), novelist Karan Mahajan ("The Association of Small Bombs)," poet Tarfia Faizullah ("Seam") and Mohsin Hamid ("Exit West") will participate as will Jennine Capo Crucet ("Make Your Home Among Strangers") about a young woman bridging two cultures.
Local Northern Virginia authors will be well represented at the book fest.
L.M. Elliott (Northern Virginia) author of Young Adult historical fiction such as "Suspect Red" will be at the festival. "Young readers are sophisticated. From reading historical fiction they can learn about the past and how the past is relevant to their own lives on issues that matter to them, such as injustice and xenophobia."
Zach Powers (Fairfax) author of a short stories collection, "Gravity Changes,"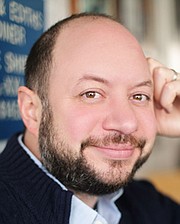 will be participating. "The Festival has a national reputation. Having it in our backyard is a huge benefit. As an author, it lets me connect with readers and writers. I always find inspiration in meeting other writers and readers."
Jason Rodriguez (Arlington) who creates graphic novels about the underrepresented in America will have several sessions at the book festival. "I focus on using graphic novels to talk about social justice and historical challenge," said Rodriguez. "I want to inspire and provide youth with tools to tell their own stories. Right now I am focusing on Hispanic American issues."
"Fall for the Book" is a home-grown Northern Virginia event offering attendees of all ages and interests opportunities to meet writers; already admired or newly discovered in the company of other book lovers.