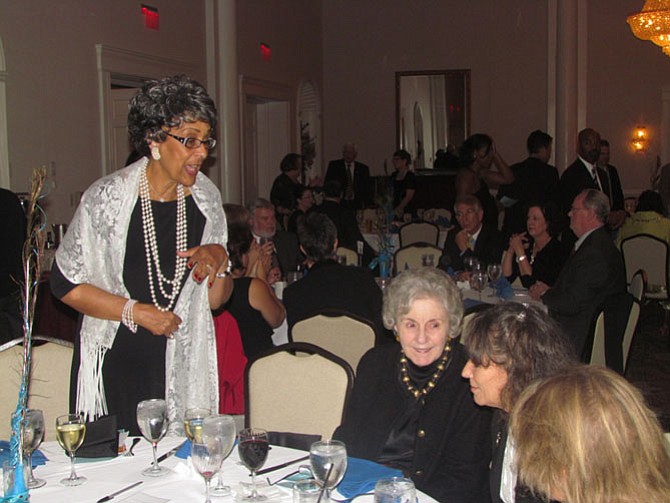 Rising Hope Mission Church is holding its annual Hope Grows Gala on Friday, Oct. 13. The event is a fund-raiser for its mission to help the homeless, low-income families, and disabled veterans along the Route 1 Corridor between Alexandria and Ft. Belvoir. Money earned will help to provide food, clothing, emergency and job assistance, and support for the hypothermia shelter.

The event will include dinner, dancing to the Moon Daddies Band, and a silent and live auction. Gala tickets are $100 per person; business promotion/sponsor opportunities start at $300. They're hoping for 200 people to attend. The Gala will take place from 6:30-10:30 p.m. at The Waterford, 6715 Commerce Street, in Springfield.
"We need to raise $50,000," said Pastor Keary Kincannon, who founded the church in the back of his car 22 years ago. Since then, they've been at seven different locations, including the Russell Road church site in Alexandria for 12 years.
He said it costs $1,500 a day to provide the programs at Rising Hope, which encompasses the food pantry, soup kitchen, fresh produce giveaway, clothing closet, emergency services, emergency referrals, HIV testing, counseling, hypothermia shelter, and drop-in center for the homeless.
In September alone, the food ministry benefited 2,718 individuals. And between August 2016 and July 2017, it provided nearly 200,000 meals in the community; 2,705 hypothermia shelter bed nights that saved lives from freezing; provided 19,696 gifts of clothing; 696 transportation assists; and 4,469 free produce. Rising Hope has more than 700 volunteers who assist with everything.
Kincannon continued: "We continue to leverage about $1.2 million worth of food that is donated to us that we give out to the community. We continue to have 20,000 visits a year to our clothing closet. There are a number of ministries that remain very strong and we want them to stay strong."
Additionally, Rising Hope provides Thanksgiving and Christmas food baskets, as well as Christmas gifts to people in need; and peer fellowship for others who are struggling to get on their feet. Nearly two-thirds of Rising Hope's members currently are, or have been, homeless.
During the Gala, two local people's stories will be highlighted. One honoree is Samantha Jacobs, who received help from Rising Hope, and was then featured in a National Geographic book about hunger in the U.S. and how food pantries try to help. The other honoree is Jeff Lisanick who spent 20 years in prison and was also helped by Rising Hope. He later became the coordinator of Residential Services at the Eleanor Kennedy Shelter in Ft. Belvoir and now serves on the Community Services Board. He was named Lord Fairfax for 2017 by the Board of Supervisors.
Kincannon, who serves on the Fairfax County Governing Board to Prevent and End Homelessness by year end 2018, said the mission of Rising Hope "is to bring the power of Christ and the support of the church to the least, the lost, the lonely, and the left out. I would say we are here to bring the most good we can to those people who are most in need."
Along those lines, Denene Crabbs, Strategic Partnership Director at Rising Hope, said they are working to develop strategic partnerships with local businesses, non-profits, and individuals to optimize resources for empowering the homeless and low-income families to rise above poverty, hunger, and homelessness.
"We're also developing educational workshops, and building relationships with companies to provide job opportunities so we can empower them to help persons in transition be equipped and qualified to work," said Crabbs, who started out as a food pantry volunteer.
Kincannon said in addition to its mission work, they do everything that a traditional church does. "We have worship services, small groups, Bible studies, children's ministries, counseling, and prayer groups," he said.
And the support they receive from individuals, both financially and volunteer-wise, has remained strong. "The people that we are involved with see the good that we are doing in this community and they want to support it," he said.
In addressing the Route 1 Corridor, he said it has some of the highest rates of poverty, drug arrests, DUI rates, and domestic violence incidences in Fairfax County. "So there's a lot of problems related to poverty in the Route 1 Corridor. We fall far behind the rest of Fairfax County in terms of income and educational level," he said.
"We are a place where many of the people in this section of the community do not have the same kind of benefits, background, and support that a lot of the rest of Fairfax County has had," he added.
If planning to attend the Gala, some of the auction items include: A flight over the Shenandoah Mountains; a Wintergreen weekend; a Gunston Hall private tour; Redskins tickets; a set of HENN Stoneware; a silver bar set; a set of hand-painted wine glasses; $250 Cedar Knoll Restaurant; and assorted gift baskets.
For Gala tickets, sponsorship opportunities or to give online donations, visit www.risinghopeumc.org/shop. To volunteer or donate auction items, contact Kat Roman kroman@risinghopeumc.org, 703-360-1976, or maria.ward@gmail.com.
Rising Hope Mission Church is located at 8220 Russell Road, Alexandria; call 703-360-1976 or risinghopeumc.org/shop, facebook.com/RisingHope.