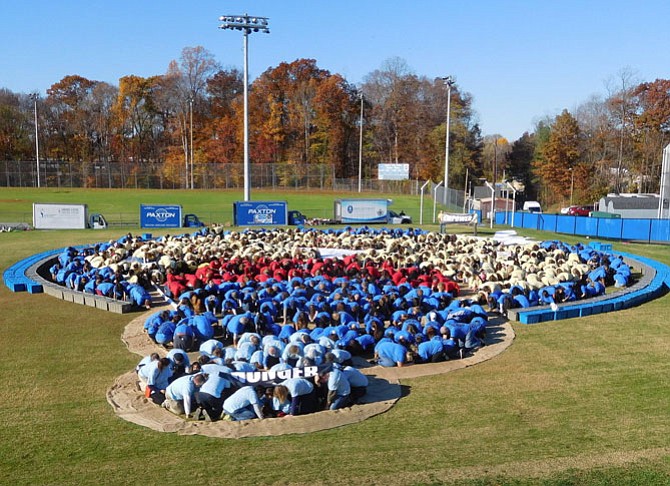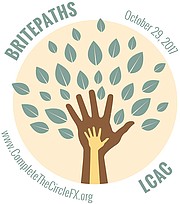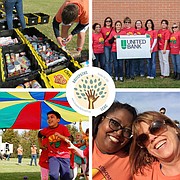 It's tough to be hungry in an area as affluent as Fairfax County, but that's the sad reality for so many families here. So local nonprofits Britepaths in Fairfax (formerly Our Daily Bread) and Lorton Community Action Center (LCAC) are holding an event to collect food for them.
It's the seventh annual Complete the Circle FOODRaiser, and it's slated for Sunday, Oct. 29, from 1-2:30 p.m. at Fairfax High's practice football field, 3501 Rebel Run in Fairfax. Participants will bring food to donate and will create a live, art project that will be photographed from the air.
"It's a wonderful, inter-generational, hands-on event to address food-insecurity in our community," said Britepaths' Executive Director Lisa Whetzel. "And for kids, it's a great opportunity to see community members all coming together around a cause that affects their neighbors in need. It shows them people's compassion and empathy in action."
Register at www.CompletetheCircleFx.org. through event day, but T-shirts aren't guaranteed for late registrants. Admission is $10 ($12 for XXL event T-shirt). Attendees are encouraged to bring at least three food-pantry items or a grocery-store gift card to be distributed to community members in need. For more information and a list of the most-needed pantry items, see www.CompletetheCircleFx.org, call 703-273-8829 or email info@britepaths.org.
THE FESTIVITIES begin with live music by Tommy Gann of the group, Cancer Can Rock, plus refreshments and children's activities. Then, wearing certain colors of T-shirts, participants will create a living, Art for the Sky project designed by internationally renowned artist Daniel Dancer. Placed in bins all around them will be the food donations brought that day to literally "complete the circle" of giving and hope.
"It's fun to see it all in action, and kids especially get such a kick seeing the crane lift up the photographer," said Whetzel. "And when they receive the image in a postcard, a few weeks later, they try to find themselves in it."
Approximately 1,000 people participated in last year's event and donated nearly 8,000 pounds of food and supplies and more than $1,500 worth of grocery-store gift cards and financial contributions. This year's goals are 1,200 participants, 15,000 pounds of food and $15,000 in donations to help the county's working poor.
"The battle against hunger in our community is stronger than ever before," said LCAC Executive Director Linda Patterson. "And part of it is because food insecurity continues to grow, especially for families not eligible for food stamps, because they make just too much to qualify for them, but not enough to necessarily eat every day."
"It's incredible to think that, in wealthy Fairfax County, there are about 60,000 people who don't know where their next meal will come from," added Whetzel. "Many of them are children, and it's heartbreaking to think of how their parents must feel when they work so hard to make ends meet, but have to put their kids to bed with empty stomachs."
She said that's why participating in Complete the Circle is "a joyful way for community members to be part of the solution to the very real problem of hunger and need in our midst. We welcome community members to join us that day and to make the event even more meaningful by bringing a team of family, friends, co-workers or community-group members. Another great way to help is by holding a grocery-store gift card or food drive in advance."
Patterson said LCAC's partnership with Britepaths helps change lives such as Kate's, a military mom of four who comes to LCAC's food pantry each Friday, "Complete the Circle is a lifeline for her and her children while her husband is deployed," explained Patterson. "And Mary receives food each Thursday through our grocery delivery program for homebound individuals. Complete the Circle means she's able to eat each day."
DONATIONS of household and toiletry items are also welcome. Britepaths doesn't have the capacity to accept food, so LCAC receives the food donations and Britepaths receives the non-food contributions and the gift cards.
Event sponsors, in-kind donations and volunteers are still needed. Besides individuals and families, community organizations and businesses are encouraged to bring a team to the FOODRaiser. So far, nearly 500 people, including more than 60 teams, have registered.
Whetzel said food is needed all year 'round, but "Fall is when we begin looking toward our neighbors' needs during the holiday season." And for LCAC, said Patterson, "The food helps us get through the early winter and makes a big impact on the families we serve."
Britepaths serves some 1,200 families a year. For example, a mother of three whose husband died of a heart attack got food assistance there for five months so she could feed her children until she could learn to drive and get a job. Also helped was a single dad with diabetes and a 12-year-old son. When the dad went blind and lost his job, Britepaths' aid was critical in tiding them over before his Social Security benefits kicked in.
Patterson said almost a third of LCAC's families are seniors or disabled households. "We're seeing that number increase," she said. "And because of their meager income, they need ongoing, weekly, food assistance. For example, a disabled woman with custody of her infant grandson comes to us. There's no way she could feed herself or afford diapers and formula for the baby, if not for LCAC's assistance."
The image to be created during the FOODRaiser is of a leafy tree with hands reaching up to form its trunk. "It's to symbolize the giving spirit and a lending hand," explained Whetzel. "Many leaves make up a tree, just as many people help each other to become a strong community."
And with the donated items being placed around it, she and Patterson hope enough food is brought to encompass the entire perimeter and "complete the circle."
For the participants, said Patterson, "It's the best Sunday afternoon they'll ever experience. After my first time, I walked away inspired because I knew those couple of hours weren't just changing me, they were changing thousands of lives. On any given day, almost 28,000 children in Fairfax County go hungry. We can change that through Complete the Circle. I believe we all can make a difference for families in our community."