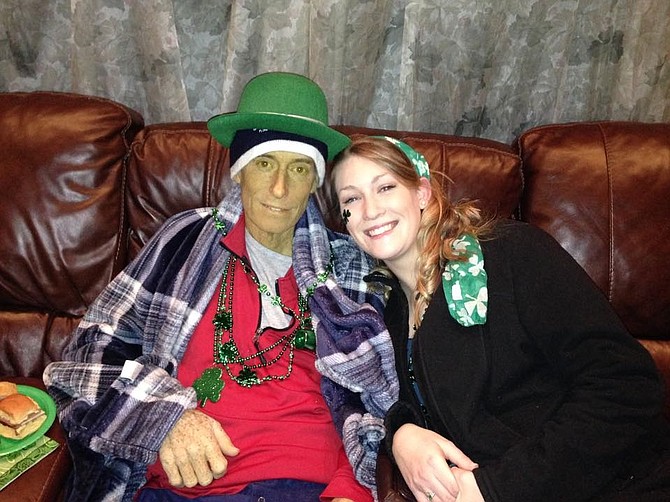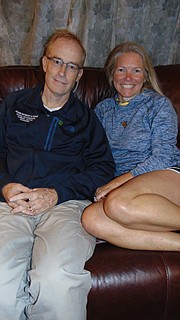 Steve Nugent, 53, of Vienna's Murmuring Pines community, has undergone two liver transplants due to his chronic condition called PSC or primary sclerosing cholangitis. The PSC disease is a disorder of the liver in which the bile ducts inside and outside the liver become inflamed, thickened, narrowed, and finally obstructed. It's the same disease that killed Walter Payton of the Chicago Bears football team.
On Sunday, Oct. 22, some 14 months after his second liver transplant, Nugent was one of 30,000 runners in the 42nd annual Marine Corps Marathon in Arlington. He finished the race with a time of 6 hours, 16 minutes, as 35 of his friends and family cheered him on. His goal was to raise $26,000 in the event. "I've been waiting to do this since the moment I woke up on that operating table. I've dreamed of this event," he said.
Up until he was age 38, Nugent had lived a pretty healthy life. He was then diagnosed with PSC and in 2007, he received his first liver transplant from his younger sister Nancy in an 11-hour surgery; taking about 60 percent of her liver, which will regenerate itself.
After the transplant, Nugent lived a fairly normal life for a few more years. "I did very well and I lived as normal a life that a transplant patient can live for eight years. I took a lot of medicines. I was able to do most things," he said.
But when he turned 49, the PSC returned. "And when it returned, it was very aggressive," he said. "I went downhill very quickly and found myself two years later literally with days at the most left to live."
NUGENT was one of 118,000 people nationwide on an organ waiting list, where he was wait-listed at three hospitals. His MELD Score was at the highest level of 40 (gravely ill); MELD is a numerical scale used to rate adult liver transplant candidates. On June 5, 2016, he got a call to drive down to UVA for an available organ, but once he got on the operating table, they did tests and discovered it was not viable because the liver was no good.
Ten days later, the Nugents were blessed with a second chance. After driving around from Sterling to Vienna, and a missed phone call from his brother, they were told by his coordinator Cindy Williams from UVA Hospital that she had an organ and he needed to come to UVA immediately.
"I was so sick at that point that I wasn't really grasping what was going on. You have to say the word 'yes' (that you'll accept the organ), but I was confused," he said. After talking with his doctor, Dr. Kirti Shetty of Georgetown who encouraged him to go through with it, he said "yes" then drove in rush hour traffic to UVA for the transplant.
He added, "My surgeon told me, I don't know how you are alive because your liver is basically gone, and he gave me two days at the most [to live]. "
According to wife Diane, 50, the next morning after a five-hour surgery, "He was transplanted and within hours, you could see his color changing. ...You could already see him getting lighter, and getting back to being pasty white [from having been jaundice yellow-green]; it was unbelievable that it was happening right in front of you."
He added that the transformation was instantaneous. "I went from grayish to greenish to looking better within hours. When they put in a new liver, the whites of your eyes become white again."
At one point he was on 30-35 medicines a day and the jaundice and blood poisoning caused extreme itching, mental confusion, and fatigue. He also contracted the shingles. "I would see snakes and lizards crawling over me; I got virtually no sleep," he said.
After feeling low-energy and after taking 20 pills a day to ward off the bouts of organ rejection, in March 2017, he started to feel back to normal. So he decided to start training for the Marine Corps Marathon, first by walking around his block and then increasing his workouts.
"Once I felt normal, it took me 22 minutes to walk around the block. That's a quarter mile. That's terrible," he said.
So he went to Potomac River Running Store, bought a pair of running shoes, and hooked up with running coach Caroline Merena of Arctic Coaching. "I started with one lap around the block, then two laps around the block, and then a mile in 26 minutes. That became my regimen," he said. "Then I gradually picked up the mileage and was trying to get three miles every time I went out at a pace of 15 minutes."
He added, "As I got closer to getting better, I'd run 14-16 miles, then a five-mile run, then a 5K on the weekend to get speed; we were doing all that between 13-14 minute miles. I was eating healthier; everything we did was to prepare ourselves for a 26-mile race."
He said he saw all his doctors who were on board with the marathon idea; they gave him the OK – that it wasn't dangerous. "They were pleasantly surprised that I had a goal. The activity was good for my body," he said.
The farthest distance he'd run in preparation of the marathon was 18 miles, which took him four hours. In his early 20s, he said he ran about seven marathons when he was healthier.
TODAY, he feels like he's in the best shape of his life. "I'm 53 years old and been through two transplants, but my mind feels like I've got this with no problem. I will tell you my mind is so happy to be alive, that running this marathon is nothing but fun – what we're trying to do is show people that if you're waiting for an organ transplant, it gives you hope."
He added, "It's really crystal clear for me. I've been given a second chance, really twice, once by my little sister who is doing well and then by this latest one at UVA. It's really simple to show people that organ donation works," he said.
So to give back to the community, Nugent created the Team Steve Foundation in 2017 where the funds raised will go to support UVA Hospital. The Team Steve Foundation hopes "to increase organ donation awareness, honor organ donors and provide comfort, care and support to the families who gave him the 'Gift of Life.'" He said there's a button on the website to sign people up to be organ donors. The other goal is to gather funds for the Transplant Patient Assistance Fund at UVA Hospital. For further information, visit TheTeamSteve.com.
Nugent said in a year and four months, he went from an operating table to running 26 miles in a marathon, "And I'm going to smile the whole way. That's a good story to say that organ donation works. That's what it's all about."
Nugent has seven brothers and sisters, and works in his family business, John Nugent & Sons Heating and Air Conditioning of McLean. He is married to wife Diane, his caretaker; the couple has three children: Bailey, 24; Stephen, 21; and Madison, 18. He grew up in McLean, graduating from McLean High School in 1983.
More like this story