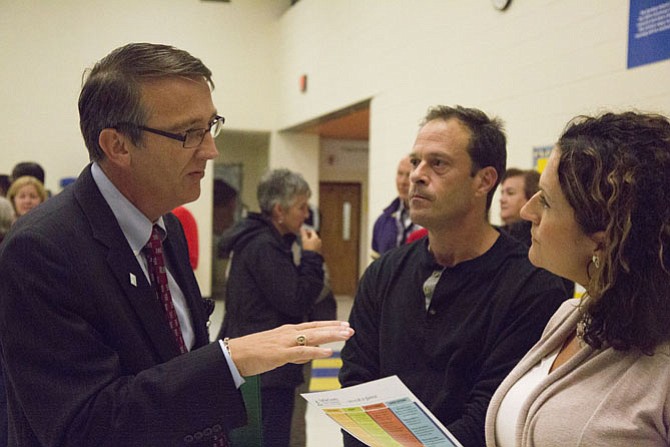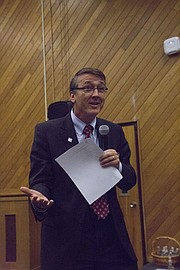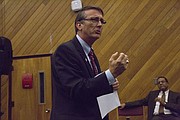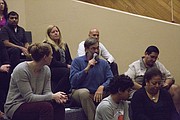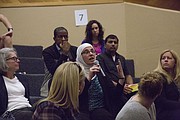 More Conversations
Brabrand will host four more "community conversation" meetings this fall. The meetings will begin at 6:30 p.m. with a meet and greet, followed by discussion and questions from the audience from 7-8 p.m.:
Region 3: Wednesday, Nov. 8, Hayfield Secondary School Lecture Hall 1604 at 7630 Telegraph Road in Alexandria;

Region 4: Tuesday, Nov. 14, Irving Middle School Lecture Hall at 8100 Old Keene Mill Road in Springfield;

Region 5: Tuesday, Nov. 28, Chantilly High School Lecture Hall at 4201 Stringfellow Road in Chantilly; and

Region 2: Monday, Dec. 11, Jackson Middle School Cafeteria at 3020 Gallows Road in Falls Church.
Brabrand's Curriculum Vitae
The Fairfax County School Board hired Brabrand in June, pulling him away from working as superintendent of the Lynchburg City Schools. He previously worked for the FCPS system in various roles, including assistant superintendent, principal of Fairfax High School, assistant principal, associate principal and teacher. Prior to this, he volunteered at FCPS and worked as an assistant manager for Bell Atlantic.
Brabrand was selected for the job after the FCPS Board hired a nationwide search firm — Hazard, Young, Attea and Associates — and received input from the community. A committee of 19 staff and community members interviewed semi-finalists and provided feedback to the board.
Brabrand earned a Bachelor of Science degree while studying international economics and foreign service from Georgetown University in 1990 and a master's degree in education from the George Washington University. He finished a doctoral degree in educational leadership and policy from Virginia Tech in 2003.
The Fairfax County Public Schools' new superintendent is taking questions from the county's community of teachers, parents and its more than 189,000 students this fall.
Superintendent Scott Brabrand hosted a "community conversation" meeting at the Langston Hughes Middle School in Reston on Wednesday night, Oct. 18. Parents, teachers, students and community members were invited to attend and ask him questions about the 40 schools in the Herndon, Langley, Madison, Oakton and South Lakes high school pyramids that comprise Region 1 of the FCPS system, and the programs and services the schools provide those 38,000 students.
"Sometimes, in my experience, some of the issues that bubble up to the top happen because we haven't built the relationships, we haven't established the connections between school and community that we need to be successful," Brabrand said during the meeting.
Many of the region's principals, teachers, students and parents attended the meeting in the middle school's lecture hall to fire their burning questions at the new superintendent.
Douglas Tyson, assistant superintendent for Region 1, introduced the superintendent, Region 1 principals and the FCPS Board members who came to the meeting: Karen Keys-Gamarra, member-at-large; Jane Strauss, chair and Dranesville District representative; and Pat Hynes, Hunter Mill District representative.
When Brabrand got up to speak, he boiled his goals down into three topics: Excellence, equity and effectiveness.
Excellence and Equity
"Many of our high schools are outperforming the international PISA [Programme for International Student Assessment] average … most of our schools are outperforming kids across the world," Brabrand said. "We have some that are a little bit lower, but the truth is in those schools, it's not really all students, it's smaller pockets of students who are struggling."
More than 52,000, or 28 percent of the total population, of FCPS students are eligible for free and reduced-price meals; more than 28,000, or 17 percent of the total population, receive English for speakers of other languages (ESOL) services; and more than 25,000, or 13 percent of the total population, receive special education services, according to FCPS. Demographically, 40 percent of students are white, 25 percent are Hispanic, 19 percent are Asian American, 10 percent are black, and 5 percent are multiracial, according to FCPS.
In the name of excellence and equity, he committed to bringing test scores up for all students.
"Every time I've focused on equity — when I was a principal at Fairfax High School, when I was in Cluster 4 as an assistant [superintendent], and when I was a superintendent in Lynchburg — outcomes for all kids went up; not just some kids, all kids," he said. "And we're going to work on that journey in the weeks and months and years ahead."
The Standards of Learning (SOL) tests for Virginia Public Schools establish minimum expectations for what students should know and can do at the end of each grade or course in English, mathematics, science, history and other subjects.
Elementary and middle schools are fully accredited if their students achieve 75 percent or higher pass rates in English and 70 percent or higher pass rates in mathematics, science and history, according to the Virginia Department of Education.
A total of 96.4 percent of FCPS schools are fully accredited, according to the Virginia Department of Education. This is up from 93 percent last school year, according to the FCPS.
"Two years ago, we had 14 schools not fully accredited and now we're down to seven," he said. "I predict, in the next year or two, every single one of our schools will either be fully or partially accredited in Fairfax County … I'm confident we can do it."
According to FCPS, the following schools, excluding alternative schools, are not fully accredited in the following subjects:
Annandale Terrace Elementary School (Science);

Fort Belvoir Elementary School (Math);

Glasgow Middle School in Lincolnia (English Language Arts);

Mount Eagle Elementary School in Alexandria (Science);

Mount Vernon Woods Elementary School in Alexandria (English Language Arts, Math and Science);

Saratoga Elementary School in Newington (Science); and

Whitman Middle School in Alexandria (English Language Arts).
"Equity is about every child by name and by need," Brabrand said. "It's about every school by name and by need."
Herndon Elementary School and Woodley Hills Elementary School in Alexandria, which are both Title 1 schools, increased their pass rates in all four subjects to become fully accredited this year, according to FCPS. They are Title 1 schools because a majority of students' families earn less than 130 percent of the poverty level (qualify for free meals) or have incomes between 130 and 185 percent of the poverty level (qualify for reduced-price meals).
Brabrand wants to see more of this progress and to maintain the accreditation status at these schools. As part of this effort, he renamed the title for Francisco Durán, FCPS chief academic officer, to chief academic and equity officer.
"We're going to take an equity journey together," Brabrand said.
But he also cautioned the overreliance on test scores and pressure put on students.
His 14-year-old identical twin sons, "feel a difference in the pressure that is in the school system," he said. "We want high expectations … but perfection is an unrealistic expectation for children. And to be honest, I don't know that I've seen perfection anywhere in anybody at any time. We can aspire to it, and we should aspire to it, but we need to leave a little room for the human condition; and I want to help us do that in the years ahead as superintendent."
Effectiveness
Touching on effectiveness, Brabrand talked about prioritizing time and resources to accomplish the goals of the school board, including a budget priority: Paying teachers more.
"We know we only have limited resources," he said. "My budget is going to focus on our core priority, which has to be paying our teachers market-driven salaries … and all of our support employees getting the compensation they deserve."
This is because Brabrand wants to attract the best teachers.
"The No. 1 core principle that parents are looking for is an outstanding teacher in the classroom," he said. "We need to be … the Walt Disney World for teachers."
In order to establish this culture, teachers have to afford to live in the county, he reasoned.
"We've also got to realize the standard of living here requires a market-based salary and supports to keep our teachers here," he said.
The school system has been strapped for cash in recent budget cycles, with costs only going up as years progress.
FCPS is the third largest employer in Virginia, with approximately 27,500 employees, including 24,600 full-time staff positions, more than 92 percent of which are school-based, according to FCPS.
"We need to be the superstar school system when it comes to the support of our benefits and salary for teachers," Brabrand said. "Our salary for teachers is below the market across a wide swath of our employees, and we've to get to the market average at least. And then we've got to have the best working conditions, the best benefits, the best retirement to help support to be the cherry on top of the sundae; to get people here and keep them here."
The school system's $2.8 billion budget is primarily funded by Fairfax County, with contributions from Virginia, the federal government and other sources. And it already expends more than 85 percent of its budget for instruction, which includes employee compensation and benefits.
The Fairfax County Board of Supervisors approved a $2.17 billion transfer from the county to fund the school system for fiscal year 2018, this school year. This funding was 52.8 percent of the county's General Fund budget, an increase of nearly 2.8 percent over fiscal year 2017.
The approved funding level was an additional $1.7 million above the amount in the county executive's proposed budget, however; it was $59.1 million short of what the FCPS requested.
During the budgeting process in April, the FCPS projected a $57 million shortfall in its budget for fiscal year 2018. With the increased funding from the county, the budget for the FCPS fiscal year 2018 was still projected to have a $48.4 million shortfall.
A series of changes were required to balance the budget, including reducing funding for instructional materials, reducing the number of contracted teacher positions for the Transitional English for speakers of other languages (ESOL) High School Program and implementing new yearly extracurricular activity fees for high school students.
"I have to be honest; my heart has ached at some of the things I've come back to see," Brabrand said during the meeting. "There have been financial challenges across the country, across the state and Fairfax County has not been immune."
The school board also voted to increase the staffing ratio formula by 0.5 students per teacher, resulting in a reduction of 166.7 positions, according to FCPS.
The school board also voted to eliminate the market scale adjustment for non-teacher scale employees, to delay implementation of the non-teacher salary scale, and to extend a planned and phased increase in teacher salaries from a four-year implementation to five years, according to FCPS.
However, the budget included $44 million for an average step increase of 2.5 percent for all eligible employees, an additional $26.6 million as part of the multi-year plan to enhance teacher salaries and $0.4 million for parent liaison compensation, according to FCPS. The school board also voted to direct the superintendent to prioritize setting aside funding to provide a one-time bonus for employees who will not receive a salary increase as a result of the compensation adjustments in the budget.
Additionally, the school board approved modifications to the Educational Employees' Supplementary Retirement System of Fairfax County (ERFC), impacting members hired on or after July 1, 2017, according to FCPS.
The FCPS considered implementing $4.7 million in reductions to its pension system by June in time for the fiscal year 2018 budget. These included lowering the interest crediting rate on all ERFC member accounts from 5 percent to 4 percent. The FCPS considered more changes for new or nonvested ERFC members, including instituting a minimum retirement age of 55; increasing the period for calculating the final average salary from three years to five years; and changing the cost-of-living adjustment to equal 100 percent of the Consumer Price Index with a cap of 4 percent.
Brabrand was silent on whether more changes should be implemented to the pension system, but he emphasized his desire to maintain its current levels.
"I've only been here three months, I'm not in a position yet to say anything more to the pension changes that have been made," he said. "We need to pay our teachers more, but we need to still be sure we maintain the supporting packages that help keep and retain teachers," he added. "I think teachers come first because of the salary but they're going to stay based on a strong benefits package and a retirement package."