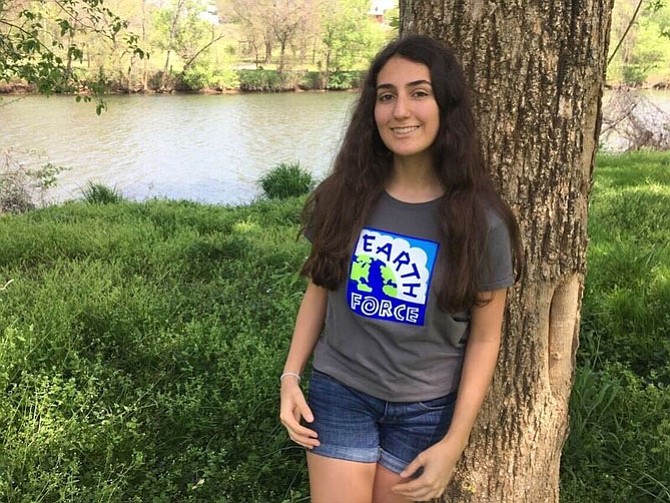 Ana Humphrey, a 16-year-old student at T.C. Williams High School, has been named a national winner of the 2017 Gloria Barron Prize for Young Heroes.
Each year, the Barron Prize recognizes 25 young people from across North America who have made a significant positive difference to people and the environment. Up to 20 top winners each receive a $5,000 cash award to support their service work or higher education.
Ana created Watershed Warriors, a nonprofit that pairs high school students with local fifth graders to promote environmental awareness through hands-on STEM activities (Science, Technology, Engineering and Math). In the past three years, her group has worked with four elementary schools and engaged nearly 300 children, most of whom are low-income and minority students.
The Watershed Warriors visit each elementary school several times during the school year to deliver state standards-based science lessons and to guide students in planting a wetland garden that they care for during the spring months. In June, the final lesson takes students on a field trip to a local wetland where they transplant their gardens, assess water quality and pick up trash.
Inspiration for Ana's program grew from a hands-on seventh grade life science class that culminated in the restoration of a local wetland. In an effort to provide the same opportunity for more students, she formed the Watershed Warriors Club.
Ana and club members reached out to local elementary schools, wrote lesson plans and formed partnerships with the National Park Service and the local Four Mile Run Conservatory. The club is currently working to expand their program to other high schools.
"I now know, given the tools and experience, that students of all ages can become drivers of change in their community," Ana said in receiving the award.
The Barron Prize was founded in 2001 by author T.A. Barron and named for his mother, Gloria Barron.
"Nothing is more inspiring than stories about heroic people who have truly made a difference to the world," said Barron. "That is the purpose of the Gloria Barron Prize: to shine the spotlight on these amazing young people so that their stories will inspire others."
For more information, visit www.barronprize.org.