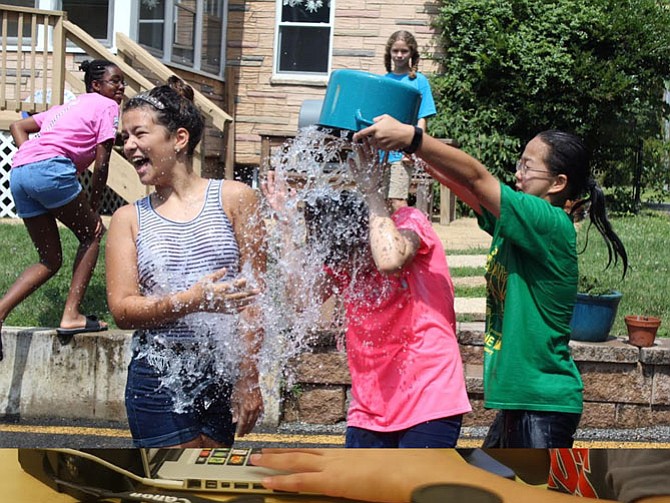 Burke — Megan Zinn, 22, who grew up in Burke and lives in Fairfax, started Summer Cove Camp two years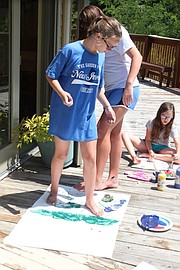 ago.This summer, the variety day camp for 60 middle school campers was held at the Howard Gardner School in Alexandria and included a dozen different camping experiences including arts and technology.
From 8:30 a.m. to 3:30 p.m., the camps were structured into three topics a week — with themes like Harry Potter; DIY Projects; The Amazing Race; How to Survive the Zombie Apocalypse; Photography; and Baking and Cooking.
With a staff of 10 teachers, Zinn said her mission was to create an inclusive camp for children who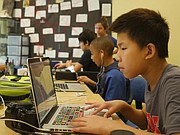 don't like traditional summer camps. "We really try to create an innovative camp where the kids who are more tech-based or art-based can have a place to grow and develop their skills," said Zinn, a GMU communications major and Lake Braddock Secondary graduate.
AT THE HARRY POTTER CAMP, kids split into Hogwarts Houses and competed in team activities to win the most points. They did a Horcrux Hunt, went through the Chamber of Secrets to find the giant snake tooth, and did wizarding duels where they cast spells on each other.
At Cooking Around the World Camp, the focus was on a different country each day. They went to France and made crepes and baguettes. They went to Morocco and made fresh naan and hummus, and went to China and made fried rice.
At The Amazing Race Camp, they traveled to various countries and competed in teams doing something related to that country. They went to India and did traditional dances and played cricket. They went to Canada and played hockey. They went to France and made their own art gallery.
Zinn's focus these past two summers was the middle-school age.The goal was to create a safe space for rising sixth- to ninth-graders (ages 11 to 13) to grow and be themselves.
"I really want Summer Cove to be a place where this really fragile age group can be 100 percent comfortable being themselves, trying new things, really growing as a person while also being able to try to expand their skill sets and grow creatively," she said.
She added, "I think what drives me to keep going with this program is seeing all these kids who are in an awkward time in their lives, figure out who they are, and feel like they're in a safe space to express themselves. Figuring out their different skill sets. And that they feel comfortable and safe in this space that we've created specifically for them."
Leila Benjelloun, 14, of Fairfax attended Summer Cove for two years and had a blast. "I couldn't wait to go to camp every day because of the great campers, counselors, and the overall environment. The different 'classes' at Summer Cove were both informative and lots of fun, and I'm very sad that this past summer was my last year," said the ninth grader at Woodson High School.
"What draws me to Summer Cove is it's a unique camp for kids who wouldn't otherwise have an opportunity to express themselves than the way they do at Summer Cove," said Camp Manager Brian Rose, 23, of Fairfax.
In January 2016, Zinn got the idea to start her own camp and she sort of hit the ground running — looking for space to sublease and finding her staff. She opened the doors in July 2016 with just seven months of planning.
Having worked at a summer camp herself for five years before, Zinn said her dream was to start a program where she got to create all the things she would have loved to do as a kid.
"I got to know a lot of kids, so when I realized that they didn't necessarily have a place to go once they were done in elementary school, I realized there were not a lot of options for middle school, and I wanted to create something specifically for them," she said.
THE CAMP runs from early July to the end of August; it costs $275 per camper per week or $225 for those who register early. Zinn is currently looking for a permanent spot to host Summer Cove in Burke for next year. She wants to expand to a full-year program with enrichment classes for all ages, not just middle school, but to include elementary, middle, and high school art and technology-based classes.
For more information on Summer Cove Camp, visit the website at www.summercovenova.com or on Facebook at facebook.com/summercovenova.