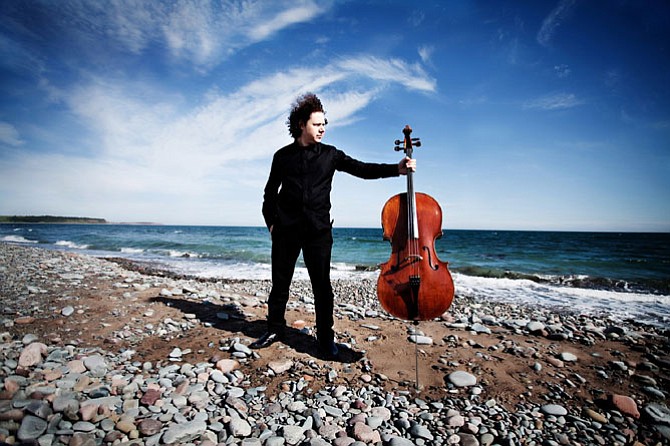 The Alden in McLean presents internationally renowned cellist Matt Haimovitz in a multi-part performance of "A Moveable Feast" on Saturday and Sunday, Oct. 14 and 15, at various locations around McLean.
On Saturday, Oct. 14, McLean residents should be on the lookout for Haimovitz as he will be offering small tastes of the "Feast" at various locations around town, such as the McLean Project for the Arts' MPA@ChainBridge Gallery (1446 Chain Bridge Road), Dolley Madison Library (1244 Oak Ridge Ave.) and even Spring Hill RECenter (1239 Spring Hill Road).
The full concert, on Sunday, Oct. 15, will take place at The Old Firehouse Center, 1440 Chain Bridge Road. Tickets are $20, $14 for Dranesville tax district residents. The Israeli-born soloist will perform Bach's moving and spiritual "Suites for Unaccompanied Cello" in a program offering a brilliant musical variation on the concept of "A Moveable Feast." He pairs each of Bach's beloved works with newly commissioned suites by Philip Glass, Du Yun, Vijay Iyer and others. This concert will feature six suites and their accompanying partner works.
Renowned as a musical pioneer, cellist Matt Haimovitz has inspired classical music lovers and countless new listeners by bringing his artistry to concert halls and clubs, outdoor festivals and intimate coffee houses — any place where passionate music can be heard. He brings a fresh ear to familiar repertoire, champions new music and initiates groundbreaking collaborations. Through his visionary approach, Haimovitz is re-defining what it means to be an artist for the 21st century. Besides his relentless touring schedule, he mentors an award-winning studio of young cellists at McGill University's Schulich School of Music in Montreal.
Haimovitz studied at the Collegiate School in New York and at the Juilliard School, in the final class of Leonard Rose, after which he continued his cello studies with Ronald Leonard and Yo-Yo Ma. In 1996, he received a B.A., magna cum laude with highest honors, from Harvard University. Haimovitz plays a Venetian cello, made in 1710 by Matteo Gofriller. For more information on Haimovitz, go to www.matthaimovitz.com.
Tickets are on sale now. For more information or to purchase tickets online, visit ow.ly/mBi530eEcH2 or call 703-790-0123, TTY: 711.