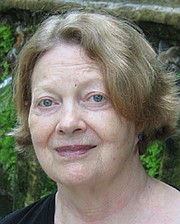 The Great Falls Citizens Association (GFCA) Board unanimously elected Elizabeth Huebner as secretary at its August meeting, thereby filling a vacancy among the association's officers.
GFCA president Bill Canis said that "Elizabeth Huebner is a long-time Great Falls resident who is familiar with the issues in our community. In her volunteer work and her professional field, she has demonstrated strong writing and analytical skills which will serve her well as one of four elected GFCA officers. The Board welcomes her and looks forward to her fresh perspective and recommendations."

Huebner retired two years ago as a Fairfax County Public Health Nurse, and also served as a college nursing professor for 18 years. In previous years, she has served as president, vice president, treasurer and secretary for the Great Falls Garden Club, where she remains an active member. She is also a board member of the Five Hills Garden Club in Vienna, where she writes the monthly conservation newsletter article.