The election for the one, open seat on the Fairfax City Council will be held next Tuesday, Sept. 12. Here, candidates Jennifer Passey and Karen Habitzreuther explain in their own words why they believe they should be elected.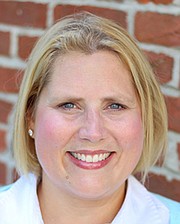 Name: Jennifer Passey
How long you've lived in your community and in the City: My family has lived in Country Club Hills since moving to the City in 2010.
Family info: I have been married to my husband, Michael, for 16 years. We have four sons, Eamon, 14; Liam, 12; and twins Colin and Declan, 7-1/2.
Profession: Marketing and Communications manager at Girls on the Run of NOVA, a nonprofit located in the City of Fairfax
Why are you running for election to City Council? I care deeply about the City of Fairfax. It is a wonderful place my family calls home. We are at a pivotal time in our City's growth, with a number of redevelopment projects in the pipeline. This is the time to implement positive change to see that our City remains a vibrant, safe, close-knit community for all, in the near future, and for the next generation to come.

What are your qualifications for it? I moved to the Washington Metropolitan area from Minnesota in 1995 to attend The George Washington University, where I received my B.A. and, later, my Masters in Political Management. As an issue advocacy specialist with over 15 years of professional experience in Washington, D.C.; New Delhi, India; and Dhaka, Bangladesh, I have continuously looked for ways to use my skills and knowledge to contribute and give back to the community that so warmly welcomed us in 2010. I served on the City's Planning Commission from 2011-14, the Parks and Recreation Advisory Board from 2012-14, and the Country Club Hills Civic Association from 2010-12.
Platform — your issues:
Strategic Economic Growth — A vibrant and healthy commercial tax base is necessary to secure our economic future, as well as support the high-quality services the City currently provides its residents. While maintaining our community's character and traditions, now is the time to focus on improving and growing key commercial areas along Fairfax Boulevard. In addition, we need to look at incentives to encourage businesses to remain, expand and start up in the City. I want to see us work closer with GMU and further cultivate the entrepreneurial spirit within our City.

Communication and Civic Engagement — Good communication starts with listening. Residents and businesses deserve to have modernized and more personal engagement opportunities to express concerns, interact on upcoming meeting agenda items, and provide feedback on the decisions made by those elected to represent them. Additionally, we need to be more proactive in seeking a more diverse representation of our City's population in our community-leadership roles.
What do you believe are the most important challenges facing the City?
The biggest issue we face as a City is haphazard growth. We cannot address our economic growth simply development by development. We need a real vision.
The Comprehensive Plan we are in the midst of rewriting needs to serve as our collective roadmap for the way ahead.
In addition, we cannot continue to raise our tax rate to offset stagnant growth. We need to spend wisely and take steps to increase our commercial tax base. I will work with the community, my colleagues and City staff to finalize this vision and communicate the brand of our City to attract the types of businesses that would do well here.
Why should people vote for you — why are you the best person for this job?
Fairfax City voters should cast their ballot for me because of my experience tackling local issues, having served on the Planning Commission, Parks and Recreation Board, and my neighborhood civic association.
Many of our City leaders agree. I have secured the endorsements of the following people: Michael DeMarco, current City Council member; Janice Miller, current City Council member; Jeff Greenfield, current City Council member; Jon Stehle, current City Council member; Dan Drummond, City Council member, 2008-2014; Steve Stombres, City Council member, 2008-2014; Allen Griffith, City Council member, 1984-1988; Gary Rasmussen, City Council member, 1990-2010; Patrice Winter, City Council member, 2002-2008; Tom Scibilia, current City Treasurer; and Jane Woods, former Virginia State Delegate (1988-92) and Senator (1992-2000) and former Secretary of Health and Human Resources (2002-06).


Name: Karen L. Habitzreuther
How long you've lived in your community and in the City: I've lived in Northern Virginia for almost 21-1/2 years. Since 2001, I've lived in Courthouse Square in Fairfax City.
Family info: Married 37 years, four children and six grandchildren.
Professions: Veterinarian, public health epidemiologist (infectious diseases); lieutenant colonel, U.S. Army, retired; clinical social worker and English teacher.
Why are you running for election to City Council? I believe my 16 years as an involved City resident, coupled with my extensive professional knowledge, experience, aptitude and demonstrated leadership abilities, have given me the transferable skills necessary to lead our City through a crucial stage of its development.
My work in the military, as a community volunteer and as a veterinarian has sharpened my critical-thinking skills while giving me experience making difficult decisions. Over the course of my military and veterinary careers, living and working in many other countries have provided me with a wealth of multicultural literacy needed here in our socially diverse City to ensure all residents' needs are heard and addressed.
Serving others and making a difference is my passion. I've been fortunate enough to realize my major personal and professional goals and now have the time necessary to make the City I call home better.
What are your qualifications for it? My personal and professional knowledge, skills and life experiences have superbly prepared me for this opportunity to serve. I am a proven leader, am mission-focused and remain calm and capable in high-stress, zero-defect environments. I demonstrate sound judgment and am a skilled communicator. I gained extensive business knowledge running large organizations with municipal responsibilities.
I have also played an important role in community issues and activities throughout my entire life, all while supporting my spouse and helping mold the lives of four children into responsible, civic-minded, adult citizens. Active, lifelong volunteer. Attendee, Fairfax City Community Appearance Committee and City Council meetings and work sessions; member, Breckinridge Lane HOA Architectural Review Board and Fairfax 4131 Project; volunteer, City-based Humane Society of Fairfax County.
Platform — your issues:
Reducing traffic congestion in and around this City must be a top priority. Congestion impacts our daily lives and reduces our quality of life. I will work with City Staff, VDOT and the community to create an intelligent, fully integrated, strategic plan for transportation improvements that make sense and reduce congestion.

Embracing sound, market-driven future growth, being able to offer all the amenities of any comparable City, while retaining our hometown character, are compatible goals and necessary to maintain our standing as a relevant, thriving community of excellence. We must assess and attract those development and growth opportunities that best serve our City's needs and provide us the best return on investment with the least impact on traffic and supporting infrastructure.

Community Engagement: At our very foundation must be open and continuous dialogue. Listening to all of our key stakeholders is imperative — our residents, City-based business partners and our strategic partners, such as George Mason University, Fairfax County and others.
What do you believe are the most important challenges facing the City?
Reducing traffic congestion; attracting and retaining healthy, quality businesses that support the needs and wants of the community; providing safe and desirable housing for all socioeconomic levels. Motivating residents to become active and passionate servant-leaders in our City; keeping our City affordable and exercising strong, fiscal discipline to avoid costly and unnecessary expenditures; growing future City leaders.
Why should people vote for you — why are you the best person for this job?
Paramount are my values of dedication, respect for others, selfless service, honesty, integrity and personal courage. Sixteen years of experience as a Fairfax City resident. A proven track record of successful, dedicated service, best suited to be an effective Council member guiding all areas of City government.
I am a team player and unafraid of hard work. I bring a fresh, qualified perspective to balance and complement our City Council composition to stimulate constructive discussion and decision strength. Serving others is my passion; I will work full-time to make our wonderful City even better.