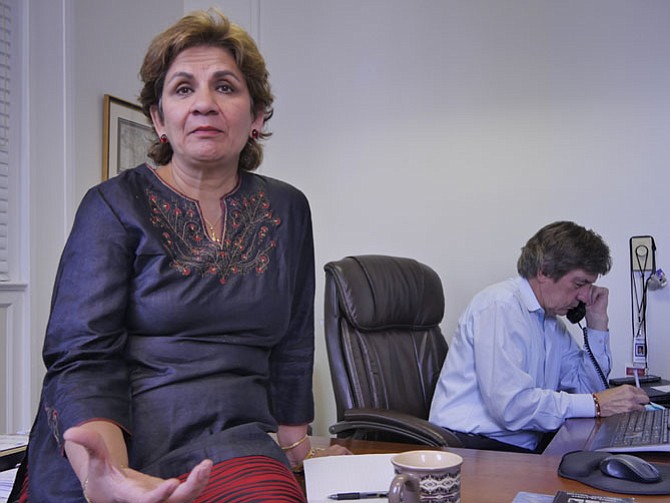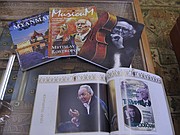 French, German, Afrikaans, Spanish and Dutch bounce off the walls at Classical Movements on Princess Street. It is located in a historical building, which was formerly the parsonage for Historic Christ's Church. "We have worked in 145 countries with 70 last year. Every year is different," said Neeta Helms, founder and president of Classical Movements.
Helms started her company 25 years ago with cultural tours in Russia and the Ukraine. Almost from the beginning she was approached by musicians who wanted to arrange concerts and after seven years, the business had become 100 percent music. She moved into Turkey and Croatia, different and challenging destinations. She said the company has been working in Cuba since the '90s. In the 2016 season Classical Movements organized a record 11 separate Cuban tours. Helms said, "We are unique in the world."
Helms recalls that when she started her company, classical German and English choirs had the reputation for being the best. "American choirs, as good as they were, took a bit of convincing." But she says things have changed and "now we are showcasing unique countries based on years of tradition with their own costumes and drumming. There is a big effort to write the music down." She added that Classical Movements funds composers to write music in their own language.
Helms had started her day the night before with two messages from Spain and the Netherlands inquiring about details of future concerts. "Someone who works for us is awake in all time zones because we have clients all over the world." And there is always something going on. "Remember winter here is summer in the Southern Hemisphere."
When Helms is not on tour with one of their groups, like her recent trip to India, every morning she meets first with Johan van Zyl, her husband and co-owner of Classical Movements. He serves as the director of international projects. Van Zyl says he moved here in 2010 from South Africa where he had his own company. "Neeta and I got married. The commute was a little tough for us."
Today she moves on to a meeting with Alessandra D'Ovidio who has her bags packed ready to leave for the Netherlands later this afternoon to supervise the details of a concert there. Helms says she meets every day with everyone on the staff located in the Alexandria office. This meeting is interrupted by an international call from a country inquiring about arranging the first American concert ever to go to their country. Helms says yesterday she got a call from Canada hoping she could arrange a concert here in October while the Canadian group is in Richmond for the folk life festival. "We usually book events a year in advance."
Helms says Classical Movements is in charge of everything from choosing the venue to making sure the performers get from one place to the other both timely and safely, to finding appropriate accommodations. She says in addition they are working with superstar soloists and conductors and highly trained musicians who may have their particular preferences and needs. "We had Charles Dance as the narrator speaking for Lincoln. He plays a villain on the Game of Thrones. He is quite a personality."
In addition, there are the logistics of getting a cello on an airplane or leaving a double bass on a runway where it can get hot. And then there is the unexpected. "We just had a musician get sick and the concert couldn't go on without him. We had to replace him and fly the other one back."
Van Zyl adds you have to think of the possibilities. "Remember the Swine flu? Today we could be dealing with Zika virus."
Helms remembers a while back when world famous violinist Joshua Bell's father died, "We had to literally stop in the middle of the road on the way to Vienna and get him onto a plane back." But she says their primary work is to offer the greatest music in the world.
During the past year the Yale Concert Band and conductor Tom Duffy performed a concert for Afghan and Syrian refugees in the Athens' Eleonas Refugee Camp; the Minnesota Orchestra embarked on their 19th tour; Classical Movements commissioned 10 new orchestral works by American composers, including six women, to celebrate Baltimore Symphony's 100th, and the 40-year-old Los Angeles Children's Choir debuted in Japan.
Despite the reputation of Classical Movements as a premiere concert touring company for the world's great choruses and orchestras, van Zyl points out Classical Movements also likes to sponsor local events including this year's Choral Festival "Serenade!" with concerts throughout metropolitan Washington D.C. This year featured 16 choirs from 14 countries in a week of music, a JFK 100 celebration. "In addition, we organize a number of concerts locally in Alexandria venues, and it brings a lot of people here."
Helms sums up the purpose of Classical Movements. "I believe in the power of music diplomacy despite the politics of a country. We can work there. Music is beyond that."
People at Work is a weekly column featuring people in the community doing their jobs. If you have suggestions, contact slrbc@aol.com.