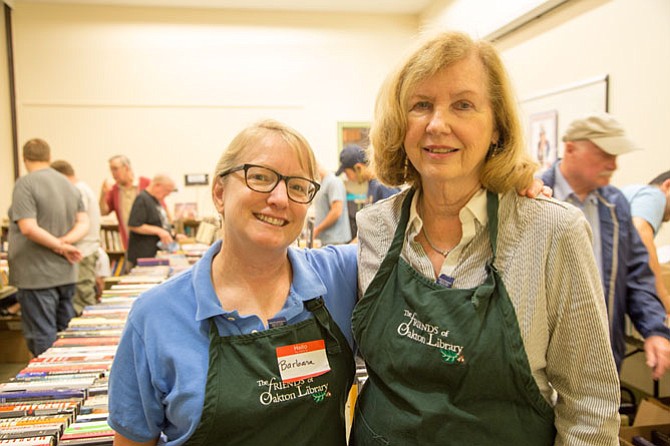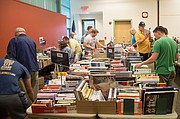 Wednesday, Sept. 13, marked the start of the Oakton Public Library Fall Book Sale. DVDs, Music, Books, and comic books were for sale through Saturday. They range in price from 25 cent novellas to two-dollar hardcover books and some special items.

"All libraries have friends that are non-profits" said Barbara Hippe, an Oakton resident. She has been the president of the Friends of Oakton Library, a volunteer group that helps out with books sales and community events for eight years.
"We handle books donated to the library. We sell the books and put that money back into the library," she said. She is one of 400 members of the Friends of Oakton Library, and all members pay membership dues.
The book sale takes place twice annually, and this year's fall sale has started off with many visitors on Wednesday who attended the premier shopping opening. "It's been really busy and crazy since we opened," said Hippe.
Some of these shoppers hold a scanner in one hand, and a book in the other as they search for buried treasures—books that have a much larger resale value than they do at large books sales like these.
One of these scanner wielding shoppers is David Cromer, a Fredericksburg resident and member of the Friends of Oakton Library. "I think there's a good selection here, it's well organized and there are some good prices," he said. He is able to enjoy premier access to the book sale as a member before it opens to the public on Thursday.
THE SALE is arranged by genre. "Everybody has a different taste, what's interesting to a history buff isn't interesting to someone interested in romance novels" said Hippe.
Sometimes special items cycle through the sale, such as comic books, vinyl records, puzzles and games.
Throughout the year, Hippe sells books and items on Amazon to raise money for the Oakton Library. This year she raised $3,000 through her Amazon sales. The fall book sale aims to raise anywhere from $6,000 to $10,000, although that outcome is yet to be seen.
"It's clear that people want more books," said Hippe. "They like programs, CDs and the library computers, but it's all about maintaining a healthy book selection!"
Books, paperback and hardback are still important to the library as are DVDs and music, but people more and more are renting Ebooks as well.