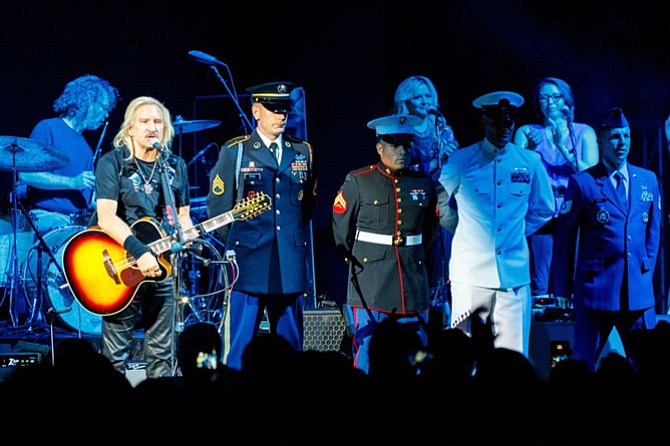 Joe Walsh, Rock and Roll Hall of Fame inductee and multi GRAMMY Award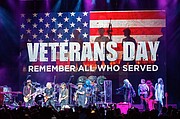 recipient, took to the stage Sept. 20 at the Eagle Bank Arena to kick off VetsAid, the first annual concert to support veterans and their families.
Walsh was joined on stage by fellow GRAMMY awards winners Keith Urban, Zac Brown and Gary Clark Jr. as well as Sen. Tammy Duckworth of Illinois, an Iraq War veteran and double amputee.
"War is hell for everyone involved," said Walsh, a Gold Star family member whose father died while on active duty in Okinawa, Japan. "I lost my father when I was a baby, before I could even make a memory of him. I stopped counting the number of friends I lost in the Vietnam War or that came home forever scarred mentally or physically or both. We've only just begun to appreciate the long-term impacts on our troops home from Iraq. So veterans issues have always been important to me."
Walsh founded the 501(c)3 nonprofit VetsAid earlier this year and chose Fairfax to debut the concert, which he styled after Willie Nelson's FarmAid.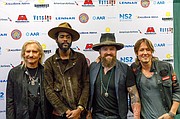 "This is our coming out party," said Walsh, "and we wanted it to be in the D.C. area to bring awareness to what we are trying to do for our veterans. I am very grateful to Eagle Bank Arena for offering us this location."
Walsh is no stranger to helping veterans. He has assisted various veterans charities over the years and visited Walter Reed Medical Center, where he offered free guitar lessons to wounded veterans.
"In my touring, I was constantly seeing a lot of smaller charities that are in the trenches and doing a lot of good in their communities," Walsh said. "But they often lacked the profile or manpower to raise funds. These are the charities that I want to help."
Proceeds from the inaugural VetsAid concert will support veteran- and caregiver-focused charities including: Operation Mend, Hire Heroes USA, Warrior Canine Connection, TAPS, Semper Fi Fund, Children of Fallen Patriots Foundation, Stop Soldier Suicide and Swords to Plowshares.
Walsh plans to use this platform to raise funds and awareness for the urgent and significant needs of returning soldiers. Through the establishment of VetsAid and its annual benefit concert, he hopes to give back to those who have sacrificed for our country as well as bring Gold Star families together.
"We allocated tickets to Gold Star families for the concert," Walsh said. "I feel
"This is our coming out party and we wanted it to be in the D.C. area to bring awareness to what we are trying to do for our veterans."
— Rock legend and VetsAid founder Joe Walsh
that bringing these families together is the first step in healing. We want them to know they are not totally alone."
Walsh plans to continue the VetsAid concerts every year in different parts of the country.
"I had to do something and seeing as though rock-and-roll seems to be what I do best," Walsh continues, "it's also the least I could do for those who have served and continue to serve our country. We're all in this together as Americans and seems to me lately that people are forgetting that."
For more information, visit www.VetsAid.org.