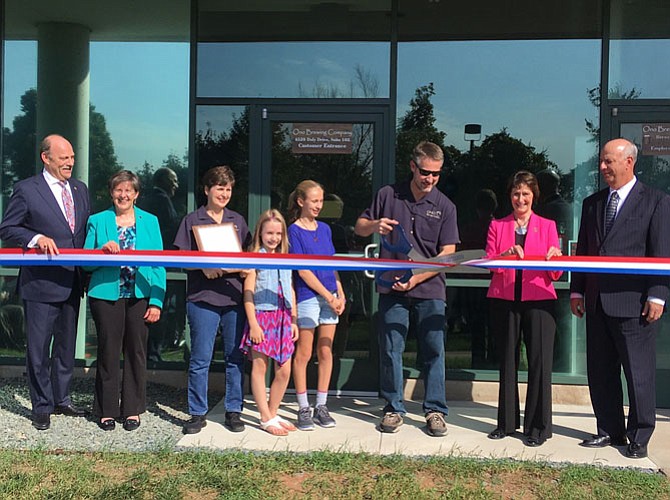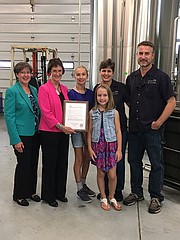 Imagine a new, local craft brewery that's a mom-and-pop operation with modern technology. It features a self-serve beer wall allowing customers to pay for only what they pour. It also pays its employees competitive wages and donates tips to charity.
Meet Ono Brewing Co., 4520 Daly Drive in Chantilly. Owned by Cyndi and Scott Hoffman of Oak Hill, it opened Sept. 1, but had its official grand opening last Wednesday, Sept. 20, on the couple's 20th anniversary. She's a former teacher and he's an Army veteran and a former engineer.
"My husband and I always wanted to open a business together," said Cyndi Hoffman. "He wanted something where he could put his engineering skills to good use, as well as his love of home brew. And I had a background in restaurant-managing for 10 years before teaching, so this brings me back to my roots."
The pair met in Florida while attending college, later moving to Hawaii, where Scott was stationed at Schofield Barracks. Cyndi's mother is a native Hawaiian, so the Hoffmans learned Hawaiian culture and traditions and enjoyed the island way of life. And that's evident in their brewery. With tropical décor, beach pictures on the wall and Jimmy Buffet music often playing in the background, customers are immediately immersed in Ono's relaxing, Hawaiian vibe. And the name, "Ono," is Hawaiian for "delicious."
Scott Hoffman applied his engineering talents to design the 139-person tasting room and brewery. The tasting room features handcrafted, wooden tables and bars made from wood recycled from 120-year-old homes torn down in the Washington, D.C., area. It also boasts a self-serve beer wall, instead of the usual bar with bartender.
Customers are greeted by an attendant to whom they give a credit card to start a beer tab and have an Ono beer card activated for them. The credit card is held, and customers may pay later with a different form of payment, if they prefer.
The beer card's chip activates the tap, and customers may choose from eight different beers on tap, including selections such as Manako (mango white ale) and Pineapple IPA, all made on site. They can pour a half glass, full glass or just a taste, paying only for what goes into their glass. They also select 5-ounce taster glasses or 16-ounce pint glasses and may even create their own "flight" of tasters by pouring various beers in several glasses.
Scott Hoffman, who attended brewery school, is also the head brewer. The brewery has three 30-barrel fermenters, so Ono's initial offerings are a pale ale, IPA and wheat beer, along with other tropical creations, including Awapuhi (lemon ginger ale). Coming soon will be a dark brown ale and a coconut brown ale, plus other seasonal offerings. And the styles on the beer wall will rotate, so customers are enticed to return often to see what's new.
Also setting Ono apart is its commitment to the community. Since employees are paid competitive wages, they don't need to rely on tips. And because customers serve themselves, tipping is optional. But any tips received are donated each month to a different, local charity. For September, Ono's donating to the CIA Officers Memorial Foundation, supporting families of CIA officers killed on active duty.
Cyndi Hoffman said they wanted their brewery in Fairfax County because "there are so few breweries here, compared to Loudoun County. We saw a need we wanted to fill and looked for the proper industrial zoning. This location had everything we wanted – great parking, access to nearby restaurants and proximity to the Dulles Expo Center."
Since Ono opened its doors, she said, "The response has been great. We've only been open a few weeks and we already have many, loyal, returning customers. They love the self-serve aspect, the island ambience, relaxing music, comfy furniture and the fact that Scott and I are here working hand-in-hand with our employees in a truly, family-owned atmosphere. And there's great beer, too."
During last week's grand-opening ceremony, Scott Hoffman thanked the other breweries in Fairfax County for "paving the way and helping us go through the county-approval process." And Jerry Gordon, president and CEO of the county's Economic Development Authority (EDA), called small businesses "the backbone of this county."
Barry Biggar, with Visit Fairfax – the county's tourism-marketing arm – noted that Ono is the seventh craft brewery in Fairfax. "Craft brewery is a real, growing, tourism product, and we welcome you to the craft brewery family of Fairfax County," he said. "Ono is one of only three breweries in this country with the self-serve beer technology. We know of millions of people who travel to find beer, so I'm looking forward to marketing to them."
John Boylan, new president of the Dulles Regional Chamber of Commerce, told the Hoffmans, "We're here to help, and we're really excited to welcome you to the community."
County Board of Supervisors Chairman Sharon Bulova and Supervisor Kathy Smith (D-Sully) then presented a proclamation declaring Sept. 20 as Ono Brewery Day in the county. Calling the Hoffmans "really good folks," Bulova said, "Fairfax County is fiercely pro-business, and craft brewing is the type of business we want to see thrive and flourish here."
"I'm so happy you're here in Sully," added Smith. "We want this to be a vibrant and fun place where people want to be."
Ono's hours are Wednesday-Thursday, 5-9 p.m.; Friday-Saturday, noon-10 p.m.; and Sunday, noon-6 p.m. For more information, go to www.onobrewco.com.