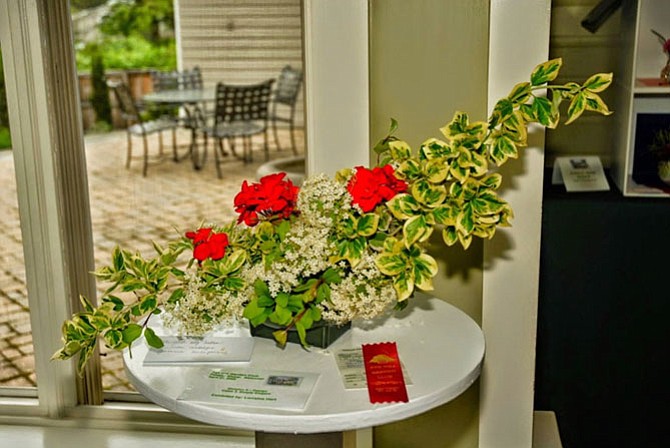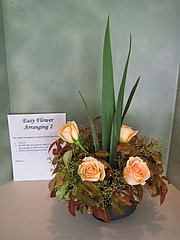 The Ayr Hill Garden Club (AHGC) now in its 89th year will, once again, host a flower show to be held in conjunction with the Town of Vienna's annual Walk on the Hill & Green Expo event. The show, titled "Bringing Nature to Your Home," will be held on Sunday, April 29, 2018 at the Windover Heights Historic District home of AHGC member Louise Davidson, 307 Windover Avenue, NW, Vienna, 2 – 5 p.m. Records show that 307 Windover Ave NW was built in 1895. Later additions have enhanced its charm.
"Bringing Nature to Your Home" will emphasize pollinators and native plants. The show will be held on April 29 rain or shine. The flower show and the Walk on the Hill & Green Expo is free and open to the public. Parking is available at Green Hedges School.
The Windover Heights Historic District was established on April 2, 1979, through the efforts of area residents and the Vienna Town Council. An old area of special atmosphere, known locally as "The Hill," the Historic District is an excellent representation of both period architecture and environmental harmony. The long­standing historic houses are of fine character. In recent years, the many additions and renovations have been designed to blend with and complement the historic characteristics of the neighborhood. Winding streets reflect farming patterns of an earlier age; ancient trees and gardens are testimony to a continuing appreciation of natural beauty. Associated with events and people in the history and growth of Vienna, the Historic District reverberates with echoes of the town's past.
This flower show is being held during Vienna's annual Walk on the Hill, sponsored by Historic Vienna, Inc., Vienna's Department of Parks and Recreation, and the neighborhood residents. The Ayr Hill Garden Club and area residents initiated the Walk on the Hill in 1971 to focus attention on the importance of preserving this historic neighborhood. The Windover Heights Historic District was established in 1979. The annual Walk on the Hill has been co-sponsored by Historic Vienna since 1983.
Celebrating 89 years of service to the community, the Ayr Hill Garden Club's (AHGC) motto is civic gardening. The Club maintains five gardens of various sizes in the Town of Vienna, and has contributed to projects throughout Fairfax County over its 89 year history. Their fundraising and membership dues support their efforts in maintaining and planting five gardens in Vienna:
W&OD Trail Garden – Along the old W&OD railroad bed at Maple Avenue, the club has created a pleasant urban space with seating and bicycle racks. This garden contains a variety of lovely perennials, annuals and shrubs, and a growing display of native plants.​

Salsbury Spring Native Plant Garden – This small park at the corner of Windover Avenue and Lawyers Road has become a native habitat garden containing river birches, service berry, button bushes, golden ragworts and other plants that support the local ecosystem. It has been certified as a National Wildlife Federation habitat.​

Children's Discovery Garden – Designed to stimulate interest in poetic names, color, form, texture, variety and scent, this garden lies near the caboose on Church Street.​

Pollinator Garden – On the grounds of Emmanuel Lutheran Church, this relatively new garden features plants and herbs that attract birds, butterflies, and other insects. It serves as an outdoor classroom and experimental area. At night, bats fly overhead.

Little Library Garden – This "learning garden" is located around the Little Library on the grounds of the Freeman Store. One section is a Herb Garden planted with herbs that were prized by early European settlers for food, medicine and aroma. Another section is a Native American Garden with plants used by northeastern Native American tribes for food, medicine, and tools.
In addition, the AHGC members decorate the Freeman Store for the December Holidays and the Vienna Caboose. They provide hospice trays and May Day baskets for home bound and institutional "friends." They hold flower shows every other year.









Meetings are held on the fourth Monday of every month, except December, July and August. Guests are welcome to many of the meetings. The Club is a Charter Member of the National Capital Area Garden Clubs, Inc. since 1950 and is represented in District III.