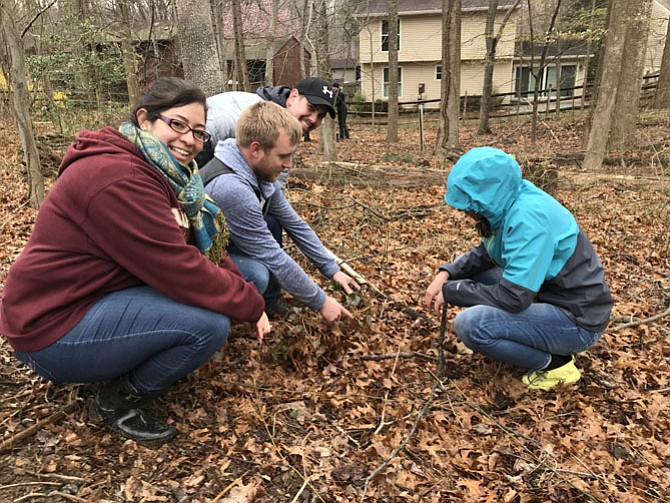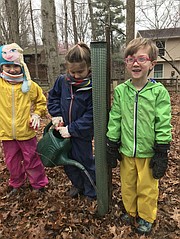 The Tree City USA program recognizes cities for their excellence in urban forestry management. Reston is a named Tree City USA Community because it is committed its urban tree canopy. To achieve Tree City USA status, Reston had to meet four core standards of sound urban forestry management: maintaining a tree board or department, having a community tree ordinance, spending at least $2 per capita on urban forestry and celebrating Arbor Day.
On Monday, April 2, 2018, Patricia Pearl Greenberg, Environmental Resource Supervisor Reston Association (RA) stood with 28 volunteers of all ages, preschoolers to seniors, at Arbor Day Site 1 of 3, the planting site by Shadbush Court and the tot-lot at the center of the Old Trail Drive loop in Reston.
RA staff and volunteers were there in the drizzle to take back the woods from invasive species and replant with native trees and bushes. Staff provided all needed equipment for the volunteer corporate groups, families, individuals and students.
Standing ready to tackle the underbrush were Starbucks partners Jessie Torres, Kristine Koziar, Jessica Jacobs, and Evan Freese. After a quick lesson by Greenberg, their mission would be to uproot English Ivy so the other volunteers could replant with native species. Greenberg explained, "We have quite a few invasive species here. English Ivy, Bush Honeysuckle, Invasive Cherry Tree, Autumn Olive, and Burning Bush. They have a strong, aggressive character that helps them take over our native species."
Starbucks partner Kristine Koziar seemed aware of Starbucks' commitment to the environment. She said: "One tree, one neighborhood, one community at a time."
In the middle of the muddy site stood a family, a mom and three young children. Undeterred by the soft drizzle, they were busy planting trees and placing protective grow tubes around them to help the young saplings survive. The grow tubes act like mini-greenhouses and help build and grow the roots, stem and shoots.
When asked what they had just finished planting, Ethan McGregor, 5, said, "We planted a deciduous tree."
Greenberg shared, "Arbor Day was the first federal holiday created to celebrate trees, even before Earth Day. RA staff enjoys working with volunteers to help remove invasive plants and install native species to improve wildlife habitat. Without the support from our community, we would not be able to accomplish the extent of the work that we do on Arbor Day."