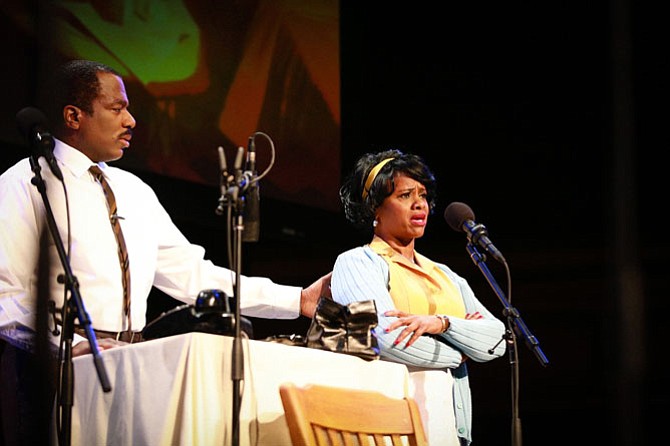 Where and When
L.A. Theatre Works presents "The Mountaintop" at George Mason University Center for the Arts, 4400 University Drive. Fairfax. Performance: April 14 at 8 p.m. Tickets: $44, $37, $26. Call 703-993-2787 or visit https://cfa.gmu.edu/">https://cfa.gmu.edu/. Note: Contains mature language. There will be a pre-performance discussion about 45 minutes before the play begins.
On April 3, 1968, after delivering his famous speech with the words, "I've seen the promised land … I've been to the mountaintop," in support of Memphis, Tenn. sanitation workers on strike for better wages and working conditions, Martin Luther King Jr. went to his room at the Lorraine Motel in Memphis. The next day, Dr. King was assassinated. He was 39.
From these facts, playwright Katori Hall penned her award-winning play, "The Mountaintop." It imagines conversations between Dr. King and Camae, a fictional hotel maid on the night before his assassination. Outside in the night air, a rainstorm rages.
L.A. Theatre Works will bring "The Mountaintop" to the Center for the Arts. "We wanted to tour 'The Mountaintop' on the occasion of the anniversary of Dr. King's assassination," said L.A. Theatre Works producing director Susan Loewenberg. "We wanted to honor Dr. King's memory.
"Katori Hall's 'The Mountaintop' is imaginative, funny, heart wrenching and a highly revealing work about King," said Lowenberg. "It will remind audiences and ourselves that great leaders are not perfect and not infallible but do stand the test of time."
The production uses L.A. Theatre Works signature radio drama style with the actors delivering their line in front of microphones with projections on screens and sound effects
"This is a role and play of a lifetime," said Gilbert Glenn Brown who portrays Dr. King. "Having an opportunity to travel the country honoring and sharing Dr. King's message of love and change for the better for all, especially now, when we all so desperately need it, is truly humbling and empowering."
Brown described "The Mountaintop" as "transformational theater that speaks to one's humanity, to one's 'perfect' imperfectness. We all falter at times, but we all have the ability to love, to stand and speak against injustice trying to make this world better for all."
In the role of Camae is Karen Malina White. "Camae is smart, sharp and witty. She challenges Dr. King on his non-violence methods, on sexism and on the future of the movement. She's the voice of the young people in 1968. She's the voice of the poor and working class. I'm honored for the opportunity to be in 'The Mountaintop.'
"I hope our audiences will come away with hope and a renewed sense of personal commitment to move our country continually towards equality and deep respect for the lives of all Americans," said White.