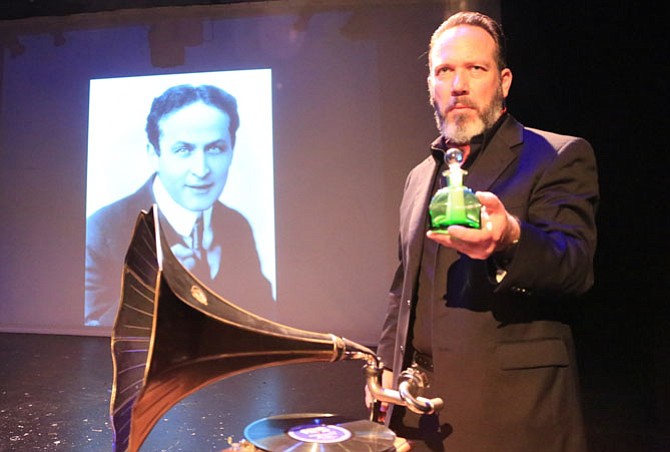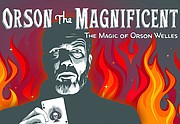 To Go
Show times are Friday-Saturday, April 27-28, Thursday, May 3, and Friday-Saturday, May 4-5, at 8 p.m.; and Sunday, April 29 and May 6, at 3 p.m.
Tickets are $20, adults; $15, students with ID, online via http://www.fairfa...">http://www.fairfa... or $25 and $20, respectively, at the door. The show is 70 minutes with no intermission, and Klores will speak with the audience after each performance.
For more than 50 years, Orson Welles captivated audiences with compelling work as an actor, director, producer and writer, especially his 1938 radio play, "War of the Worlds,"​ and his legendary 1941 film, "​Citizen Kane." But his passion for magic and the world of limitless illusion is the focus of the City of Fairfax Theatre Co.'s (CFTC) upcoming show, "Orson the Magnificent."
Direct from its extended run at the 2017 Capital Fringe Festival, it's an acclaimed, original play by professional magician and actor Lars Klores, who portrays Welles. And as he spins tales of the great magicians, Klores performs his own astounding feats of mind reading and illusion.
Half magic show and half dramatic biography, it runs April 27-May 6, at Old Town Hall, 3999 University Drive in Fairfax. Free parking is available next to it and in the City's parking garage, a block away, on the west side of University.
"The play takes place many years after his death, and Welles is talking about his life," said Klores. "A lot of people don't know that he was also a magician and that it was one of the great loves of his life. One of his unfinished projects closest to his heart was a documentary about magic called, 'The Magic Show.' So the idea behind this show is to present that documentary."
Klores has a creative-writing degree, has acted for 10 years and has been a magician since age 9. He's also president of the Washington, D.C., chapter of the Society of American Magicians, founded in 1902 by premier magician Harry Houdini.
Growing up in the 1970s, he initially knew of Welles only as a magician. "It was only later, in my early teens, that I realized what a cinematic genius he was," said Klores. "I believe there was no magician who could match his presence and theatricality."

"I love old movies and Orson Welles, and he said he'd rather be remembered as a great magician than a great actor," continued Klores. "And his theater and films were magic tricks, themselves. For example, in 'Citizen Kane,' you see Kane walk past a hall of mirrors that repeat their reflection throughout infinity – and that's a magic trick, itself. And in 'War of the Worlds,' his actors came off as real broadcasters trying to fool people into believing Martians were invading earth. So magic was intertwined in his film and theater career and in his whole, creative life."
In "Orson the Magnificent," Klores, as Welles, regales the audience with the wonder of magic, its history and what he loved about it. He also talks about famous magicians and, while doing so, he performs his own, magic tricks, plus his version of others' tricks.
"I took what I thought were the best stories from Welles's involvement with the world of magic, plus the stories I loved most about the great magicians," explained Klores. "And when there's a story surrounding a magic trick, it's more interesting to the audience. Houdini actually taught Orson magic; it was one of his first experiences with it."
"I realized this was an interesting story about Welles being a magician, and it suited me personally because it married acting, writing, magic and Orson," continued Klores. "I did nine shows at the Capital Fringe Festival, and they had good word-of-mouth, so more people came every time. By the end, I was performing for about 90 people. I also did the show three other times in Virginia."
Klores is also looking forward to CFTC's production. "What I'm really excited about is that, before, it's been just me and a stage manager," he explained. "But this time, I have a whole creative team, including people building sets. Since CFTC is a theater company, it's helping take this show to the next level."
He loves playing this role because "Orson is really a hero of mine. And to feel like I 'am' him onstage is really an honor and artistically satisfying. The audience will see something it's not used to seeing – real, classic magic. And because it's magic – but with a story behind it – it becomes even more amazing.
"I hope people leave with a new appreciation, both for Orson and for magic, and the emotional impact it can have on people," said Klores. "Magic is profound, and I want them to leave realizing that."