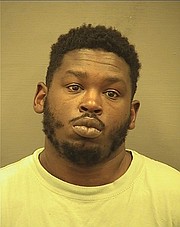 A jury found Robert D. Coleman, a 27-year-old Alexandria resident, guilty of murder in the second degree-felony on April 3 and recommended a 10-year prison sentence for the killing of Fedelia Montiel-Benitez.
The evidence established that in the early morning hours of July 10, 2017, Coleman encountered Montiel-Benitez inside of a convenience store located in the 4900 block of Seminary Road. Coleman was not acquainted with the victim. Video surveillance from inside the store showed Coleman appearing to verbally taunt the victim until another individual sought to intercede. The victim exchanged words with Coleman as she left the store and Coleman appeared to become enraged. Coleman followed Montiel-Benitez outside of the store and attacked her without warning, striking her in the face with his fist. Coleman was much larger than Montiel-Benitez, and the force of his punch knocked her unconscious. As she fell, she struck her head and sustained injuries that ultimately led to her death.
Commonwealth's Attorney Bryan Porter said: "In an all-too-often repeated theme, a tragedy unfolded because of a defendant's inability to tolerate a perceived slight. Verbal arguments should never devolve into physical altercations, because physical altercations often bring devastating consequences. So it was here, where a random encounter and brief argument inside of a store led to inexplicable violence. "Ms. Montiel-Benitez did nothing to cause such an irrational and vicious response from the defendant. I am saddened by the needless loss of life, and my thoughts are with the victim's family. "I thank the jury for their time and attention, and for serving as the conscience of the community. By finding the defendant guilty of murder and recommending a significant sentence, the jury has demonstrated that Alexandrians will not stand for such brutality. "I also wish to highly commend the outstanding police work that brought this case to a just result."
Senior Assistant Commonwealth's Attorney David A. Lord prosecuted the matter on the behalf of the Commonwealth. The case was investigated by Detective Bikeramjit Gill of the Alexandria Police Department.
The defendant remains in the custody of the Sheriff and is incarcerated in the Truesdale Adult Detention Center. The formal sentencing hearing of the matter was set on May 24, at 10 a.m.