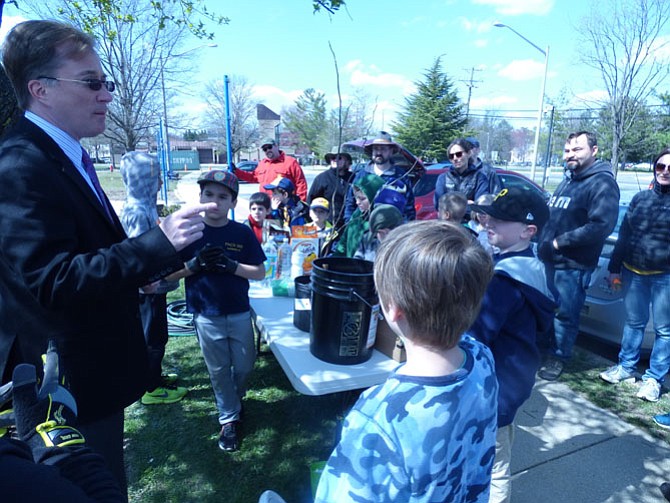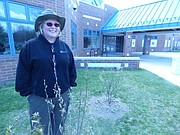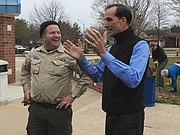 Scouts from Cub Scout Pack 888 left their legacy at the Mount Vernon Government Center last weekend with the help of the Fairfax Chapter of the Virginia Master Naturalists, Audubon At Home, and other volunteers who planted 37 species native to this area and suitable for a dry sunny site.
"When you come back 20 years from now, you can walk around here and say, 'I helped plant that tree,'" Del. Paul Krizek told the Scouts when he stopped by to help plant an Eastern Redbud tree along the walk to the back entrance.
The volunteer effort will transform the landscaping around the government center from turf grass to a native landscape filled with diverse plants, trees, and shrubs that will attract pollinators. The plants were paid for through a grant from the Northern Virginia Soil and Water Conservation District's Conservation Assistance program and will be maintained by volunteers.
Lead volunteer Cathy Ledec, who is also Mount Vernon District's Tree Commissioner, said the point of the transformation was to demonstrate in a public place how turf can be transformed into a natural landscape that can conserve water, save energy, and reduce the amount of maintenance needed. Ledec explained how the plantings were positioned to shade the offices in summer, provide a pleasant view as well as a privacy buffer for Mount Vernon District Supervisor Dan Storck and his staff, absorb stormwater, buffer noise, and make the grounds more pleasing to visitors.
"What we are doing here can be easily replicated throughout the Mount Vernon District and beyond," she said. "Visitors who are curious about the plants can ask in the office for a plant list of the trees, shrubs or plants used that gives their names and notes on how to grow them."
The first job was to smother the turf grass without digging it up. That was accomplished by spreading newspaper over the grass in the target areas and then putting down a few inches of mulch on top. After a while, the grass dies, the newspaper dissolves and the mulch sinks into the soil, providing a rich planting bed ready for native plants that will thrive in the conditions at this site.
Beds were prepared along the front and side of the building and at the front entrance. Sassafras, Scarlet Oak, Serviceberry, and Eastern Redbud trees were strategically planted for shade and screening. Shrubs included American Beautyberry, Red Chokeberry, Common Elderberry, and New Jersey Tea. Many flowers and grasses such as Black-Eyed Susan, Butterfly Weed, Foxglove, Bee Balm, Wild Bergamont, Purple Lovegrass, and Southeastern Wild Rye, were planted to provide color and texture in various seasons.
The plants used at the site were provided by Earth Sangha, Nature-by-Design, and Merrifield Gardens.
This project is a demonstration site where native landscaping practices can be seen by visitors to the Mount Vernon Government Center and others who pass by.