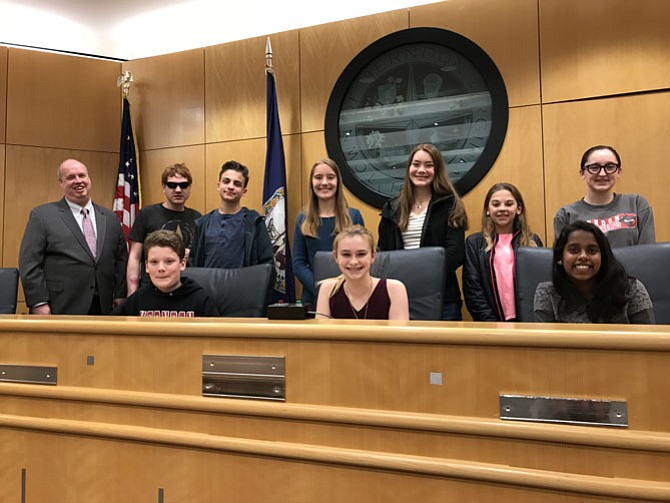 Although it has only been a few months since its formation, the new Herndon Youth Advisory Council is off to a good start. Created in late 2017 by the Herndon Town Council, the Youth Advisory Council is made up of students in middle or high school who either live in the Town of Herndon or attend classes at Herndon Middle or Herndon High Schools and who are in good standing in the community.
The stated purpose of the council is "to advise the elected body on activities, issues, and decisions relevant to youth and to advocate for legislation addressing issues that impact the lives of Herndon's young people."
During the Wednesday, April 11, 2018 meeting, the council discussed their proposed Community Teen Center Project. The youth shared that there was no place for them to "hang out" in the summer; that they wanted somewhere slightly supervised so their parents would let them go, but not having classes or courses.
As the discussion continued, students spoke about possible locations, furnishings, expenses, and even snack storage.
Plans were made to bring the discussion forward to Town staff and the Herndon Town Council.
Town Councilmember Bill McKenna oversees the Youth Council. Asked for his feedback, McKenna wrote, "What an honor it is to work with a bunch of students who truly want to not only understand how local government works but want to make a difference. The ideas they have are truly spectacular, and it definitely makes me look forward to the time when they will be the leaders of our community, and hopefully our country. We need more people like we have on the Herndon Youth Advisory Council."