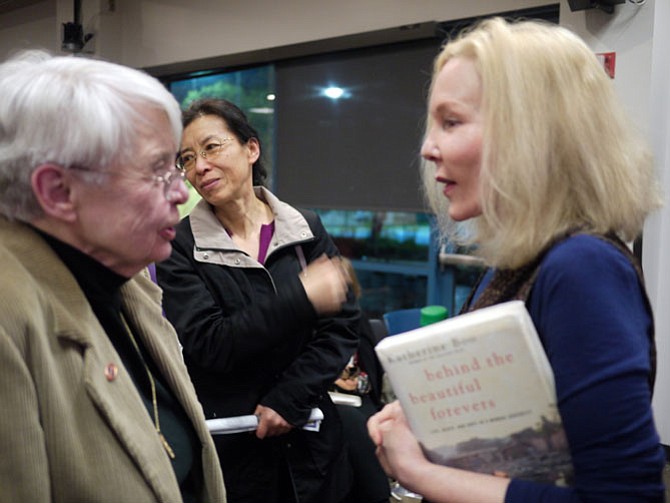 As Katherine Boo finished her recent talk to a large Arlington Central Library audience, she was surprised by a fan who came up to see her and said, "Hi Kate! Remember me?"
Retired principal Mickey Moore said she had been Boo's principal at then Hammond High in Alexandria. She said she was sorry Boo's father could not be with them: he was the much-appreciated PTA president at the high school and Moore said she would often give messages to Boo to pass to her father. "She never failed," Moore said. Boo graduated from T.C. WIlliams High School.
Answering questions about her book, "Behind the Beautiful Forever: Life, Death, and Hope in a Mumbai Undercity," Boo talked about how hard it was to find an interpreter who was willing to accompany her into the slums in Mumbai (Bombay). She said she keeps in touch with the slum dwellers she interviewed for her book. Boo is a regular visitor to India.
Although Boo finessed a question about her recent role on the Pulitzer Prize committee, she did address the need for good journalism and civic responsibility. "Make civics popular again," she said. "And support the little guy who is writing about the school board and local issues. That's democracy at work." She also noted that voting is important and that 90 percent of the citizens in India vote.
Boo is at work on a new book about Washington.