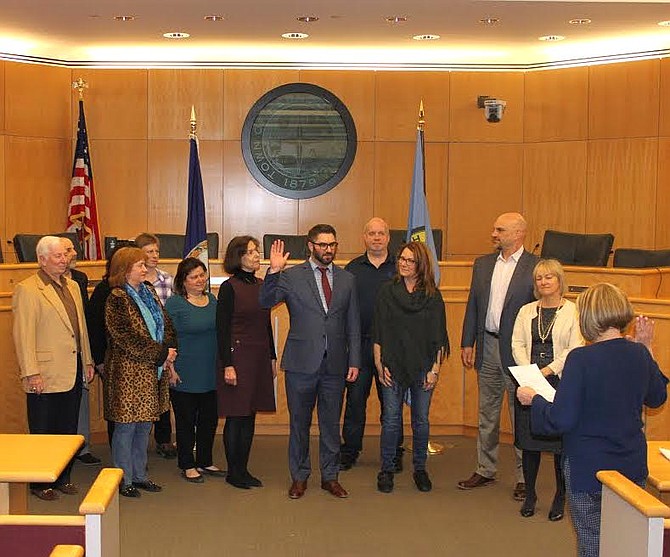 The Town of Herndon has a new zoning administrator. David Stromberg was sworn-in Tuesday, April 17 during the Town Council Work Session held in the Herndon Council Chambers Building becoming the duly designated administrator of the town's adopted Zoning Ordinance.
As zoning administrator, Stromberg's duties and responsibilities include but are not limited to reviewing applications such as special exceptions, variances, appeals, ordinance amendments, permits, licenses, plans, and waivers, as well as composing staff reports and resolutions and ordinances for public presentation. He will also conduct site inspections to ensure compliance with zoning requirements and review residential and commercial structure building permits. Stromberg will investigate alleged violations of regulations and testify in court concerning judicially enforced zoning matters.
The position and execution of responsibilities and duties are especially critical as in late 2017 Herndon Town Council approved a Comprehensive Agreement with Comstock Herndon Venture LLC in the redevelopment of 4.675 acres of town-owned land in Herndon's downtown into a mixed-use project. The agreement proposes to include residential and commercial structures, an arts center and a parking garage. Following the execution of the agreement, Comstock anticipates beginning construction of the project early 2019 with completion estimated 2021.
Stromberg began his career as a planning assistant at the City of Dublin, Ohio, later working for the City of Hampton, Va. as city planner, senior zoning official and development services manager. He earned a Bachelor of Arts Degree in Psychology and a Master of City and Regional Planning from Ohio State University.