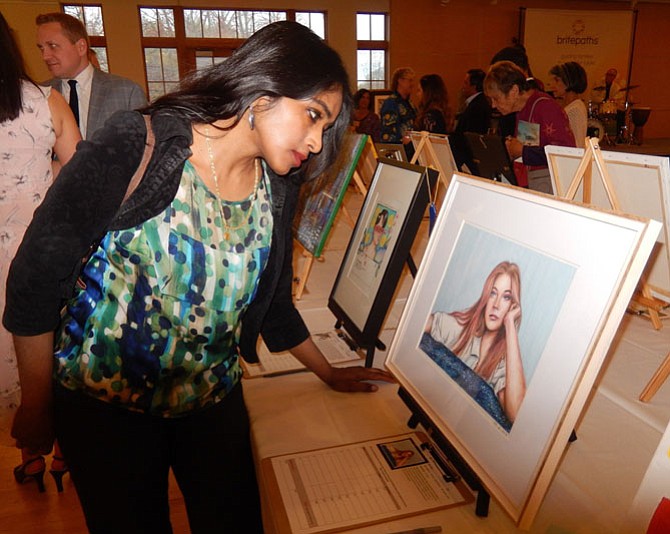 Talent and community caring were both on display Saturday night, April 21, during Britepaths' fourth annual Artful Living event at the Sherwood Community Center in Fairfax. Part of the Fairfax Spotlight on the Arts Festival, proceeds benefited that entity's scholarship fund, as well as the families Britepaths serves.
Attendees bid on original artwork during a silent auction, with Britepaths and the artists sharing in the sales. The evening also included a raffle, live music by Batida Diferente, hors d'oeuvres by Dolce Vita, wine and craft beer tastings, plus desserts from Cameron's Coffee & Chocolates and Red Velvet Cupcakery.
The artwork on exhibit illustrated the theme, "Empowerment," and winners were selected in several categories. In Computer Art, Fairfax's Russ McIntosh won for his "Consciousness Conductor." And Fairfax resident Ben Breaux's "Empowerment Revisited" was chosen the top Mixed Media entry, as well as Best of Show.
Britepaths Board of Directors member Catherine Read thanked the event's sponsors and acknowledged the dignitaries in attendance, including Fairfax City's mayor and several City Council members. She said people in need "don't want a Band-Aid" for their problems, and those helping them "want to invest in people becoming self-sufficient," and that's where Britepaths comes in.
"The gift of Britepaths is educating people, making people believe in themselves and giving them the skills they need to succeed," said Read. "But we can't do it without the help of the community. Please see our Website [britepaths.org] and see how you can help people make ends meet in our community. Because of you, people are able to lift themselves out of poverty and desperate situations and get on the path to resiliency and self-sufficiency."
CITY MAYOR David Meyer then addressed the crowd. Britepaths was formerly called Our Daily Bread, and Meyer recalled how, 15 years ago, he and his wife volunteered through their church and delivered groceries to the organization's clients in Bailey's Crossroads, Burke, Chantilly and the City of Fairfax.
"Now, Britepaths gives clients food cards that allow them to get their own food," he said. "This helps with self-esteem and allows the very diverse ethnic groups served by Britepaths to obtain food that they enjoy. Today, Britepaths has grown in its scope and effectiveness, and the challenges it faces have become more complex."
Meyer noted that Fairfax residents live in the most prosperous region in the U.S., if not the world. Yet, he stressed, "Nearly 15 percent of our population live at our below 200 percent of the poverty level. There is a shortage of 31,000 living units that are affordable. The cost of daycare for an infant can be $15,000-$18,000, which far exceeds the ability to pay of many of our working poor."
So, he said, Britepaths' services are needed more than ever. "Britepaths offers its clients resources to stabilize their lives, but also effective, long-term intervention to give them the critical life skills of financial planning, job interviewing and skills enhancement," said Meyer. "As mayor, I can attest that local governments cannot address these circumstances by ourselves. The best approach is a partnership with key groups such as Britepaths, with the support of all of you."
"When people do not have hope or any way to create a path forward, prospects for daily living can be dim," he continued. "But thanks to everyone here, a brighter path is available for many in our community. Thank you all for making a difference in the lives of people in need."
Next to speak was Britepaths' Executive Director Lisa Whetzel. Saying this event brings together everything she values, including art and music, she said how pleased she was to see the community's generosity to help their neighbors in need.
"There is a common misconception that people in dire straits just need to pull themselves up by their bootstraps," said Whetzel. "If they just work a little harder, then they would succeed like the rest of us. People do need to work hard. However, in our experience, we see that people who come to us often don't have any boots. Here at Britepaths, we provide the boots."

She said Britepaths recognizes that it's critical to not just stabilize struggling families, but to make them strong enough to weather financial storms. "We will continue helping them keep food on the table, a roof overhead and provide car-repair assistance so they can keep their jobs," said Whetzel. "At Britepaths, we are focusing our attention on building capacity for the programs that build resilience."
"Having the tools, resources and emotional support empowers people to succeed," she continued. "Our hope is that every family or single parent who comes through our door will be empowered to make lasting changes to succeed for the long term." Whetzel then introduced a client named DéShaun, who she called an "inspiration" and a testament to how hard work with outside support can help someone succeed.

DéShaun said that, almost two years ago, she and her husband and their two young sons were in a bad place financially. "He and I both worked, but were in danger of getting evicted," she said. "So we got in touch with Britepaths – then called Our Daily Bread [ODB] – and attended its financial-management clinic."
THE FAMILY eventually received food vouchers and joined Britepaths' Project Bridge, which helps clients achieve self-sufficiency. "With a matched-savings program, we saved $500 that year, and it's our emergency savings," said DéShaun. "ODB employees were very supportive; and in February 2017, I had a dream of helping change lives by becoming a life coach. Their Empower and Workforce Development programs helped me cover the cost of training, and I'm now a holistic life coach, helping others through Britepaths. Without Britepaths, I truly don't know where we would be, and I thank them so much for their support."
Attorney Scott Shannon – whose wife, May Shallal, is on Britepaths' all-volunteer Board of Directors – then led the live auction. Encouraging people to bid on the various items, he told them $50 buys a grocery gift card, $100 funds school supplies for eight children and $250 pays for car repairs.
Ultimately, the evening raised about $41,000, and Whetzel was delighted. "I love this event because it brings the community together to celebrate and support Britepaths' mission," she said. "It continues to amaze me that people are surprised that there are pockets of poverty next door to them. Artful Living creates a comfortable space to learn and be inspired by our neighbors in need who are empowered by the Britepaths community to succeed for the long term."