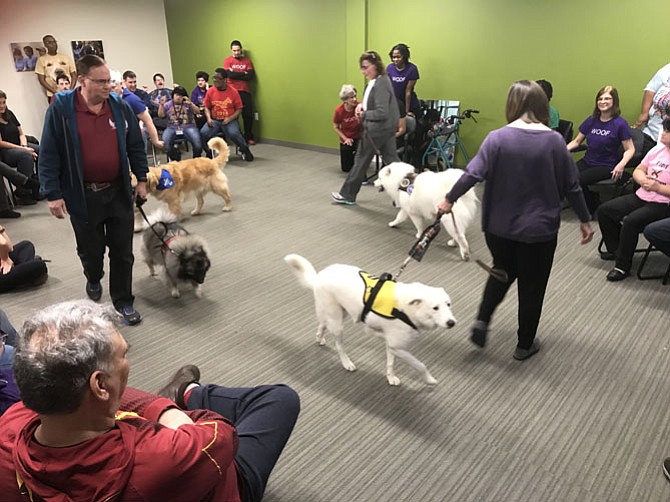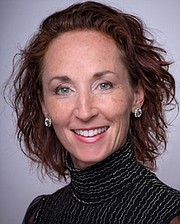 Where and When
"All About Dogs" presented by BodyWise Dance and MLVE Moves! at Sherwood Community Center, 3740 Old Lee Hwy, Fairfax VA 22030. Performance on Tuesday, May 8, at 11 a.m. Performance is free. Call MLVE's Sarah Caldwell at 703-894-8247 to reserve. Note: The performance runs about 45 minutes. It is suitable for all ages, both those with and without intellectual and physical disability. "All About Dogs" is supported by the National Endowment for the Arts, Virginia Commission on the Arts, the Arts Council of Fairfax County, Wells Fargo Foundation, Rea Charitable Trust and Express Lanes Foundation.
'All About Dogs' celebrates "the untold number of ways dogs and their humans lift up, love and take care of one another," said Margot Greenlee, a leader with "MVLE Moves!", a local movement therapy program for individuals with disabilities.

The Springfield-based MVLE provides employment training and job placement, for people with intellectual and physical disability. MVLE is an internationally accredited agency that partners with government, not-for-profit agencies and commercial businesses.
In a break-through theatrical event performed at Fairfax's Sherwood Community Center, "All About Dogs" will explore dog-human connections and increasing opportunities for people with disability. The cast will include both professional performers and people with intellectual and physical disability. "Together they devised this original production, each contributing their unique perspectives," said Greenlee.
The "All About Dogs" cast will also feature a number of trained therapy dogs bringing love to people. "The trained therapy dogs visit client, go to schools, hospitals, and assisted living facilities," said Greenlee. "Interacting with a trained therapy dog helps people relax and feel connected."
Asked for an example of how a trained therapy dog and humans interact, Greenlee spoke of Nic who is trained to help with occupational therapy. "People can practice small motor control in their hands by putting bows and clips on his fur."
"All About Dogs" also provides an opportunity for the non-professional human performers to build confidence and develop new skills, including feeling more independent.
Audience member at "All About Dogs" will be invited to speak, join in songs and dances, learn the dos and don'ts of meeting a new dog for the first time, and learn nuances of terms like "improvise" and "harmony." By the end of the Sherwood Community Center show, the audience "will have a deeper appreciation for the many ways dogs work with us, guide us and shower us with unconditional affection, as well as understand which dog-related work might suit someone best," added Greenlee.
Local area professional actors will be taking part in "All About Dogs." Tuyet Pham said that audiences will be encouraged to participate. "Expect to sing. Expect to have a blast." She added, "we are all capable of making art."

Ryan Sellers noted, "the program provides the opportunity for the joy of performance for everyone."
Actor J.J. Johnson added that "'All About Dogs' is fascinating as it explores what dogs and people can do together, in service to each other."