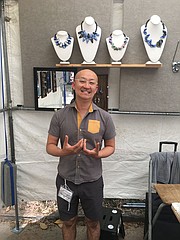 From Thursday, April 26, through Sunday, April 29, some of the most recognized, skilled artisans from all over the country — including Alexandrian artist Wiwat Kamolpornwijit — will come together at the National Building Museum for the 36th Annual Smithsonian Craft Show.
For craft artists, being a part of this show is an honor among honors. Of more than 1,000 artists that applied this year, only 120 were invited to exhibit in the show, which is put on by the Smithsonian Women's Committee (SWC).
"This is not macramé and carved elves, this is cool stuff," said SWC President Cissel Gott Collins. "This year's theme is 'Asian Influence/American Design,' and 12 mediums are represented: basketry, ceramics, decorative fiber, furniture, glass, jewelry, leather, metal, mixed media, paper, wearable art and wood."
All proceeds from the Smithsonian Craft Show go toward the grants that the SWC awards to the 28 museums and research centers — including the National Zoo — that make up the Smithsonian Institution.
"SWC has been around for 52 years, and what we do is raise money to give grants to the Smithsonian," Gott Collins said. "We're essentially the fundraising arm of the Smithsonian. We usually receive around 75 grant requests every year and are able to fulfill around 25, which total between $400,000 and $500,000 a year, depending on how much we net from the two shows we do every year."
The SWC is able to raise such substantial amounts of money because the prestige of the two shows they hold every year – the Smithsonian Craft Show every spring, and their fall Craft2Wear show featuring jewelry and wear-ables – makes it easy to get sponsors and attendees on board.
"The Smithsonian craft show is like the Olympics for craft artists," said Kamalpornwijit, one of the exhibitors in this year's show. "It's one of the best craft shows in the nation. I don't remember how did I learn about the show in the first place, but it's been one show I want to do at least once before I die."
Kamalpornwijit creates polymer clay jewelry and will be putting his works on display for the first time ever at the Smithsonian Craft Show this weekend.
"It means a great deal to me," Kamalpornwijit said. "I've always wanted to be a part of this show. It's like getting a seal of approval on my shoulder. Making crafts is self-fulfilling in itself, but it's still encouraging to get this kind of honor."
Kamalpornwijit came to the United States in 1995 from his native country Thailand to attend graduate school, so this year's theme, "Asian Influence/American Design" inevitably applies to his work.
Although he is now a full-time jewelry maker now, Kamalpornwijit is a trained engineer and research scientist.
"I always enjoyed making things with my hand as a child, but I didn't start jewelry until I began helping my friend with a project she was doing to raise funds for a temple," Kamalpornwijit said. "So, it wasn't for a passion at the beginning, but rather a commitment to a friend. I was more like a robot cranking out lots of different miniature flowers. After a while, I lost my interest, so I started to think about what I really want to make. I like to make things that are different, things that have dimension and things that have an interesting shape or connection. That's when my work started to evolve."
Pursuing his polymer passion has clearly paid off.
"Wiwat is in the 2018 Show because the jurors – Shoji Satake, Bruce Helander and Jane Milosch – identified his work as innovative, new and worthy of inclusion," Gott Collins said. "We at the SWC likes his work for the same reasons, but also because it is fun and affordable."
Kamalpornwijit is not alone in feeling like he's achieved a new level of success with his acceptance to the Smithsonian Craft Show, an event that has grown remarkably since it debuted in 1983.
"Fortunately, through growth, it has maintained its quality and prestige," Gott Collins said. "Artists take great pride in being able to label their work, 'as seen at the SCS.' We also get artists who don't do any other shows, they just do galleries and private sales."
The Smithsonian Craft Show has something for everyone, even for younger generations of people who don't know too much about crafts, or the artists and the processes behind the art.
"Collectors come from all over the country," Gott Collins said. "We find that young people appreciate quality over quantity. They don't want to accumulate lots of stuff. Instead, they invest in experiences and high quality goods that represent those experiences. People who come to this show understand that this is an experience. You get to see the best of the best."
She added that it also doesn't hurt that Thursday night includes local mixologists who donate their time to make signature cocktails for attendees to enjoy as they take in the beauty of all the hand-selected and handmade crafts.
"The handmade craft is resurging," Gott Collins said. "With so much technology ruling our lives, and in many ways making it easier, people are appreciating the slow-cooked meal, the slower lifestyle, the value of something one-of-a-kind and made by hand rather than one that is the result of a machine. And, honestly, the event is just fun and the National Building Museum is exceptional. It is so worth the easy Metro ride."
For more information on the Smithsonian Craft Show, and to purchase tickets, visit smithsoniancraftshow.org.