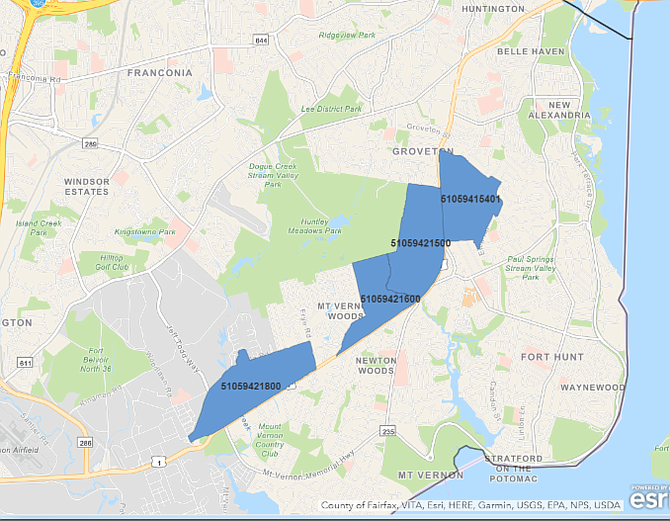 Governor Northam recently announced nominations of Opportunity Zones to the U.S. Department of Treasury — including Census Tracts along Route 1 that are being developed as part of the Embark process. Opportunity zones are revitalization tools that provide federal incentive for private investment in low-income census tracts.
For more information about the Opportunity Zone selection process, visit http://www.dhcd.virginia.gov/index.php/component/content/article/346.html
Four of the selected sites were subjects of a joint letter submitted by state Sen. Adam Ebbin, state Sen. Scott Surovell, Del. Mark Sickles, and Del. Paul Krizek to Erik Johnston, the director of the Department of Housing & Community Development on Feb. 27 recommending the inclusion of sites along Rte. 1 in the Governor's recommendations. Text of the letter follows:
Dear Mr. Johnston:
It has come to our attention that Virginia will be designating Opportunity Zone Census Tracts under the Tax Cuts and Jobs Act of 2017. The Richmond Highway Corridor of US Route 1 was developed to serve the traveling public in the first half of the 20th century. The interstate highway system decimated the economy of the corridor, and it has never recovered. Unfortunately, the legacy of old motels, strip centers and trailer parks continues today.
Now, Fairfax County is poised to adopt a new Comprehensive Plan for the Community Business Centers (CBCs) along Richmond Highway. A recent study led by the Virginia Department of Rail and Public Transportation (DRPT) recommended median-based Bus Rapid Transit (BRT) in the corridor, with an eventual extension of Metrorail, and the new Plan (dubbed "Embark") encourages new, higher-density development of the CBCs to support the new transit, and vice-versa.
While we believe the entire Richmond Highway Corridor is deserving of designation as an Opportunity Zone, we note that the following census tracts are both eligible and within the CBCs, and we recommend that they receive priority consideration:
Huntington area: 4204, 4205 (.01, .02, .03)

Penn Daw area: 4206

Beacon/Groveton area: 4214

Hybla Valley area: 4215, 4216

Woodlawn area: 4218
The Embark Plan can be transformative for the Richmond Highway Corridor, and strategic designation of CBC census tracts as Opportunity Zones will serve to increase their development potential, leading to increased housing, employment, and tax base for the county and the Commonwealth, in addition to an improved quality of life for residents.
We look forward to partnering with the Commonwealth, Fairfax County and local stakeholders to revitalize the Route 1 Corridor. Embark website for more information: www.fairfaxcounty.gov/planning-zoning/embark-richmond-highway.
Thank you for your consideration.