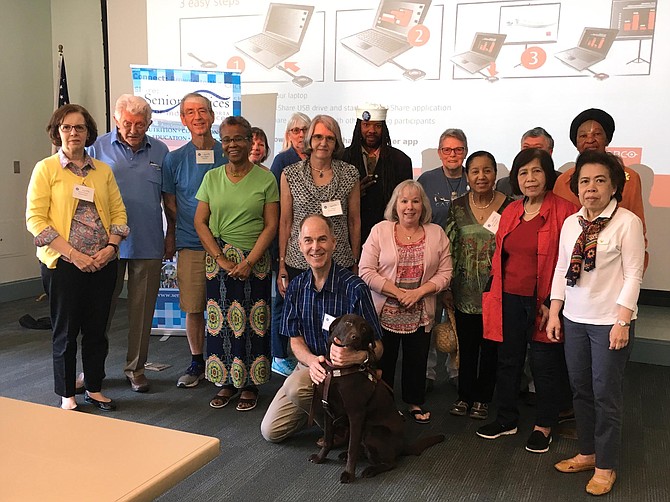 Are you a senior 60-plus residing in Alexandria? If so, have you thought about registering for the Senior Academy? It is a great way to learn about all the services and programs the city has to offer to seniors, and how to become engaged in your community. It is also a wonderful way to meet new people and make new friends.
Senior Services of Alexandria, in partnership with the City of Alexandria, is hosting the Fall session of the Senior Academy beginning Wednesday, Sept. 5 at City Hall. This 4-week class meets every Wednesday in September from 10 a.m. to 12:30 p.m. Participants will hear from different city departments, including the mayor and city manager. Local non-profits will also talk about their respective programs for seniors.

"As a graduate of the Senior Academy, I found the sessions very interesting and informative," said Ruth Arnold, a recent Senior Academy graduate. "There was great dialogue among my fellow classmates, and it was nice visiting different venues around the city, learning all that Alexandria has to offer seniors."
Senior Academy topics and presentations include:
Getting to know your City – How the City Operates, Commissions and Boards; Public Information Outreach, Budget and Voting Registration

City Services for Seniors — Police, Fire and Sheriff Departments; Work Employment Center; and Division of Aging and Adult Services

Community Resources — Offices of Planning, Housing, Transportation, and local non-profits, including At Home in Alexandria, Volunteer Alexandria, Rebuilding Together and Senior Services of Alexandria

Leisure, Cultural and Educational Opportunities — City Library Programs; Department of Recreation, Parks & Cultural Activities; Northern Virginia Community College and Office of Historic Alexandria

Participants will meet at four different locations around the city: City Hall, Police Department Headquarters, Charles Houston Recreation Center and Beatley Central Library. The Academy is free with light refreshments. Upon completion of the program, graduates will be recognized during a City Council meeting in October.
If you are interested in being part of this year's Senior Academy class, you can find more details and download the application on SSA's website at
www.seniorservicesalex.org or call SSA at 703-836-4414, ext. 113 or email communications@seniorservicesalex.org. Enrollment is limited to 25 people and applications must be submitted by Friday, Aug. 24.