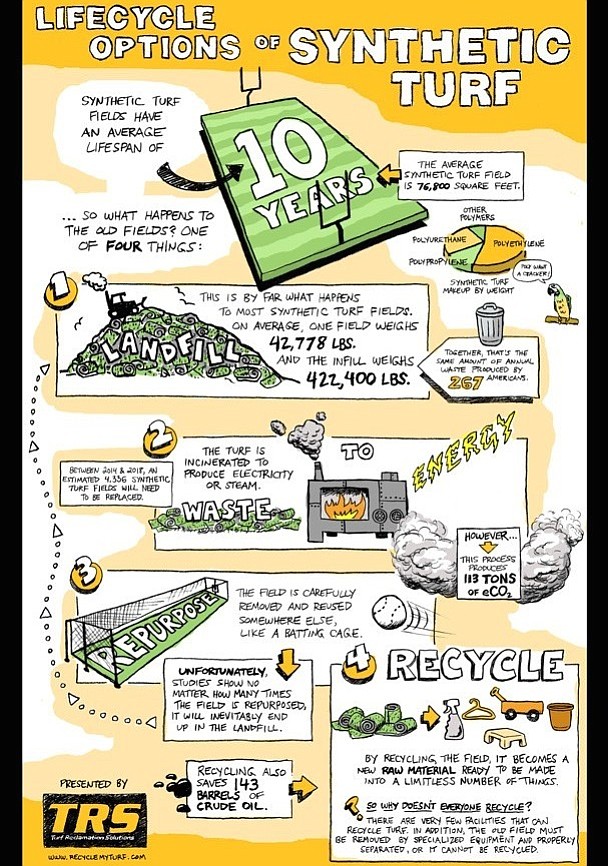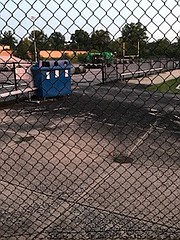 With Montgomery County Public Schools replacing the first of its artificial fields this summer, disposal of the old material has been called into question.
A copy of an email came to the Almanac a few weeks ago criticizing the removal and disposal of Richard Montgomery High School artificial turf. The person who sent the email refused to be identified in print. But others concerned about the potential environmental damage of improper disposal of the county's artificial turf fields came forward to question whether the county guidelines were being followed.
Kathleen Michels said she has been following the pros and cons of artificial turf for 10 years and has an arsenal of facts to use in making her case against its use in playing fields.
Now that MCPS is at the point that it needs to replace some of the fields, more issues are involved.
According to Michels in an email: "Turf Reclamation Solutions (TRS) President Mark Heinlein notes that per field: greater than 40,000 pounds of plastic per field and greater than 400,000 pounds of tire waste or other similar synthetic polymer infill per field go mostly to landfills (#1 on the infographic at right). A very little is burned (#2). A little is "repurposed" (#3) as batting cage surfacing for example — but then goes to landfill. Wishful thinking on (#4) — recycling — as noted there — the removal must be carefully and expensively done with sorting of the infill separate from the plastic rug — but even then there is now no market to actually recycle back into synturf carpet (the preferred solution to save natural resources and trash) or into other plastic products."
MCPS is reassuring the public that it has safely disposed of the material from Richard Montgomery.
Andrew Zuckerman, chief operating officer, Montgomery County Public Schools, wrote on July 21:
"Dear MCPS Community,
"This week, contractors began work to replace the artificial turf field at Richard Montgomery High School. The existing artificial turf material has been removed and sent for recycling. The entire system, including turf fibers and infill, will be repurposed as a continuation of the overall lifecycle of the materials.
"In addition, any remaining debris left over from the removal of the turf field will be cleared. We have taken steps to mitigate the impact of the field removal process on the surrounding environment. In addition to sweeping up debris, the stormwater management system under the surface at Richard Montgomery High School is designed to contain debris within the system to allow for thorough, periodic cleaning. Other preventative measures, such as the use of mesh screening over turf materials waiting to be hauled away, are also in place.

"Contractors and MCPS staff are working diligently to remove the artificial turf in a safe and efficient manner and look forward to installing the new organic infill field shortly."
Photos appear to show that there was no mesh covering the materials waiting to be hauled away and that rubber "crumbs" from the infill were spilled on the school parking lot.
Again, on July 30, Zuckerman shared this information during a Board of Education meeting: "We know that the board received additional questions over the weekend regarding disposal of the artificial turf field material from Richard Montgomery High School (RMHS). First, let me assure you that the statements that we have issued on our website and in previous responses to elected officials are completely accurate.
"Consistent with the clear policy direction of the Board of Education and consistent with the MCPS value of environmental stewardship, our contract for replacement of the RMHS field included a requirement that the existing field be recycled to the maximum extent possible. In this case, the entire field system, which includes the carpet and infill material, is being reused by a recreational facility in the White Marsh area and others outside of Maryland. Reuse is a core element of the "Reduce, Reuse, Recycle" approach to waste management. Product reuse is permissible under state and local regulations; prevents materials from being disposed of in the waste stream; and precludes the need for additional new materials to be generated.
"In the RMHS field replacement project, as in any major construction project, debris was generated by the demolition. This debris represents a very small fraction of the full stadium field. As I stated on our website, 'remaining debris left over from the removal of the turf field' was cleared. Management of construction debris is a specialized industry, and these materials are routinely transported to transfer stations, often in other areas of the country, for safe sorting and handling. Transfer stations identify materials that can be recycled and appropriately process remaining materials; they do not accept materials which they are not licensed to process. We will continue to hold our contractors to high standards and work to ensure compliance with all environmental and safety regulations. We will provide a full written explanation of this process as requested in a memorandum to Dr. Smith by Ms. Ortman-Fouse, who asked a series of important questions about the turf removal process that will help illuminate this issue.
"The Board of Education is an excellent steward of both taxpayer resources and of the environment in the service of educating the children and youth of Montgomery County. The superintendent and those of us in his administration are committed to implementing the board's vision. It is unfortunate that there is a small group of individuals attempting to mislead and misinform our community about this issue. This behavior distracts from our core mission of teaching and learning. I am particularly troubled by the fact that in this case we are fielding questions about a paintball facility's reuse of artificial turf in White Marsh, Maryland when here in Montgomery County locally we are focused on creating opportunities for all students to learn and achieve at high levels. We welcome serious debate on instructional and operational issues; at the same time, we know that accountability only truly results when all stakeholders hold to high standards of accuracy, reliability, and constructive communication."
Zuckerman also made public a "chain of custody" letter from Rich Charland at Turf Cycle USA. Dated July 18, 2018, the letter states that Turf Cycle has taken full possession of the artificial turf and infill components from [Richard] Montgomery High School. The field was shipped to an address in White Marsh, Maryland and is "awaiting further re-purposing."
"'Repurposing/reusing' is purely a euphemism for dumping ... a mess of worn-out plastic carpet with literally tons of pulverized tire waste and sand spilling everywhere," Michels wrote.
"There really aren't two sides to this story," Michels said. "Do you really want to do this, take 40,000 pounds of plastic and [the rubber crumbs] and put them in a landfill? At this step, MCPS should say we made a mistake, this is the first one [of the fields to be recycled], Walter Johnson's next up. This is a harbinger of things to come."
Montgomery County Public Schools did not respond to specific questions regarding this story. Derek Turner of MCPS Office of Communications responded by sending links to the statements by Zuckerman.