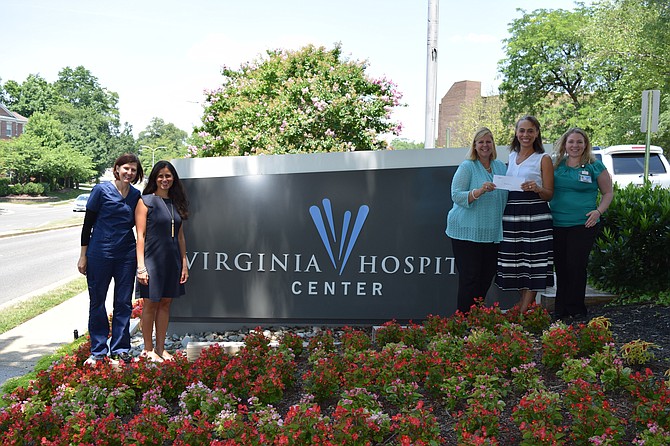 The Jennifer Bush-Lawson Foundation (JB-LF) presented a grant totaling $70,354 to Virginia Hospital Center's Outpatient Clinic in July to support its work with low-income and uninsured pregnant women in the local community.
This funding covered three specific needs at the Outpatient Clinic:
$64,354 to fund nursing and care coordination staffing for a second year of a telemedicine pilot program, which will run through June 2019. The telemedicine program, which launched in 2017, allows for increased prenatal monitoring for high-risk pregnancies through virtual appointments for patients who may otherwise may not be able to make in-person appointments due to work schedules, child care needs or transportation issues. The program seeks to reduce NICU admissions, missed and no-show prenatal appointments, and emergency department visits and hospitalizations (other than for delivery) for economically vulnerable OB patients in the clinic.

$5,000 for transportation cards for low-income expectant mothers who need assistance in order to make prenatal appointments.

$1,000 for new pack-and-plays for families in need so their newborns have a safe place to sleep.
"We are grateful to the Jennifer Bush-Lawson Foundation for their support of our telemedicine program," said Michelle Altman, patient care director, Outpatient Clinic at Virginia Hospital Center. "Telemedicine has helped the clinic to provide comprehensive, holistic, patient-centered care to pregnant patients who are high risk due to gestational diabetes, gestational hypertension and other complications. Through telemedicine, we are able to reach patients wherever they are in the community, whether on the job or at home. This program has facilitated the more continuous follow-up that is required for successful outcomes in complicated pregnancies. We partner with JB-LF to help keep our patients safe and healthy during and after their deliveries."
"The work that Virginia Hospital Center's Outpatient Clinic is doing for the most vulnerable members of our community is directly aligned with our mission to give all mothers and newborns the support they need to thrive. We are extremely pleased to continue partnering with them on these important projects, which have a real and immediate impact for those in need," said Neal Lawson, founder and chair of the Jennifer Bush-Lawson Foundation.
Funds for this grant were raised through the annual Jennifer Bush-Lawson 5K & Family Fun Day. The 4th annual Jennifer Bush-Lawson 5K & Family Fun Day will be held on Nov. 17, 2018, at the Knights of Columbus, 5115 Little Falls Road, Arlington, and will again raise funds for low-income pregnant patients at Virginia Hospital Center's Outpatient Clinic. Registration is now open, with early bird pricing available through Sept. 15, and sponsorships are also available; for more information, visit www.jb-lf.org/5K.