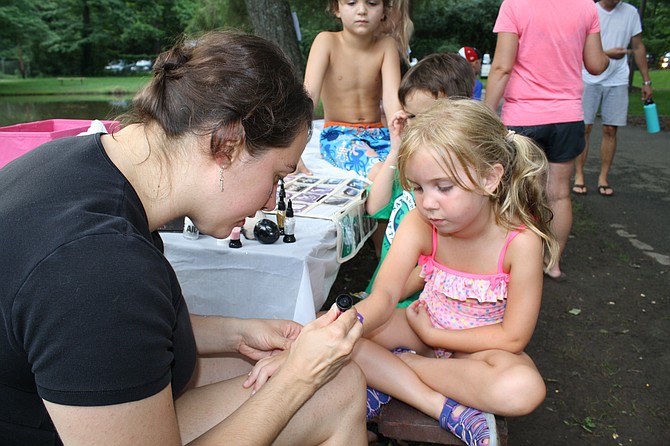 Mount Vernon — This year's National Night Out in the Hollin Hall area was the third year in a row that the Hollin Hall Civic Association and the Mount Vernon Park Association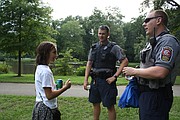 forged a partnership to hold National Night Out in the park. It was also the third year that Hollin Hall HOA President Ted and Mary Godbout manned the operations tent.
"Such an important event to bring the community and police together, to thank them for all they've done," said Mary Godbout.
Officers John Chase and Pat Heard were happy to be at the event, although it was brief; they were attending six more in the Mount Vernon District.
They liked the conversation. "We're people too," said Chase.
Early on, there were dark clouds and thunder but once the band went on, things began to settle down. Past Hollin Hall HOA President Kendra Chambers was the fiddle, violin and vocals for the group "Current Situation," whose music style was described as "a mixed bag of contemporary acoustic," she said. Other band members included Lance McLean on the guitar and bass, Chad Artz on the banjo and percussion and Mary Bowers on vocals, guitar and accordion.
Saratoga was just one of 217 neighborhoods around Fairfax County that held National Night Out events, according to the Fairfax County Police Department. National Night Out is an annual community-building campaign that promotes police-community partnerships and neighborhood camaraderie to make neighborhoods safer. National Night Out enhances the relationship between neighbors and law enforcement while bringing back a sense of community.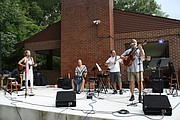 It began in 1984 when Matt Peskin, founder and executive director of National Association of Town Watch, introduced it in Philadelphia, Pa. as a way to break down the boundaries between law enforcement and the community. "Today, 38 million neighbors in 16,000 communities across the nation take part in National Night Out," according to its website.