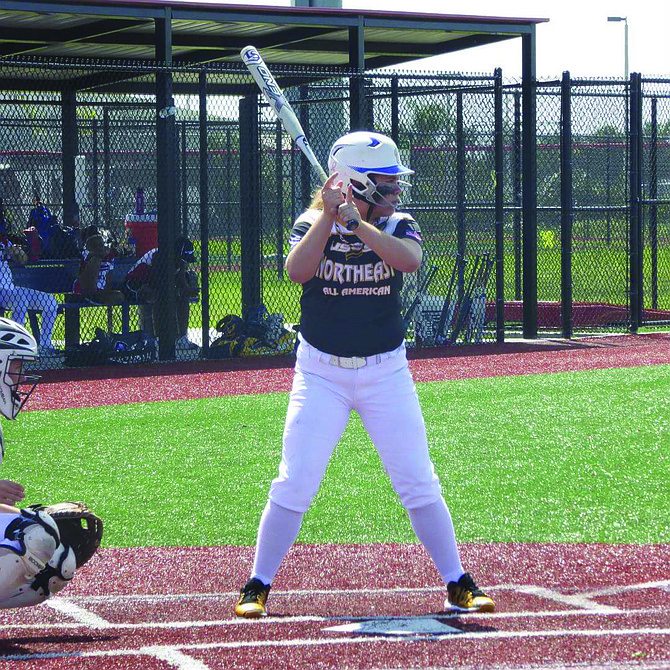 Mackenzie Swanson, a rising ninth grader at Herndon High School, spent last week in Florida playing softball in the United States Specialty Sports Association (USSSA) All-American Games, representing the Northeast.
In April 2018, Swanson went to Leesburg to try out for the 13U Northeast team going against softball players from 13 states and Washington, D.C.
"I wanted to see how I compared to the best in the nation," says Swanson. Swanson has been playing softball most of her life and plays on the Sterling-based Baseliners travel softball team.
"Mackenzie finds a way to win — all she needs is the opportunity," says her father and softball coach, Curtis Swanson.
In May, Swanson was told she had made the team and learned she'd be traveling to Florida to play in the tournament against seven other regional teams from across the country. With her gear and a new number 60 on her back (Swanson usually plays as number 34), Swanson joined other softball stars on the field for the week-long tournament.
Although the team didn't make the finals, Swanson and her family had a great time meeting the other families on the team and playing multiple games each day. Her mother, father, brother, and grandfather all came to make sure Mackenzie had lots of fans cheering from the bleachers. She was also supported by her Baseliners teammates back home, many watching live online to see Swanson get outs at third.
Swanson will now return to her number 34 and the blue and gold uniform as her team returns to the fields in September, knowing she can hold her own on any field, no matter how big.