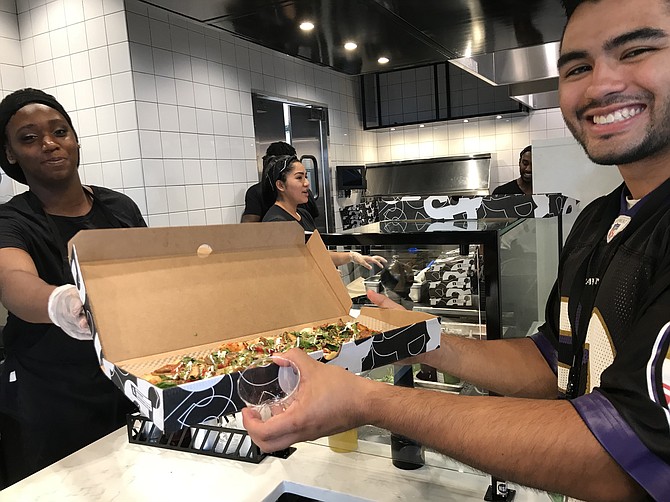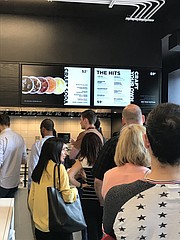 The D.C.-based restaurant company &pizza opened in Reston Town Center at 1826 Library Street on Thursday, Aug. 2. At lunchtime of opening day, the customer line snaked around the inside of the fast-casual restaurant known for their signature craft pies and go tos. Yet even with customers crafting personalized orders, the energetic staff continually got patrons together with their custom-ordered pizzas in a time of seven minutes from order to box-in-hand. Orders can be taken there or customers can jump the line and order online instead.
Using an assembly line to prepare each pizza, the staff creates the signature 12-to-18-inch long oval pizzas as customers walk by the "salad-bar like" line and chose the type of dough, sauces, toppings, produce, proteins and drizzles from a number of selections or customers choose standard hits from the menu. The company offers "clean eats," bright, fresh ingredients, no high fructose corn syrup, and no artificial ingredients.
Next, the pizzas slide into a super-fired oven, bake in three minutes and then are placed in &pizza's graphic black and white rectangular boxes, ready to eat there or take and go.
The company brands itself as "an anti-establishment establishment built on the renown of its creative pies and craft beverages, localized shop design, and the strength, unity and vibe of its living-wage-paid, ampersand-tattooed Tribe." The brand calls its employees their "Tribe" and if they want, pays for the company's ampersand logo tattooed somewhere on their person.
"We're thrilled to join the Reston community with the opening of our newest &pizza shop, and look forward to fueling the neighborhood with creative pies, craft beverages, and our unique employee culture," said a spokesperson via email.