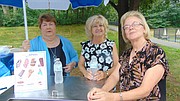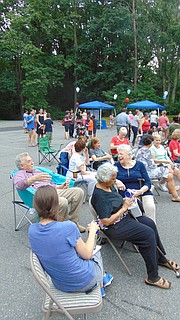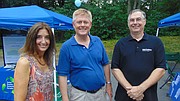 About 100 people attended a National Night Out celebration at the Burke Cove Condominium Community, a garden community with shady trees, trails and a lake. The event was jointly sponsored by the neighboring Woodwalk Condominium in Burke Centre and featured ice cream and music by the band Rough Draught.
National Night Out is a community and police awareness-raising event held throughout the country on the first Tuesday of August. It helps to increase awareness about police programs in communities, such as drug prevention, town watch, neighborhood watch, and anti-crime efforts.
"It's a great night to be out in the community; this is about celebrating what community is, people coming together celebrating law enforcement, [and] most importantly the partnership that our communities have with law enforcement. We are the safest jurisdiction of our size in the country because we have the best police and the best citizens, and that's a partnership that you just can't beat," said Supervisor John Cook (R-Braddock District)
"I love National Night Out; it's one of my favorite nights of the year. It's a great community event. It's great to see the kids out enjoying themselves and it's what Fairfax County is all about and one of the main reasons most of us moved here – for the sense of community and the safe neighborhoods," said Del. Eileen Filler-Corn (D-41) who was dropping by eight National Night Out events in the 41st District.
According to Rami Lajin, Burke Cove Community Association Manager: "Burke Cove Condominium is a 448-condominium association. There are 46 buildings that sit on 44 acres of land. There are a lot of trees around the community so it's very private but it's also a quiet community. There are people from all generations with some of the owners who bought back in the 1980s, so it's a community that welcomes all generations. We are part of Burke Centre Conservancy so we can have access to the pools, tennis courts. It's within walking proximity to shopping, the VRE, we have a lot of retired and young professionals who commute to D.C."
Kevin Morse, President of the Woodwalk Condominium and Lord Fairfax for the Braddock District, 2017-18, added: "Woodwalk is a 186-townhouse-style condominium association. It's rather unique in its piggy-back construction; for every one, two-bedroom lower unit, it has two upper three-bedroom units. What we lack in interior space we try to make up with beautiful landscaped grounds. We have a large open Common, which I think our members enjoy very much. We have a pathway directly down to the Burke Centre VRE, walking distance to Walmart across the street and Giant Shopping Center."