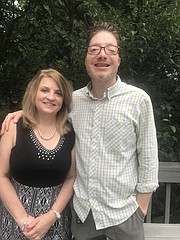 "We don't care about the stuff, we care about the people. We are in business to find good homes for your treasures."
Curiosity Consignment's Michael McWilliamson and Adele Branthover are experts who can advise and supervise the decluttering, downsizing and clearing-out agony of parting ways with all that's been collected over the years.
The services of Curiosity Consignment range from selling items from their shop in Damascus, to listing them on eBay and Craigslist, giving appraisals, and managing estate liquidations. One of their services is to remove and pay for everything from a home. They sell what they can, donate to charity and then throw away the remainder.
"No two projects are alike," Branthover said. "When it comes to downsizing years' worth of accumulated possessions, our clients have various goals and different types of items which require different handling. We usually start with a visit to the home for an inventory. When you first contact us, we want to get to know your situation. Are you moving? Do you have a storage unit? Was there a death in the family? Are you looking to get top dollar for a premium collection of some type or do you need the contents from a home appraised and liquidated right away including the good, bad, and ugly?"
The first step is to send photographs of what is for sale to Branthover and McWilliamson and they will decide if it is a match. If so, they will schedule a visit to discuss consignment or direct purchase options. House-call fees start at $100, which covers an informal appraisal of interesting items in the home and the labor to pick up consignment items.
McWilliamson saw first-hand the need to help people clear out homes and sell their treasured items after his father died and he was forced to take action to clear the family home. He knew that the real value was the home, and he had to clear it out to sell it.
"When my dad passed away," said McWilliamson, "I learned first-hand that most of the contents of a home are not worth anything to others. I had feelings of regret about so many items — but when I put a plastic sunroof switch for sale on eBay for a 1984 Lincoln Town Car — and someone who had been searching for just that part immediately bought it and told me they were thrilled to find this part because there were no others across the U.S. (my dad had bought two switches and saved them), then I learned the power of helping others and how good it made me feel. I started my business after he died and have been thrilled to help people ever since. It is hard work, but I find it rewarding."
McWilliamson also took a box of his great-grandmother's buttons and created a mixed-media wall hanging which pays homage to her memory. "I feel like she's still here with me," he said.
Branthover joined the business five years ago to help with marketing, business development, networking and counseling buyers and sellers. "She's my right and left hand," said McWilliamson.
Branthover worked as a medical assistant for 20 years and has a talent for empathizing with the elderly as they move to new housing. "I always recommend taking photographs of the favorite items that one is going to part with," she said. "It really helps to be able to still enjoy their collections and treasures through photos." The company also has four full-time employees and a number of part-time employees.
Curiosity Consignment hosts a 3,000-square-foot showroom in Damascus, with an additional 1,500 square feet in the back for packaging and shipping. Seventy-five percent of their income comes from eBay and Craigslist sales. They also work with Habitat for Humanity and thus, if they cannot sell items, they are donated and the customer can take the tax write-off. The business also partners with Nathan's Ridge, a Damascus-based non-profit which helps those on the road to recovery.
The store is open from 10 a.m.-6 p.m., Tuesdays-Fridays, 10 a.m.-4 p.m. Saturdays, 12-4 p.m Sundays and closed Mondays. No appointment is needed, but call if there's a lot of stuff or you require extra attention. For a fee, they offer pickup services and house calls.
"We find that most of our estate customers need our trained eyes in identifying what is valuable and what is junk," McWilliamson said. Charges for their various services are on their website: www.curiosityconsignment.com.
McWilliamson writes a blog that is posted on their website and discusses what is valuable and sells. "It used to be that silver, china, collectable statues and ceramics — all were sought after. Now people aren't buying those items — they want authentic antiques, vintage lighting, older toys — even manual typewriters and Beatles records."
Curiosity Consignment is located at 9870 Main St., Damascus. For more information, call 240-207-3783.