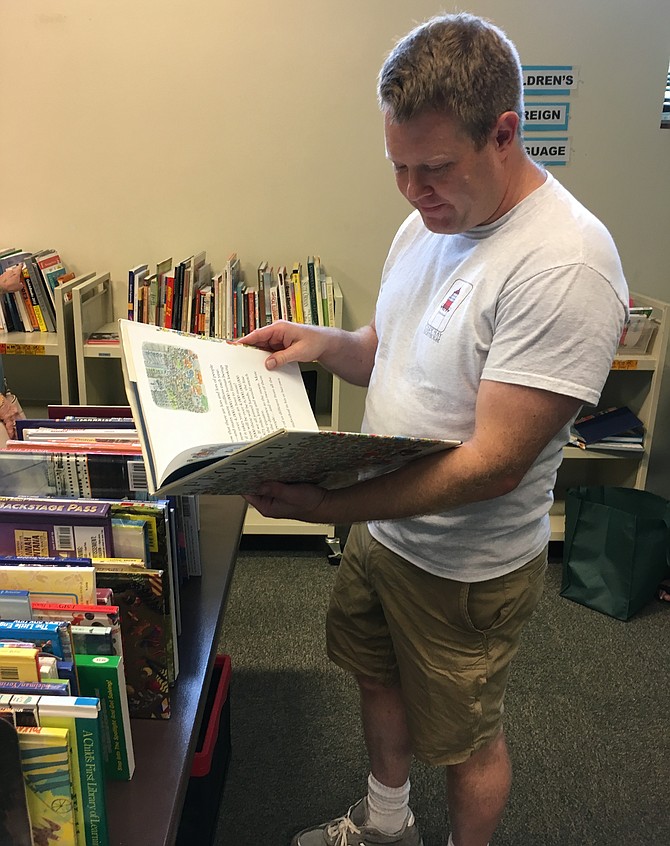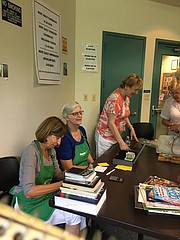 The monthly Book Sale at the Potomac Library is such a longstanding tradition that buyers and volunteers come from miles around to take part and many even know each other on a first name basis.
Elaine Green, for instance, started coming to the sale as a patron but now, the D.C. resident comes to help because she likes it.
"I've been working here at least 10 years," she said. "It is a wonderful book sale."
Judy Davis said she has been a member of the Friends of the Library, Potomac for 20 years and is now chairman of the Book Sale.
"We only cancelled it once," she said. "That was because the roof fell down, that was many years ago."
Davis said that the book sale receives thousands of books each month. There are carts in the library lobby for donors to leave their books. The work of sorting books is a full-time job, she said, one done by volunteers five days per week.
"We have the monthly sale and an ongoing sale in the lobby and books that are worth something are sold on eBay," Davis said. "After the sale the books come out to the lobby sale and if they don't sell [here] they go to a bookseller."
Each month everything at the sale is new, Davis said, they do put out books from previous months. Besides passing the books on to new readers, the book sale generates income for the Friends of the Library, Potomac.
"All the money stays here," Davis said. "We pay for a lot of the children's programming and adult programming and we partner with the garden club, paying for some professional upkeep of the library gardens."
The Friends of the Library, Potomac, also pays for a Library Lovers Month display in the library lobby, the summer reading program, and has a literary character in the parade during the Potomac Day celebration.
"I think this year it is going to be Paddington," she said.
Among the regulars at the sale Saturday, Aug. 11, was Cameron Rittenhouse-Smith of Rockville.
He comes in search of children's books, he said.
"I bought so many beautiful kids' books today," he said as he loaded several boxes of books into his car, then went inside to look for more.
Rittenhouse-Smith said he started a program to give books to children in foster care in Washington County, Md.
"Montgomery County has a lot of generous people and good services," he said. "I thought Washington County didn't have as much."
He said he looks for good books, ones that look like new. Saturday, he said he bought 70 or 80 for his program.
At the end of the 2017-2018 school year he delivered 248 books which were given to the children at an end of the year picnic for foster children and their families.
Rittenhouse-Smith said he does it because he is passionate about children reading and it seems like a good thing to do.
He hopes to expand his book giving to a Title 1 elementary school in Hagerstown. The principal there contacted him and asked for books for her students.
"I'm going to do the best I can," he said. "I like the idea so much, it might be a real gift [to a child] greater than what I'm paying [for the books]."
The next Book Sale will be from 10 a.m. to 1 p.m. Saturday, Sept. 8 at the Potomac Library, 10101 Glenolden Drive.